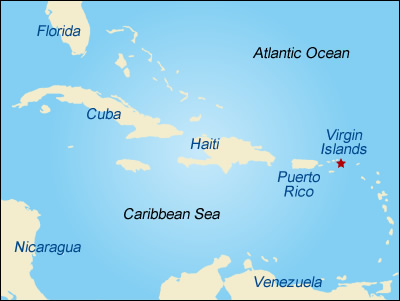 The District of the Virgin Islands is situated within the territory of the Virgin Islands which consists of the main islands, St. Thomas, St. Croix and St. John, and about 50 islets. The Virgin Islands are situated between the Caribbean Sea and the Atlantic Ocean, 50 miles east of Puerto Rico. St. Croix is the largest of the islands and is the easternmost part of the United States in the Western Hemisphere. St. John is the smallest of the main islands located east of St. Thomas about 20 minutes from St. Thomas by ferry. The Virgin Islands National Park comprises approximately 70 percent of St. John.
The territorial population is about 87,146 with approximately 42,261 in St. Thomas, 41,004 in St. Croix and 3,881 in St. John. The district is completely surrounded by international waters and is vulnerable to drug trafficking and illegal immigration. This vulnerability is evidenced by the district's designation as a High Intensity Drug Trafficking Area (HIDTA).
Tourism dominates the economy of the Virgin Islands and St. Thomas is one of the world's largest cruise ship destinations receiving more than one million visitors per year. The territorial capital, Charlotte Amalie, is situated on St. Thomas where the main office of the United States Attorney's Office is located.  A branch office is located in Christiansted, St. Croix which is 40 miles south of St. Thomas. The Territory is governed by a governor and a unicameral legislature consisting of 15 senators. All executive branch positions, including that of the Virgin Islands Attorney General, are appointed by the governor.
The district is unique in many respects. First, the District Court of the Virgin Islands is not constituted under Article III of the Constitution but rather under Article IV, Section 3, Clause 2. Consequently, the district court judges serve eight-year terms rather than appointments for life. Second, the district has no permanent bankruptcy judges. Bankruptcy judges from the Third Judicial Circuit are temporarily assigned to hear bankruptcy matters in the District of the Virgin Islands.
The district contains separate customs zones. When persons leave the Virgin Islands, they are required to clear U.S. Customs. Goods purchased in the Virgin Islands are duty free up to $1,200. Duties paid are retained by the Territory of the Virgin Islands.
Updated December 13, 2021