Press Release
DUNAVANT RECEIVES TENNESSEE DISTRICT ATTORNEY'S HIGHEST HONOR
For Immediate Release
U.S. Attorney's Office, Western District of Tennessee
U.S. Attorney for the Western District Receives McCutchen Award
KNOXVILLE, Tenn. (Nov. 2, 2017) – The state's 31 District Attorneys have recognized U.S. Attorney Mike Dunavant, formerly the District Attorney General for the 25th District, with the McCutchen Award, which was established in 2000 in memory of Tennessee District Attorneys General Conference Director Pat McCutchen.
"Director McCutchen's goal was for the Conference to be the voice of criminal justice," said Jerry Estes, Executive Director of the Tennessee District Attorneys General Conference. "Like Pat, Mike has been a key player in the Conference's work since being elected in 2006, serving in multiple leadership roles. His commitment to justice led to his being appointed a U.S. Attorney. He is more than deserving of this award."
This award is given annually to a prosecutor who shows an extraordinary embrace of McCutchen's vision of the Conference as Tennessee's definitive voice for criminal justice.
"I am honored that my fellow prosecutors would consider me to be in the same category as Pat McCutchen, an exemplary leader," Dunavant said. "During my time as a District Attorney, I was proud to serve in multiple leadership roles with the Conference. The Conference is the voice of criminal justice, and that in many ways is thanks to Pat McCutchen's work."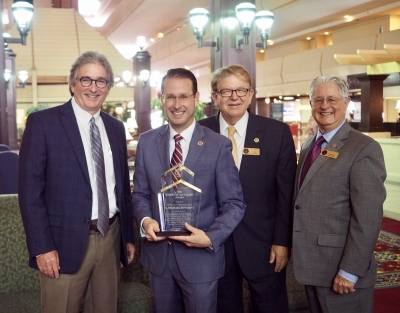 Dunavant has served in several Conference leadership positions, including President, Vice President and Secretary, and has chaired the Justice and Professionalism Committee since 2014, and previously served on the Legislative and Child Support committees.
Dunavant was first elected as a District Attorney for the 25th Judicial District in 2006, and was re-elected in 2014. He was nominated in June 2017 by President Donald J. Trump to serve as the U.S. District Attorney for the Western District. The U.S. Senate confirmed his nomination in September. Dunavant received his B.A. degree in political science from the University of Tennessee–Knoxville in 1992 and his law degree from the University of Mississippi in 1995. He and his wife, Marianne, live in Atoka with their two sons, Hutch and Trey.
About TNDAGC
The Tennessee District Attorneys General Conference was created by the Tennessee General Assembly in 1961 to provide for a more prompt and efficient administration of justice in the courts of this state. It is composed of the District Attorneys General from the state's 31 judicial districts. The District Attorneys General are elected for a term of eight years and are responsible for the prosecution of criminal cases on behalf of the state. Visit www.tndagc.org for more information or to contact your local District Attorney General.
Updated April 18, 2023
---