Press Release
Two Defendants Indicted for Multiple Bank Robberies
For Immediate Release
U.S. Attorney's Office, Western District of Tennessee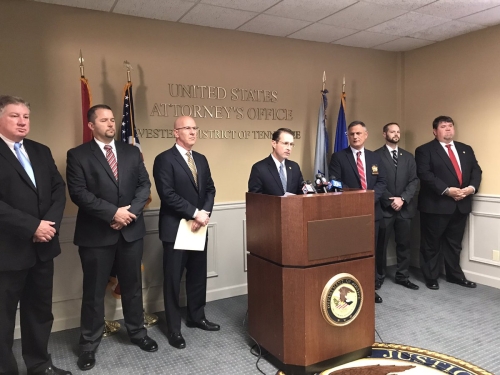 Jackson, TN – On November 20, 2017, a federal grand jury charged two defendants for allegedly robbing two banks in two separate counties in West Tennessee. D. Michael Dunavant, U.S. Attorney for the Western District of Tennessee announced the indictment today.
According to the indictment, on August 25, 2017, Gene Allen Howell, 36, of Selmer, Tennessee and Janet Nicole Thompson, 36, of Enville, Tennessee, robbed the Home Banking Company in Finger, Tennessee. Several months later, on October 14, 2017, the defendants robbed the Peoples Bank in Reagan, Tennessee. During each robbery, Howell brandished a weapon.
Howell and Thompson are charged with two counts of bank robbery. Howell is also charged with possessing and discharging a firearm during crime of violence. If convicted, each defendant will face up to 20 years in federal prison for each of the individual robbery counts. Howell will face up to life in federal prison for discharging firearms during the robberies. The defendants allegedly aided and abetted each other during the commission of the crime.
United States Attorney D. Michael Dunavant said: "Bank robbery committed with a firearm is an inherently violent offense, and threatens the very fabric of our financial institutions that provide commercial services to citizens and the community. These disturbing and brazen acts of violence will not be tolerated, and will be met with firm resolve, quick investigative action, and aggressive federal prosecution. By collaborating with federal, state and local partners, we will use every available resource to ensure the safety of our citizens and security of our banking institutions."
During the investigation, agents seized two pistols, including a .45 caliber. The ammunition in the pistol was the same make and manufacture as casings found at the Reagan Bank.
The case was investigated by the FBI;Henderson County Sheriff's Office; and the McNairy County Sheriff's Office. Assistant U.S. Attorney Matthew Wilson is prosecuting this case on the government's behalf.
The charges and allegations contained in the indictment are merely accusations, and the defendants are considered innocent unless and until proven guilty.
Updated April 18, 2023
---