Advisory Committee | Federal Working Group
Advisory Committee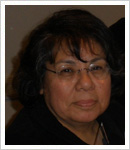 Dolores Subia BigFoot, PhD (Caddo Nation of Oklahoma)
Associate Professor, Department of Pediatrics, University of Oklahoma Health Sciences Center
Director, Native American Programs, University of Oklahoma
Dolores Subia BigFoot (enrolled member of the Caddo Nation of Oklahoma and affiliated with the Northern Cheyenne Tribe of Montana) is an Associate Professor in the Department of Pediatrics at the University of Oklahoma Health Sciences Center and is the Director of Native American Programs, which includes Project Making Medicine, a national clinical training program for mental health providers in the treatment of child physical and sexual abuse and related traumas, and the Indian Country Child Trauma Center, a resource center for promoting cultural enhancement of evidence-based practices and practice-based evidence of treatment approaches for American Indian children and their families exposed to trauma. She is recognized for her efforts to bring traditional American Indian and Alaska Native practices and beliefs into the formal teaching and instruction of indigenous people and professionals working with these populations.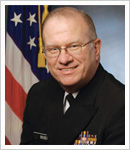 Eric Broderick, DDS, MPH
Former Deputy Administrator of the Substance Abuse and Mental Health Services Administration
Rear Admiral
Rear Admiral Eric Broderick served for thirty-eight years in the U.S. Department of Health and Human Services (HHS) as a Commissioned Officer in the U.S. Public Health Service. He obtained his bachelor and doctoral degrees from Indiana University and then completed a general practice residency at the U.S. Public Health Service Hospital in Seattle. He accepted a position with the Indian Health Service (IHS) and worked in clinical settings in the western United States. He was awarded a master of public health degree from the University of Oklahoma and attained diplomat status in the American Board of Dental Public Health in 1990. He has served as the Director, Division of Oral Health, and Acting Deputy Director, Office of Public Health, for the IHS. Between 2002 and 2005 he served as Senior Advisor for Tribal Health Policy in the Immediate Office of the Secretary, HHS. He joined the Substance Abuse and Mental Health Services Administration in 2006, where he served as Deputy Administrator and Acting Administrator until 2011.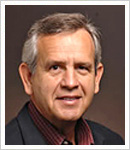 Eddie F. Brown, DSW (Pascua Yaqui and Tohono O'odham)
Executive Director, American Indian Policy Institute
Professor of American Indian Studies and School of Social Work
Arizona State University
Eddie F. Brown is an enrolled member of the Pasqua Yaqui Tribe and is affiliated with the Tohono O'odham Nation. His distinguished career as a leader in, and an advocate for, the American Indian community illustrates the wide range of work opportunities that can be built on advanced degrees in social work. Currently, he is a professor at Arizona State University in Tempe, where he serves as Director of the American Indian Studies program. He has a joint professorship with the School of Social Work. Brown's prior position was Associate Dean and Director of the Kathryn M. Buder Center for American Indian Studies at the George Warren Brown School of Social Work at Washington University in St. Louis. In the world of government, he has served as Director of Intergovernmental Operations with the Arizona Department of Economic Security and Assistant Secretary for the Department of Interior.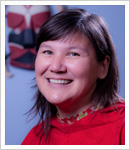 Valerie Davidson (Yup'ik)
Senior Director, Legal and Intergovernmental Affairs for the Alaska Native Tribal Health Consortium
Valerie "Nurr'araaluk" Davidson is the Senior Director of Legal and Intergovernmental Affairs for the Alaska Native Tribal Health Consortium, an enrolled tribal member of the Orutsararmiut Native Council, and the spokesperson and chief political and legal strategist for the Alaska Native Tribal Health Consortium's Dental Health Aide Therapy Program. She served as Co-Lead Negotiator for Alaska's 229 federally recognized tribes to negotiate the Alaska Tribal Health Compact for eleven years; is Chair of the Centers for Medicare and Medicaid Services Tribal Technical Advisory Group; serves on the Medicare and Medicaid Policy Committee of the National Indian Health Board; and serves as a Trustee of the First Alaskans Institute and as Commissioner of the Alaska Health Care Commission. She previously served on the National Steering Committee for the Reauthorization of the Indian Health Care Improvement Act. Most important and bringing her the greatest joy, Val enjoys spending time at home with her children.
Senator Byron Dorgan
Chairman of the Board of Advisors Center for Native American Youth
Former U.S. Senator
Former Chairman of the Senate Indian Affairs Committee
Senator Byron Dorgan is a tireless advocate for Native American issues. While serving as the Vice Chairman in the 109th Congress and Chairman in the 110th and 111th Congresses for the Senate Committee on Indian Affairs, he brought attention to the disparities existing in Indian Country. He successfully championed efforts to reauthorize and modernize the Indian Health Care Improvement Act, authored the Tribal Law and Order Act, reauthorized the Special Diabetes Program for Indians, and fought for increased funding for Indian Country programs. Senator Dorgan is a Visiting Professor at two Universities lecturing on energy, economic policy and political affairs. He works part time as a Senior Policy Advisor with the Washington DC Law Firm Arent Fox. He is also a Senior Fellow with the Bipartisan Policy Center, a Washington DC think tank focusing primarily on energy issues. He served in the Senate leadership for sixteen years, first as Assistant Democratic Floor Leader and then as Chairman of the Democratic Policy Committee. He was Chairman of Senate Committees and Subcommittees on the issues of energy, aviation, appropriations, water policy, and Indian affairs. He served as a U.S. Congressman and Senator for North Dakota for thirty years before retiring in 2011.
Anita Fineday, JD, MPA(White Earth Band of Ojibwe)
Managing Director, Indian Child Welfare Program, Casey Family Programs
Formerly Chief Judge for the White Earth Tribal Nation
Anita Fineday is the Managing Director of the Indian Child Welfare Program for the Casey Family Programs and has held this position since 2011. She previously served as the Chief Judge for the White Earth Tribal Nation for fourteen years. She holds a master's degree in public administration from Harvard University's Kennedy School of Government and a Juris Doctor from the University of Colorado School of Law. She has previously served as an associate judge for the Leech Lake Band of Ojibwe and the Grand Portage Band of Chippewa. She has also taught federal Indian law and policy at the tribal college, university, and law school levels. She is an enrolled member of the White Earth Tribal Nation.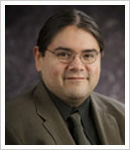 Matthew L. M. Fletcher, JD (Grand Traverse Band of Ottawa and Chippewa Indians)
Director, Indigenous Law and Policy Center
Michigan State University College of Law
Matthew L. M. Fletcher is Professor of Law at Michigan State University College of Law and Director of the Indigenous Law and Policy Center; sits as the Chief Justice of the Poarch Band of Creek Indians Supreme Court; and sits as an Appellate Judge for the Pokagon Band of Potawatomi Indians, the Hoopa Valley Tribe, the Lower Elwha Tribe, the Nottawaseppi Huron Band of Potawatomi Indians, and the Santee Sioux Tribe of Nebraska. He is a member of the Grand Traverse Band of Ottawa and Chippewa Indians. He graduated from the University of Michigan Law School in 1997 and the University of Michigan in 1994; has worked as a staff attorney for four Indian tribes—the Pascua Yaqui Tribe, the Hoopa Valley Tribe, the Suquamish Tribe, and the Grand Traverse Band; and has been a consultant to the Seneca Nation of Indians Court of Appeals. He is married to Wenona Singel, a member of the Little Traverse Bay Bands of Odawa Indians, and they have two sons, Owen and Emmett.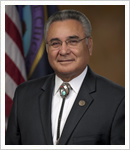 Jefferson Keel (Chickasaw Nation)
Lieutenant Governor of the Chickasaw Nation
Jefferson Keel, Lieutenant Governor of the Chickasaw Nation, is a retired U.S. Army officer with more than twenty years of active duty service. His combat experience included three years' service in Vietnam as an Infantryman, where he received the Bronze Star with "V" for valor, two purple hearts, and numerous other awards and decorations for heroism. Lt. Governor Keel has a bachelor's degree from East Central University and a master's degree from Troy University. He also completed postgraduate studies at East Central and East Texas Universities. The welfare of the Chickasaw people is his first priority. Lt. Governor Keel recently finished his second term as the President of the National Congress of American Indians. He was appointed by Senator Harry Reid to serve as a Commissioner on the Tribal Law and Order Commission; serves as Chair for the Tribal Interior Budget Committee; serves on the Department of Health and Human Services Secretary's Tribal Advisory Committee, the Indian Health Service Advisory Committee, and the Centers for Disease Control Tribal Consultation Advisory Committee. Lt. Governor Keel and his wife, Carol, have three children and eight grandchildren.
Alicia Lieberman, PhD
Irving B. Harris Endowed Chair of Infant Mental Health
Professor and Vice Chair for Academic Affairs
Director of the Child Trauma Research Program at the University of California, San Francisco, Department of Psychiatry
Alicia Lieberman is the Irving B. Harris Endowed Chair of Infant Mental Health, Professor and Vice Chair for Academic Affairs, and Director of the Child Trauma Research Program at the University of California, San Francisco. She directs the Early Trauma Treatment Network, a center of the federally funded SAMHSA National Child Traumatic Stress Network, which aims to increase access and raise the standard of care for traumatized children, families, and communities across the United States. She developed child-parent psychotherapy, an evidence-based treatment for children aged birth through five years old who are exposed to trauma or multiple adversities that is disseminated nationally to help young children and their families. She served on the National Research Council and Institute of Medicine Committee on Integrating the Science of Early Childhood Development and has been a member of National Institute of Mental Health grant review committees. Dr. Lieberman received her bachelor of arts degree from the Hebrew University of Jerusalem and her doctorate from Johns Hopkins University.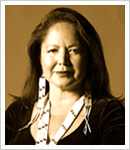 Joanne Shenandoah, PhD (Iroquois)
Composer and Singer
Joanne Shenandoah is one of America's most celebrated and critically acclaimed musicians. She is a Grammy Award winner, with more than forty music awards (including a record thirteen Native American Music awards) and sixteen recordings. She has captured the hearts of audiences all over the world, with praise for her work to promote universal peace. She is a board member of the Hiawatha Institute for Indigenous Knowledge. In addition to Shenandoah's musical abilities, her entire career has been dedicated to healing, and she has done thousands of events and workshops. Shenandoah recently performed for His Holiness the Dali Lama and at St. Peter's at the Vatican in Italy where she performed an original composition at the celebration for the canonization of the first Native American saint, Kateri Tekakwitha, both in October 2012. Shenandoah has performed at prestigious venues such as the White House and the National Museum of the American Indian.
Chaske Spencer (Lakota)
Actor
Actor and activist Chaske Spencer was born of the Lakota Sioux Tribe, and raised on Indian reservations in Montana and Idaho. Director Rene Haynes cast him in his first feature film Skins, the lead in Dreamkeeper, and Steven Spielberg's Into the West. He has been keeping busy playing "Sam Uley," the alpha male leader of the werewolves in the popular Twilight Saga film series (New Moon, Eclipse,and Breaking Dawn). He is passionate about making a difference with all people in the area of reducing poverty and creating sustainable solutions. He is engaged in several projects to that end through the nonprofit United Global Shift and his personal project "Shift the Power to the People." In June 2010, Chaske created and hosted the "Be the Shift" launch event, where fellow Twilight Saga cast and other celebrities came to help raise awareness and support for the snowstorm disaster victims from South Dakota's Lakota Sioux Tribe, who had been without power and water for weeks.
Ron Whitener, JD (Squaxin Island Tribe)
Executive Director, Native American Law Center
Director, Tribal Court Public Defense Clinic
University of Washington School of Law
Ron Whitener is the Executive Director of the Native American Law Center, the Director of the Tribal Court Public Defense Clinic, and a Senior Law Lecturer at the University of Washington (UW) School of Law. A 1994 graduate of the UW School of Law, he worked as a tribal attorney for the Squaxin Island Tribe (of which he is a member). Professor Whitener's research interests are focused on the intersection of law and health issues for Native Americans. In 2006–7 he was a Fellow of the University of Colorado, Health Sciences Center, Native Elder Research Center. He is co-investigator on several grants with the UW Medical School and is an Associate Justice of the Northwest Intertribal Court of Appeals, a Judge of the Confederated Tribes of the Chehalis Reservation, and Counsel Attorney with Foster Pepper PLLC. In 2009 he received the American Association of Law Schools Section on Clinical Education's Shanara Gilbert Emerging Clinician Award, recognizing a clinician with ten or fewer years of teaching.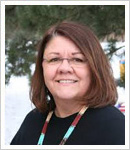 Marilyn J. Bruguier Zimmerman, MSW (Assiniboine-Sioux/Fort Peck Reservation)
Director, National Native Children's Trauma Center, University of Montana
Marilyn J. Bruguier Zimmerman is an enrolled member of the Assiniboine-Sioux tribes of the Fort Peck Reservation. She is the Director of the National Native Children's Trauma Center and serves as Associate Director of the Institute for Educational Research and Services, which allows her to work throughout the nation on culturally relevant, evidence-based interventions to treat childhood traumatic stress, reduce risk factors, and increase protective factors for substance abuse, violence, and suicide among American Indian/Alaska Native youth. In March 2013, she was invited to serve on a congressionally appointed, twelve-member commission to analyze child welfare practices across the country and to investigate and reduce the number of child fatalities in the child welfare system. She serves on Indian Health Service's National Suicide Prevention Committee and is currently a member of the National Action Alliance for Suicide Prevention's American Indian/Alaska Native Task Force.
Federal Working Group
Department of Justice
Office of the Associate Attorney General:
Sam Hirsch, Deputy Associate Attorney General
Anna Martinez, Counsel to the Associate Attorney General
Cindy Chang, Special Assistant and Attorney Advisor
Office of Tribal Justice:
Tracy Toulou, Director
Marcia Hurd, Counsel to the Director
Jeanne Jacobs, Analyst  
United States Attorney's Office:
Brendan Johnson, USA for South Dakota
Amanda Marshall & Sue Rutledge, USA and AUSA for Oregon
Tim Purdon, USA for North Dakota
Barry Grissom, USA for Kansas
Executive Office of United States Attorney's:
Jeremy Jehangiri, Native American Issues Coordinator
Kate Manning, Attorney Advisor
Leslie Hagen, National Indian Country Training Coordinator
Federal Bureau of Investigation:
Kathryn Turman
Office of Community Oriented Policing (COPS):
Priya Sarathy-Jones, Grants Administration Division
Office of Justice Programs (OJP):
Mary Lou Leary, Deputy Assistant Attorney General
Melodee Hanes, Acting Director, Office of Communications
Gena Tyner-Dawson, Tribal Affairs Advisor, OJP
Peter Brien, Attorney Advisor, Office of General Counsel
Derek Van Luchene, SMART Office Fellow
Office of Juvenile Justice and Delinquency Prevention (OJJDP):
Jim Antal, Deputy Associate Administrator
Office for Victims of Crime (OVC):
Joye Frost, Director
Bethany Case, Visiting Fellow
Bureau of Prisons:
Kathryn Tracy, Sr. Deputy Assistant Director, Correctional Programs Division

Department of Interior
Bureau of Education:
Juanita Mendoza, Program Analyst
Bureau of Indian Affairs (BIA):
Darren Cruzan, BIA Deputy Director, Office of Justice Services
Nicole Hanna, DOI/DOJ Liaison
Lanisha Bell, Victim Assistance National Coordinator
Hankie Ortiz, Deputy Bureau Director of the BIA, Office of Indian Services
Rodina Cave, Senior Policy Advisor, Office of the Assistant Secretary for Indian Affairs
Department of Health and Human Services
Indian Health Services:
Beverly Cotton, National SANE-SART Coordinator, IHS Headquarters
Substance Abuse and Mental Health Services Administration:
Rod Robinson, Director
Updated April 11, 2017