Money Mule Initiative
Money Mule Initiative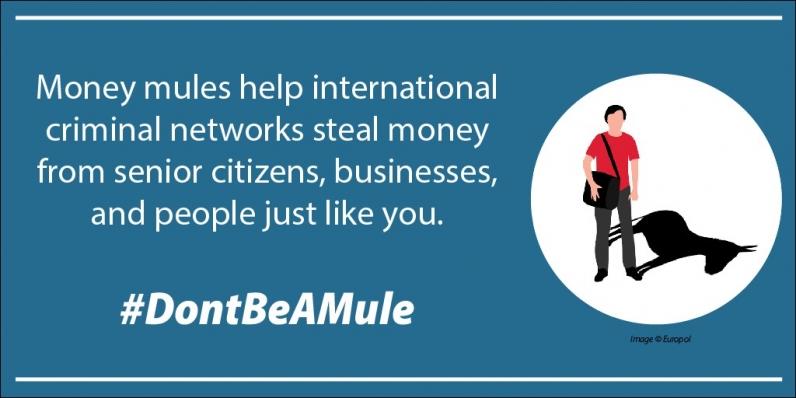 Money mules fuel fraud 
Whether it is cash, packages, gift cards, or virtual currency, assisting money movement puts money in the pockets of criminals.  Think twice before assisting money movement!
What are money mules?
Money mules are people who, at someone else's direction, receive and move money obtained from victims of fraud.  Some money mules know that they have been recruited to assist criminal activity.  Knowingly moving money for illegal activities can lead to serious consequences—including criminal charges.  Others money mules, however, move money at someone else's direction, not knowing that their activity benefits fraudsters.  These individual, even if they don't realize it, enable fraudsters to harm others.
How do people become money mules?
Some people become money mules after responding to online job ads or social media postings.  These positions often have ill-defined responsibilities and involve little more than sending or receiving money or packages or opening accounts.
Other people become money mules after being told they have won a sweepstakes or strike up an online relationship.  Although the stories money mules are told vary by scheme, fraudsters will ask that the person receive money from people they do not know and forward the money on.  Never agree to move money from someone you've never met in person.
How do money mules fuel fraud?
Money mules are sent money by people they don't know and then, at the direction of someone else, provide the funds to other people.  Some fraudsters ask money mules to receive packages containing money or ask money mules to allow funds to be deposited into the money mules' accounts.  Fraudsters may ask money mules to wire money, purchase gift cards or virtual currency, or even provide someone else access to the money mules' accounts. Regardless of the specifics of the money movement, the bottom line is the same: money moves from victims' accounts and nest eggs into fraudsters' pockets.  
The illegally acquired money moved by money mules comes from victims of scams, including romance scams, lottery scams, government imposter scams, and technical support scams.  Money received and forwarded by money mules could also be swindled from businesses or stolen from government funds earmarked for pandemic relief.
What should I do if I have been approached to be a money mule or served as one?
You should stop communicating with the person who asked you to send and receive money.  If you currently have money in your possession from the activity, don't send it to the person who has been giving directions.  You should notify your financial institution about what has happened and consider changing accounts, especially if you've provided any information to the person to whom you've been talking.  Report the communications and suspicious activity to law enforcement.
How can I protect myself and others?
Learning about scams and fraud schemes and how they use money mules will help you spot suspicious activity!  Be cautious of requests to receive and forward money, packages, gift cards, or virtual currency.
You should closely scrutinize job offers that require opening bank accounts, receiving money or packages, or involve little more than sending or receiving money or other things of value, like gift cards or virtual currency.
If someone you've met online or over the phone asks you to send or receive money, that person is likely trying to recruit you to be a money mule and is likely not being truthful with you. Fraudsters pose as potential suitors online or as officials associated with lotteries or sweepstakes; by becoming familiar with scams, including those that use money mules, you can protect yourself from losing money and ensure you don't unknowingly assisting a fraud.
---
Protect yourself and your community!  Agreeing to receive money from people you don't know and forwarding that money is likely fueling fraud and could lead to serious consequences for you.
The Money Mule Initiative is a coordinated law enforcement effort that disrupts fraudsters' use of money mule networks through law enforcement actions and public education.  The effort is led by the Department of Justice Consumer Protection Branch, Federal Bureau of Investigation, and U.S. Postal Inspection Service. Also joining the effort are Department of Labor Office of Inspector General, Federal Deposit Insurance Corporation Office of Inspector General, Homeland Security Investigations, Social Security Administration Office of Inspector General, U.S. Secret Service, and U.S. Treasury Inspector General for Tax Administration.