Our Work
Our Work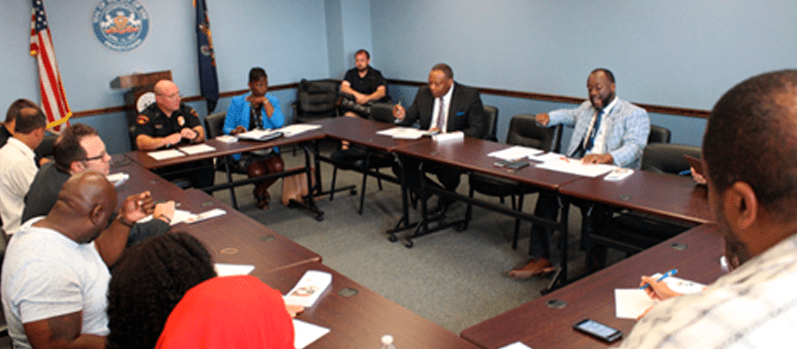 Our Services and Programs
CRS provides facilitation, mediation, training, and consultation services that improve communities' abilities to problem solve and build capacity to prevent and respond to conflict, tension, and hate crimes based on race, color, national origin, gender, gender identity, sexual orientation, religion, and disability. CRS provides programs designed to strengthen community and law enforcement partnerships, as well as school-based programs that improve problem solving between students. The goals of all CRS programs are to help parties in conflict learn about different perspectives, share information about resources and best practices, and support communities as they identify and implement solutions. While some CRS programs may be designed for a particular audience, most programs can be tailored to a specific audience or setting.
Click here for an overview of CRS's services and programs.
| | |
| --- | --- |
| CRS convenes parties in dialogue to identify issues and develop solutions by opening lines of communication, identifying common concerns, and increasing collaboration. | CRS serves as a neutral third-party mediator to facilitate problem-solving discussions and assist in developing documented agreements between parties in conflict. |
| CRS provides a wide variety of training programs that increase understanding and improve collaboration to resolve disputes and prevent future conflict. | CRS helps educate and identify resources for communities by providing technical assistance, best practices, advice, insight, and referrals that improve communities' ability to address underlying issues. |
GodSquad | Keeping the Peace in Sanford, FL
During the 2013 trial of George Zimmerman regarding the shooting of Trayvon Martin, CRS convened local clergy and law enforcement in a working group designed to decrease misinformation and maintain peace in the community. During the trial, these leaders met regularly and constantly monitored developments in the trial – including sitting in the courtroom each day – in order to quash false rumors and promote nonviolence.