Prosecution Of Federal Pollution Crimes
Beginning in the 1970s, Congress enacted a set of laws to protect the nation's air, water, and lands from uncontrolled pollution. These laws responded to the consequences of unregulated industrial development that had fouled those resources to the point where rivers were not fishable, air was unhealthy to breathe, and land contamination put Love Canal at the forefront of national consciousness. Over time, environmental regulation has been very successful at reducing the amount of pollution Americans face every day (see sidebar).
Because the substantial gains from these environmental statutes were accompanied by significant compliance costs, criminal provisions were included or added to deter illegal shortcuts. Managers and executives of businesses that produce pollutants are sometimes tempted to break the law to avoid the costs of treatment equipment and disposal fees. Most ECS prosecutions target those who have knowingly chosen to break the law because they feel environmental responsibility is too much work or too expensive. An early and continuing goal of criminal enforcement is to ensure that businesses that intentionally disregard environmental statutes do not gain a competitive advantage over those that bear their share of the cost of clean air, water, and land. In addition, criminal prosecution acknowledges that environmental stewardship has become a mainstream value, such that most Americans recognize that polluting and the illegal taking of wildlife are repugnant.
To achieve its mission, the Environmental Crimes Section (ECS) works closely with criminal investigators from a variety of agencies to develop evidence to support prosecutions under a broad array of statutes. Most environmental crimes require proof of a pollution event (i.e., discharge of a pollutant into a water of the United States, emission of an air pollutant, or dumping of waste on land) and proof of criminal intent. In most cases, the government proves that intent by showing that the defendant acted "knowingly." That is, the government must show voluntary and intentional conduct, not conduct that is the result of an accident or mistake of fact. For other crimes, such as crimes involving asbestos removal or pollution from ships in international waters, the intentional failure to comply with workplace safety standards or the intentional falsification of records may be what drives the analysis of intent.
Once the prosecution team gathers sufficient evidence, the ECS attorney will present the case to a grand jury for indictment. After the case has been indicted, the work parallels that of any white collar criminal practice, with the addition of legal wrangling regarding the environmental statutes themselves. Because these cases routinely involve medium to large corporations, sophisticated white collar crime defense counsel are our usual adversaries, which means that our cases must be airtight.
During both the investigatory and prosecutorial phases, ECS attorneys pay careful attention to victims and victims' rights. Although some environmental crimes may occur without direct harm to people (e.g., illegal discharges into a sewer system that is capable of treating the pollutant before it enters a water supply), in other cases there are numerous victims whose voices must be heard and whose injuries need to be addressed. Asbestos cases, toxic spills, dumping onto private land, and industrial "accidents" are examples of cases where victim rights are frequently implicated.
Whether a case goes to trial or is settled through a plea agreement, sentencing is one of the most important mileposts for an ECS case. In many cases, prison time for environmental crime is the one cost that a company manager or executive cannot pass on to customers and represents the ultimate deterrent.
The Environmental Crimes Section prosecutes a wide variety of cases. The following are some recent examples.
Protecting the Environment, Public Health, and Worker Safety
United States v. Pass. P&W Waste Oil Services, Inc. (P&W) of North Carolina collected used oil for blending for industrial use. The operation included a tank farm consisting of tanks ranging from 20,000 gallons to 500,000 gallons. The company's facility was located near the Cape Fear River and a federally recognized wetland. The company received used oil from automotive service stations, transformer repair companies, and marinas. In July 2009, a P&W employee collected and transported waste oil containing fluid from five transformers that were contaminated with PCBs in concentrations in excess of 500 parts per million. Despite knowledge of an investigation into the company's illegal handling of PCB-contaminated used oil, P&W owner Benjamin Franklin Pass and a company employee continued to unlawfully dilute and sell the contaminated used oil. The mishandling of the PCB-contaminated used oil led to wide-spread contamination at the tank farm and other companies that accepted the contaminated oil. Pass and P&W pleaded guilty to a variety of charges, including two Toxic Substances Control Act violations, a false statement charge, and tax-related charges. On July 16, 2014, Pass was sentenced to serve 42 months' incarceration, to pay $538,857 to the IRS for taxes he failed to pay between 2002 and 2011, and to pay $21,373,143 in restitution for clean-up costs associated with the environmental contamination at his business and other affected victim-businesses. P&W was sentenced to a five-year term of probation with joint and several liability for the restitution and to take remedial action to address the environmental contamination at its facility and other leased property in eastern North Carolina, including, among other things, the proper treatment and disposal of PCB-contaminated waste oil.
United States v. Bio-Tech Management Inc. From October 2005 through June 2009, Steven Murray directed employees of his pest control services company, Bio-Tech Management Inc., to use outdoor pesticides indoors, contrary to instructions provided by the manufacturer and in violation of the Federal Insecticide, Fungicide, and Rodenticide Act (FIFRA). Employees of Murray's company repeatedly misapplied the registered pesticide Termidor SC in nursing homes in the State of Georgia. After the Georgia Department of Agriculture made inquiries regarding Bio-Tech's misuse of Termidor and other pesticides, Murray directed several of his employees to alter the service reports in order to cover up the misuse of the pesticide and obstruct the investigation. Murray and Bio-Tech pleaded guilty to conspiracy, FIFRA violations, false statements, and mail fraud. On August 27, 2014, Murray was sentenced to 24 months' incarceration, followed by one year of supervised release. He also was required to pay a $7,500 fine. Bio-Tech was sentenced to pay a $50,000 fine and to complete a three-year term of probation.
United States v. Mills. Between November 2011 and February 2012, John Mills, the owner of a New York real estate holding company, and chief supervisor Terrence Allen directed the unlawful removal of thermal system insulation or "pipe wrap" that contained asbestos from several buildings owned by Mills and occupied by various tenants. Asbestos is a known carcinogen and a hazardous pollutant subject to regulation under the Clean Air Act (CAA). Mills and Allen directed a maintenance employee to remove the pipe wrap without warning him that the material contained asbestos or providing him with adequate personal protective equipment. This material was then transported in open bags in the uncovered bed of a truck and stored in a U-Haul-style box truck owned by Mills and a shed maintained by the City of Malone's Department of Public Works in an effort to conceal the material from authorities. Mills and Allen pleaded guilty to conspiracy to violate the Comprehensive Environmental Response, Compensation, and Liability Act (CERCLA) and substantive CERCLA counts for the illegal removal, handling, and disposal of asbestos. On September 8, 2014, each was sentenced to serve 21 months' incarceration, followed by two years' supervised release. Mills also was ordered to pay a $25,000 fine.
United States v. Brightwell involved unlawful discharges of pollutants into storm drains that emptied into the Potomac River. During the period between the spring of 2009 and June 2011, government contractor Phoenix Industries had a contract with the National Park Service to clean out storm water sewer system inlets, catch basins, and oil-water separators on Park Service property, including the National Mall, in Washington, D.C. The contract provided that after Phoenix employees and subcontractors cleaned the storm water sewer components of sludge, debris, and wastewater using a vacuum truck, the waste material was to be transported to a landfill in Maryland for disposal. Instead, company representative Matthew Brightwell directed employees and subcontractors to empty the truck into a storm drain in a parking lot on National Park Service property, within a short distance of the Potomac River. Brightwell further instructed employees to conceal their activity from Park Service officials and law enforcement. When two of the truck operators were caught in the act of discharging waste at the parking lot in June 2011, Brightwell told them to lie to law enforcement. Brightwell pleaded guilty to a Clean Water Act violation and one count of making a false claim against the United States (for billing the United States for work not properly completed). On September 23, 2014, Brightwell was sentenced to serve ten months in prison and to pay $270,667 in restitution.
United States v. Tonawanda Coke Corporation. Tonawanda Coke Corporation (TCC) operated a merchant by-product coke facility in Tonawanda, New York. Coke is used in the steel-mill and foundry industries as an additive in the steel-making process. An investigation of the facility uncovered a number of intentional environmental criminal violations. First, the company had operated an unpermitted coke oven gas emission source at its facility for approximately 19 years. Gas emissions from this illegal source contained several chemical compounds, including benzene, a known carcinogen that is subject to regulation as a hazardous air pollutant under the Clean Air Act (CAA). Second, TCC was subject to a CAA Act permit that required it to install and maintain baffles in its quench towers to reduce the amount of particulate matter that escapes into the atmosphere during coke processing. The company had operated its towers for years without baffles. Finally, TCC illegally stored and disposed of waste coal tar sludge without safeguards to prevent release into the environment, in violation of the Resource Conservation and Recovery Act (RCRA). Prior to an EPA inspection in April 2009, Mark Kamholz, the Environmental Manager at the facility, instructed another employee to conceal violations from inspectors. Kamholz also was responsible for conduct giving rise to the CAA and RCRA violations. After a five-week trial, TCC was convicted of eleven CAA violations that took place over a five-year period, and three RCRA violations that took place over a 19-year period. Kamholz was found guilty of eleven CAA violations, three RCRA violations and obstruction of justice. In March 2014, TCC was sentenced to pay a $12.5 million fine and $12.2 million in community service. The company was placed on a five-year term of probation during which it is to pay its community service. This money will fund an epidemiological study and an air and soil study to help determine the extent of health and environmental impacts of the coke facility on the Tonawanda community. Kamholz was sentenced to one year in jail, a $20,000 fine, and 100 hours of community service.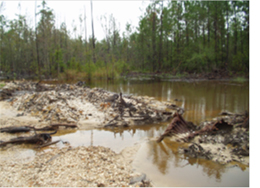 United States v. William R. Miller involved the unlawful draining and filling of wetlands, in violation of the Clean Water Act. Developer William R. "Rusty" Miller owned a 1,700 acre parcel of land in Hancock County, Mississippi. Despite being notified in 2001 that the property was approximately 80% wetlands and required Clean Water Act (CWA) permits to develop, the Miller and developer Hancock County Land, LLC, (HCL) implemented a plan to drain the site, thereby eliminating the wetlands that had limited the possibilities for development. Miller pleaded guilty to a CWA violation in connection with the destruction of wetlands. On April 17, 2014, he was sentenced to serve nine months' incarceration and six months' home confinement. Miller also was ordered to pay a $15,000 fine and $19,246 in restitution. The restitution is to be divided between neighbors whose properties were flooded as a result of Miller's diversion of water from an adjacent wetland. HCL pleaded guilty to two CWA violations and was sentenced to pay a $1 million fine and perform community service by completing court-specified wetland restoration and preservation plans.
Fighting Pollution from Ocean-Going Vessels
In 2014, the fines, restitution, and community service imposed in vessel pollution cases prosecuted by the Division totaled over $11,000,000. This brought the penalties imposed as a result of ENRD's Vessel Pollution Initiative, which began in the late 1990s, to more than $352 million in criminal fines and more than 27 years of confinement. Several of the Division's most recent prosecutions of these deliberate violations include the representative cases below.
On December 19, 2014, Noble Drilling (U.S.) LLC (Noble) pleaded guilty and was sentenced for violations stemming from the illegal operation of the drill ship Noble Discoverer (Discoverer) and the drilling unit Kulluk in Alaska in 2012. Noble pleaded guilty to APPS charges, a violation of the Nonindigenous Aquatic Nuisance Prevention and Control Act (NANPCA), and violations of the Ports and Waterways Safety Act (PWSA). The company was sentenced to pay $12.2 million in fines and community service payments and to serve a four-year period of probation during which time it must implement an environmental compliance plan. Noble's parent corporation, Noble Corporation plc, headquartered in London, England, also has agreed to implement an environmental management system that will be applicable to all mobile off-shore drilling units owned or operated by the parent and its subsidiaries worldwide. During the 2012 drilling season, Noble had problems managing the bilge and wastewater that were accumulating in the engine room spaces of the Discoverer. To dispose of these wastes, Noble devised a makeshift barrel and pump system and unlawfully discharged accumulated wastewater directly overboard. The company also pumped oily skimmer tank fluids and deck water into ballast tanks on the Discoverer and then unlawfully discharged them directly overboard, failing to record the transfers to the ballast tanks and the subsequent discharges in the ballast log, as required by applicable regulations. The company also knowingly made false entries and failed to record its collection, transfer, storage, and disposal of oil in both vessels' oil record books in 2012, in violation of APPS. Noble failed to log numerous transfers and storage of machinery space bilge water and waste oil. The company further violated the PWSA by failing to notify the Coast Guard of several hazardous conditions aboard the Discoverer. Among other things, the ship experienced numerous problems with its main propulsion system, including its main engine and its propeller shaft, resulting in engine shut-downs, equipment failures, and unsafe conditions. At times, problems with the ship's main engine created high levels of exhaust in the engine room, multiple sources of fuel and oil leaks, and backfires, none of which were reported to authorities. After leaving the drill site, the Kulluk ultimately ran aground off the coast of Unalaska when it broke free from its tow in bad weather, and the Discoverer was dead-ship towed from Dutch Harbor to Seward due to failures of its main engine and other equipment. A total of $4 million in community service payments will be paid as follows: $2.5 million will go to the International Arctic Research Center, $1 million will go to the National Fish and Wildlife Fund Alaskan Arctic Fund, and $500,000 will go to the Arctic Research Consortium of the United States. All will be used for research and projects designed to benefit the Arctic and natural resources near Alaska. The court further ordered that $512,500 of the $8.2 million fine be awarded to a crewmember whistleblower.
During a November 2012 inspection of the M/T Bow Lind, a petroleum/chemical tanker ship, Coast Guard investigators discovered that the vessel had discharged oily bilge water directly into the sea while in international waters on multiple occasions. Chief Engineer Ramil Leuterio had directed crew members to bypass pollution prevention equipment and then concealed the illegal discharges by making misleading entries and omissions in the vessel's oil record book. Ship owner Odfjell Asia II Pte Ltd and Leuterio pleaded guilty to violations of the Act to Prevent Pollution from Ships (APPS). On May 14, 2014, Leuterio was sentenced to serve three months' incarceration; the company was ordered to pay a $900,000 fine plus an additional $300,000 community service payment and to implement an environmental compliance plan.
In December 2013, Matthaios Fafalios, Chief Engineer aboard the M/V Trident Navigator, ordered a crew member to construct a bypass in order to illegally discharge oily bilge waste overboard. Several metric tons of waste were discharged, circumventing the ship's oil water separator and oil content monitor. The discharges were not recorded in the oil record book, as required under applicable regulations. Fafalios confiscated a crew member's cell phone that contained a photograph of the bypass and deleted the picture. On January 18, 2014, U.S. Coast Guard personnel boarded the ship while it was anchored in the Mississippi River near New Orleans. A tip from a crewmember resulted in their discovery of the bypass. Fafalios was uncooperative and further obstructed the Coast Guard investigation by instructing crewmembers to falsely deny knowledge of the bypass. Fafalios, was charged with failing to maintain an accurate oil record book, obstruction of justice, and witness tampering. In December 2014, a jury convicted Fafalios on all three counts. Ship operator Marine Managers Ltd. pleaded guilty to a violation of the Act to Prevent Pollution from Ships (APPS) and to obstruction of justice. On October 2, 2014, the company was sentenced to pay an $800,000 fine, make a $100,000 community service payment, and implement an environmental compliance plan.
From October 2011 through September 2012, Ioannis Prokakis, and Antonios Boumpoutelos, Chief Engineer and Second Engineer aboard the vessel M/V Thetis, routinely ordered unlawful overboard discharges of sludge and bilge wastes, then concealed the conduct by directing others to falsify the ship's oil record book and hide bypass piping that was used to make the discharges. The defendants, which included the two crew members and Diana Shipping Services S.A., the ship operator, were charged with and convicted at trial of conspiracy, a violation of the Act to Prevent Pollution from Ships (APPS), obstruction of justice, and falsification of records. On December 5, 2013, Prokakis and Boumpoutelos were sentenced to serve one-year terms of probation. The company was ordered to pay a $1.1 million fine, to implement an environmental compliance plan, and to complete a three and one-half year term of probation.
Arab Ship Management LTD (ASM) operated the M/V Neameh, a 6,398 gross ton ocean-going livestock carrier. On March 28, 2013, the Coast Guard boarded the vessel in the Delaware Bay Big Stone Anchorage to conduct an inspection. The inspection and subsequent criminal investigation revealed heavy oil sludge inside the piping on the discharge side of the pollution prevention equipment leading directly overboard, where no oil sludge would be if the equipment had been used properly. Inspectors also discovered that the vessel's piping arrangement had been illegally modified to allow this sludge to be pumped directly overboard. The piping arrangement was removed prior to the vessel's arrival in Delaware. Also during the inspection, Coast Guard officers were presented with two oil record books that contained different and contradictory entries for the period between November 30, 2011 and January 2, 2012, as well as fake oily waste disposal receipts. On May 20, 2014, ASM pleaded guilty to an APPS violation stemming from illegal overboard discharges of sludge. The company was sentenced to pay $375,000 in restitution, make a $125,000 community service payment, and complete a two-year term of probation during which all vessels owned and operated by the company will be banned from U.S. ports.
Updated July 31, 2023