Department of Justice
INTERPOL Washington
---
Joint Efforts Yield 5 Million Global Child Exploitation Leads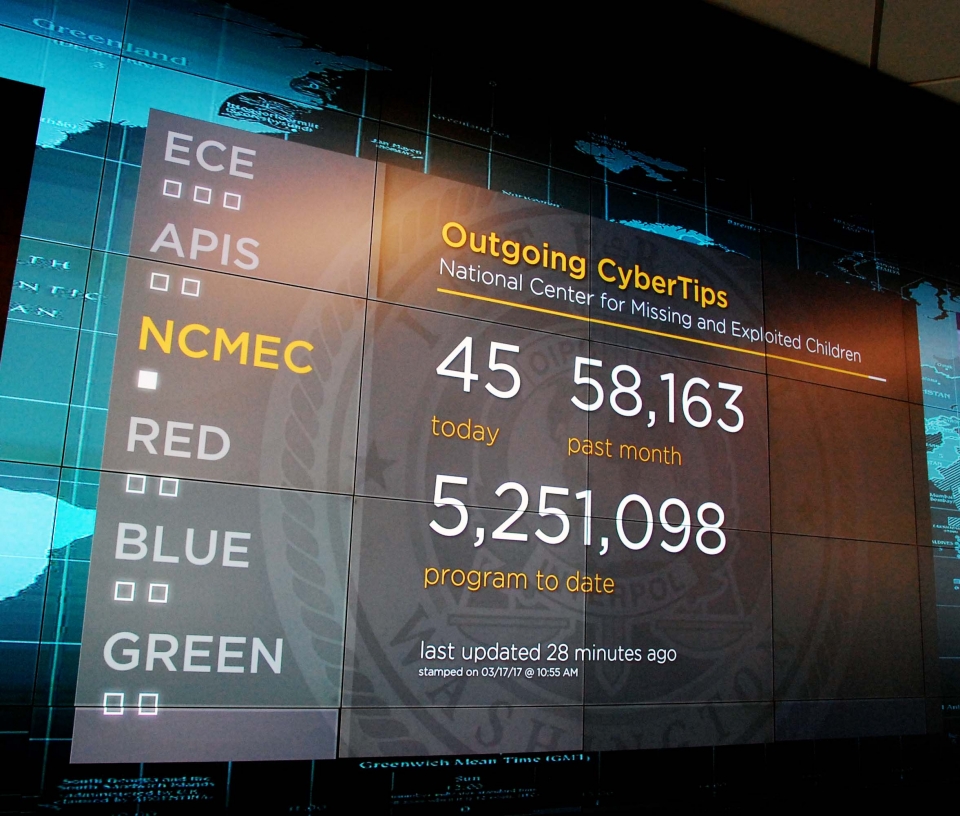 WASHINGTON – Interpol Washington, the U.S. National Central Bureau (USNCB), recently reached a significant milestone in its 20-year partnership with the National Center for Missing and Exploited Children (NCMEC). In February, the total number of reports made available to Interpol member countries through NCMEC's CyberTipline and Interpol's I-24/7 secure messaging system exceeded 5 million.
Pursuant to its nonprofit private mission to help reduce child sexual exploitation, NCMEC works with Interpol Washington to provide law enforcement officials urgent and timely leads and information to prevent child sexual exploitation and abuse. Historically, these leads were not actionable due to the unavailability of law enforcement contacts as well as a lack of an established mechanism for making the reports available to law enforcement in certain jurisdictions. Interpol's I-24/7 secure messaging system is the tool that is being used to quickly and effectively make available the information and leads to investigative law enforcement entities around the world. Foreign Universal Resource Locators (URL) Internet leads received by Interpol Washington are provided to NCMEC. Images and other forms of media containing actual evidence are provided to U.S. law enforcement agencies for potential action.
The source of the shared information is NCMEC's CyberTipline® reports. In May 2014, Interpol's I-24/7 secure messaging system tool went live and the service became available to approximately 140 Interpol member countries after a 30-day pilot program was completed. The pilot program was designed to test how Interpol member countries assimilated data made available from NCMEC. By November 2015, 1 million CyberTipline reports had been made available to international law enforcement agencies, with 38 countries requesting additional follow-up information. Today, more than 5 million CyberTipline reports have been made available through Interpol's I-24/7, a secure, encrypted messaging system accessible by only the country where the leads are sent. This project allows for electronic distribution, 24 hours, 7 days a week, 365 days a year without personnel resources.
"On behalf of Interpol Washington, I would like to thank NCMEC and its leadership for its ongoing and extraordinary efforts in partnering with the USNCB to reach this historic milestone toward the global sharing of information among law enforcement in the fight against child exploitation," stated Wayne H. Salzgaber, Acting Director of the USNCB.
NCMEC created the CyberTipline to further NCMEC's mission of helping to prevent and diminish the sexual exploitation of children in March 1998 using hardware, software, and programming assistance donated by Sun MicroSystems, The CyberTipline provides the public and electronic service providers (ESPs) with the ability to report online (and via toll-free telephone) suspected child sexual abuse images, instances of online enticement of children for sexual acts, extra-familial child sexual molestation, child sexual abuse, child sex tourism, child sex trafficking, unsolicited obscene materials sent to a child, misleading domain names, and misleading words or digital images on the Internet. NCMEC continuously reviews CyberTipline reports to ensure that reports of children who may be in imminent danger get first priority. After NCMEC's review is completed, all information in a CyberTipline report is made available to law enforcement.
"Interpol Washington is a crucial ally in NCMEC's efforts to reduce the dissemination of child sexual abuse images around the world and prevent future child victimization," said John Shehan, vice president of the Exploited Children Division at the National Center for Missing & Exploited Children. "We're tremendously proud of our work with Interpol Washington and its commitment to help bring an end to child sexual exploitation worldwide."
More than 18.4 million reports of suspected child sexual exploitation have been made to the CyberTipline between 1998 and March 11, 2017.
A component of the U.S. Department of Justice, Interpol Washington is co-managed by the U.S. Department of Homeland Security. As the designated representative to the International Criminal Police Organization (Interpol) on behalf of the Attorney General, Interpol Washington serves as the national point of contact for all Interpol matters, coordinating international investigative efforts among member countries and the more than 18,000 local, state, federal, and tribal law enforcement agencies in the United States.
Updated March 17, 2017