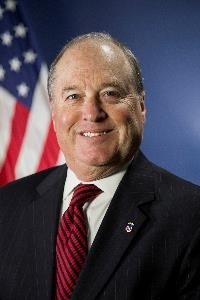 J. Douglas Overbey, United States Attorney
James Douglas Overbey was sworn in as the U.S. Attorney for the Eastern District of Tennessee on Tuesday, November 21, 2017, after being nominated by President Donald J. Trump and confirmed by the United States Senate to serve in this position.
A resident of Maryville, Tennessee, Overbey received his undergraduate degree from Carson Newman College, graduated first in his class from the University of Tennessee, College of Law and has practiced law for 38 years. In 1982, he co-founded the law firm of Robertson Overbey where he was the senior partner.
Prior to his appointment as U.S. Attorney, Overbey was serving his third term in the Tennessee State Senate representing Blount and Sevier counties. 
Updated January 31, 2018