Press Release
Bonners Ferry Man Sentenced for Violent ATM Theft in McCall and String of Prior ATM Larcenies across the U.S.
For Immediate Release
U.S. Attorney's Office, District of Idaho
Co-Defendant to be Sentenced on August 24, 2015
BOISE — Nathan Paul Davenport, 35, formerly of Bonners Ferry, Idaho, was sentenced today to 217 months in prison for ATM larceny, conspiracy, and use of a firearm, U.S. Attorney Wendy J. Olson announced. U.S. District Judge Edward J. Lodge also ordered Davenport to serve five years of supervised release after his prison term, and pay restitution to victims, primarily the affected banks, of $1,174,928.32. The Court also ordered forfeiture of any proceeds of the crimes. Davenport's sentence will be credited for his time in custody since his arrest. He pleaded guilty to the charges on March 30, 2015.
According to the plea agreement, on January 10, 2014, Davenport and his co-defendant, Matthew Taber Annable, aiding and abetting each other, broke into and stole cash from an automated teller machine (ATM) located at the Idaho First Bank in McCall, Idaho. They stole a Ford truck in McCall, which Davenport used to pull the door off the ATM. When Davenport was escaping with the proceeds, he twice stopped the stolen truck and fired a Ruger .223 caliber assault rifle at pursing officers of the McCall Police Department. The officers' vehicles were hit numerous times; fortunately no one was injured. Davenport and Annable communicated over an open cell phone connection during the larceny and shootings and then met up after Davenport evaded the pursuing McCall Police officers. They moved the firearms, tools, and stolen ATM money from the stolen Ford to their own vehicle and escaped. Davenport and Annable were arrested without incident on January 12, 2014, in Orem, Utah. Davenport was carrying a bag with the proceeds of the McCall ATM larceny, approximately $27,000. The two men were in custody on related Wyoming charges prior to being transported to Boise on the Idaho charges. In the District of Wyoming, both men pleaded guilty to single counts of ATM theft and aiding and abetting and each received a fourteen month prison sentence.
The McCall shooting and larceny were the final crimes in an ATM larceny spree that stretched from October, 2012, through January, 2014, and through Florida, Texas, Colorado, Wyoming and other states. These larcenies included two committed against Idaho Banking Company in Boise and Meridian on January 5, 2014.
Annable pleaded guilty on April 20, 2015, to bank larceny by use of a dangerous weapon and conspiracy to commit bank larceny. He is scheduled to be sentenced on August 24, 2015, before Judge Lodge.
The case was investigated by the Federal Bureau of Investigation, the Idaho State Police, the Valley County Sheriff's Office, and the McCall Police Department.
Mapquest map demonstrating the locations of ATM larcenies that Davenport admitted in his plea agreement.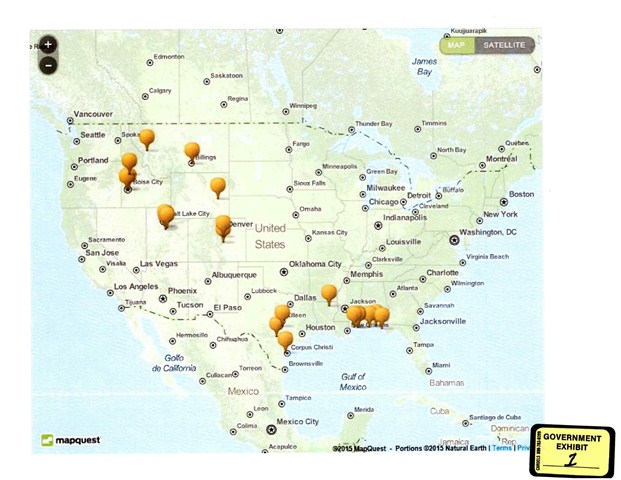 The ATM in McCall after Davenport ripped off the door and stole the money.
Proceeds of the McCall ATM larceny found in Davenport's possession at the time of his arrest.
Ruger .223 assault rifle used by Davenport to shoot at pursuing officers of the McCall Police Department.
Updated June 22, 2015
---