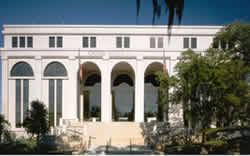 Due to Hurricane Michael, our Panama City Office is currently closed.  For immediate assistance, please contact our Tallahassee Office at (850) 942-8430
Thank you for visiting the Northern District of Florida website.
On this page, you can view the contact information for the office by telephone or by postal mail.
By Telephone
Northern District of Florida - Tallahassee Headquarters: (850) 942-8430
Northern District of Florida - Pensacola Division: (850) 444-4000
Northern District of Florida - Panama City Division: (850) 785-3495
Northern District of Florida - Gainesville Division: (352) 378-0996
BY POSTAL MAIL
Correspondence to the Northern District of Florida, including the U.S. Attorney , may be sent to:
Tallahassee Headquarters
111 North Adams Street
4th Floor U.S. Courthouse
Tallahassee, FL 32301

Pensacola Division
21 East Garden Street
Suite 400
Pensacola, FL 32502
850-444-4000

Panama City Division
1001 East Business Hwy 98
2nd Floor
Panama City, FL 32401

Gainesville Division
300 East University Avenue
Suite 310
Gainesville, FL 32601
Updated October 15, 2018