Kevin W. Techau
United States Attorney For Northern District Of Iowa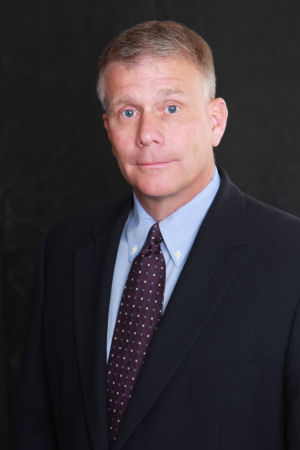 Kevin W. Techau was appointed United States Attorney for the Northern District of Iowa by President Barack Obama on November 7, 2013, and unanimously confirmed by the United States Senate on February 12, 2014.
The United States Attorney acts as the chief federal law enforcement official for the Northern District of Iowa, which includes fifty-two of Iowa's ninety-nine counties. In addition to anti-terrorism efforts, the office prosecutes violations of federal law including drug, firearm, child pornography, and white collar offenses, and represents the United States in both affirmative and defensive civil actions.
Kevin is a sixth-generation Iowan, born in Iowa City, Iowa. He graduated from Marion High School and is a double Hawkeye as a graduate of the University of Iowa College of Business and the University's College of Law. After graduation, he spent seven years on active duty with the United States Air Force including two tours in Europe as a Judge Advocate. After leaving active duty, he served with the Iowa Air National Guard with the 185th Fighter Wing, Sioux City, and 132nd Fighter Wing, Des Moines. He retired as a Colonel while assigned to the Iowa Air National Guard Joint Forces Headquarters at Camp Dodge after completing 27 years of total military service. He was awarded the Legion of Merit Medal.
Kevin served eight years in Iowa Governor Tom Vilsack's and Lt. Governor Sally Pederson's Cabinet where he served as Commissioner of the Iowa Department of Public Safety, the state's chief law enforcement agency, and as Director of the Iowa Department of Inspections and Appeals, the primary  regulatory agency. Prior to joining the Vilsack/Pederson administration, he served as an Assistant Federal Public Defender and was in private practice with the Grefe and Sidney P.L.C. in Des Moines. After serving in the Vilsack/Pederson administration he worked as Associate General Counsel at American Equity Investment Life Insurance Company in Des Moines from 2007 until his appointment as United States Attorney.
Kevin is a graduate of the Leadership Iowa program sponsored by the Iowa Association of Business and Industry, the Greater Des Moines Leadership Institute and the Senior Executives in State and Local Government course at the Kennedy School of Government, Harvard University.  His community affairs have included serving 15 years on the Des Moines Public Library Board of Trustees, and serving on the boards of Keep Iowa Beautiful, the Des Moines Area Religious Council, and the Iowa National Guard Credit Union. He received the Greater Des Moines Leadership Institute Award for Government Leadership in 2006 and in 2007 the SAFEKIDS Iowa Award sponsored by Blank Children's Hospital for his leadership on the Keep Young Drivers Safe (KYDS) effort.
Kevin resides in Cedar Rapids with his wife, Stephanie, and their two children.  Stephanie is a shareholder at Nyemaster Goode, P.C.
Updated February 20, 2015