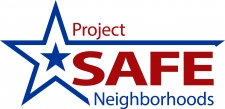 Project Safe Neighborhoods is a nationwide initiative that brings together federal, state, local and tribal law enforcement officials, prosecutors, and community leaders to identify the most pressing violent crime problems in a community and develop comprehensive solutions to address them.
 
In an effort to reduce violent crime, the Department of Justice has taken steps to strengthen the Project Safe Neighborhoods (PSN) Program and other initiatives. Read the press release and see the corresponding memo to United States Attorneys to learn more.
Partnerships and Strategic Planning   Our partners include the R.I. Attorney General's office, agents from the Bureau of Alcohol, Tobacco, Firearms and Explosives, the Providence Police Department, The Institute for the Study & Practice of Nonviolence and the RI Training School. Federal PSN grants help fund additional federal and state prosecutors and ATF investigators, training programs, and assist the City of Providence and The Institute Streetworkers, a network of violence intervention workers who work within neighborhoods to counsel the City's youth.
We meet regularly with our law enforcement partners to review gun cases for prosecution and to discuss and implement future strategies. Since 2001 when PSN was announced, our federal gun prosecutions have more than doubled, and gun offenders prosecuted federally have been sentenced to well over 1,000 years in prison.
The foundations of the PSN strategy are:
Community-Based –Each local program is contoured to fit the specific violent crime problem in that district. 
 
Targeted – Utilizes law enforcement and community intelligence, along with cutting-edge technology, to identify and target the most violent offenders for enforcement action. 
 
Comprehensive – Directs United States Attorneys to marry enforcement efforts with support of prevention and reentry strategies to truly combat violent crime in a lasting way. 
Training  On a regular basis, our prosecutors provide PSN training to the law enforcement community. We offer training in weapons violations, preparing search warrants for federal prosecutors, processing evidence, and officer safety and survival techniques. To schedule a PSN training session, please contact Assistant U.S. Attorney Christine D. Lowell at 401.709.5086 or at Christine.Lowell@usdoj.gov.
In addition, the United States Attorney and prosecutors routinely visit schools and various community centers and organizations engaging students and citizens in discussions about PSN and gangs. Our AUSAs attend monthly meetings across Rhode Island of recently incarcerated individuals now on state probation and visit the state prison to discuss PSN and to give cautionary advice on federal laws to inmates who are soon-to-be paroled.
Accountability   Consistent and vigilant review of gun violence reduction efforts is necessary for a successful and proactive gun violence reduction strategy. Our PSN message "No Friends. No Family. No Freedom. Gun Crime Means Hard Time" is reaching the streets. On more than one occasion, a Providence Police officer has stopped a criminal who has immediately asked, "Am I going Federal?"
To learn more about the Department of Justice's Project Safe Neighborhoods Program and related grants and training please visit www.projectsafeneighborhoods.gov.
Updated May 7, 2021