Legal Aid Interagency Roundtable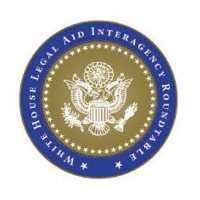 In 2021, President Biden issued a Memorandum restoring the Department of Justice's access-to-justice function and reinvigorating the White House Legal Aid Interagency Roundtable (LAIR). The LAIR convenes 28 federal agencies to improve coordination among federal programs and increase availability of meaningful access to justice for individuals and families, regardless of wealth and status. Through interagency collaboration and stakeholder engagement, the LAIR develops policy recommendations that improve access to justice in federal, state, local, tribal, and international jurisdictions, and advance relevant evidence-based research, data collection, and analysis of civil legal and indigent defense, and promulgate best practices. Additionally, the LAIR assists with implementation of Goal 16 of the United Nation's 2030 Agenda for Sustainable Development to promote peaceful and inclusive societies for sustainable development and provide access to justice for all.
The LAIR is co-chaired by the Attorney General and the Counsel to the President and staffed by the Department of Justice's Office for Access to Justice.
Allie Yang-Green
Executive Director
2023 Report: Access to Justice in Federal Administrative Proceedings
Access to Justice in Federal Administrative Proceedings: Nonlawyer Assistance and Other Strategies
Previous Roundtable Annual Reports
Access to Justice Through Simplification: A Roadmap for People-Centered Simplification of Federal Government Forms, Processes, and Language
Expanding Access to Justice, Strengthening Federal Programs: First Annual Report of the White House Legal Aid Interagency Roundtable
Get to Know the Legal Aid Interagency Roundtable
By Allie Yang-Green, Executive Director, Legal Aid Interagency Roundtable  
March 21, 2023