CCIPS places a high priority on fostering international cooperation and coordination in its intellectual property enforcement efforts and in combating cybercrime.  Building relationships between American law enforcement and our counterparts overseas is the most effective method of ensuring success in multi-national cases.  These relationships are built through international casework as well as through training and outreach. 
In addition, since 2006, the Department of Justice has deployed attorneys overseas at U.S. Embassies or Consulates as regional Intellectual Property Law Enforcement Coordinators and, since 2015, cyber legal advisors.  CCIPS plays a key role in training these attorneys and coordinating their enforcement efforts.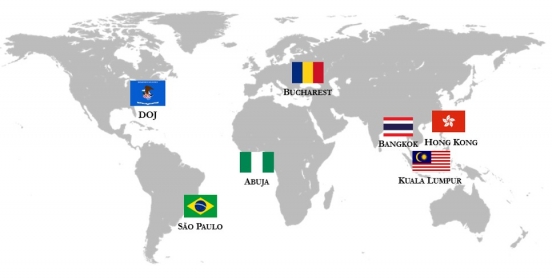 Intellectual Property Law Enforcement Coordinator (IPLEC) Program
Created in 2006, with the first IPLEC stationed in Bangkok, Thailand.
 
The Program deploys DOJ Attorneys overseas (Hong Kong, Bangkok, Bucharest, São Paulo, and Abuja) to:
 

assess the capacity of law enforcement authorities throughout the region to enforce intellectual property rights (IPR);
develop and deliver training designed to enhance the capacity of justice sector personnel to enforce IPR;
assist in developing or strengthening institutions dedicated to enforcing IPR;
monitor regional trends in IPR protection and computer crimes; and
provide expert assistance in support of the United States' IPR policies and initiatives in the region.
 

Contact Information by Region
 
Cyber Resident Legal Advisor (RLA) in Malaysia
The Cyber RLA in Kuala Lumpur, Malaysia represents the Department of Justice in the implementation of justice sector technical assistance activities designed to improve the capacity of the criminal justice systems in the Southeast Asia region to combat cybercrime.
The Cyber RLA is responsible for promoting engagement with relevant components within Southeast Asian criminal justice systems, in order to provide training and mentoring in the area of cybercrime prosecution. The Cyber RLA also coordinates with these entities in efforts to revise and develop legislation and practices in Southeast Asia countries that are consistent with the Budapest Convention on Cybercrime.
In addition, the Cyber RLA promotes and builds capacity on the use of both informal and formal methods of regional cooperation on transnational cybercrime matters, as well as cooperation between these countries and the United States.
International Law Development, Outreach, and Training
CCIPS attorneys, paralegals, and Cybercrime Lab personnel participate in a wide range of international activities aimed to promote the development of law, improve international law enforcement cooperation, and enable other countries to better investigate and prosecute cybercrime and intellectual property crime. 
CCIPS represents the Department of Justice in international organizations such as the Council of Europe Cybercrime Convention Committee, G7 High-Tech Crime sub-group, and the United Nations Crime Commission.
In addition, CCIPS provides training and technical assistance to countries worldwide.  Since its inception, CCIPS has trained thousands of foreign investigators, prosecutors, judges, and other officials on a wide variety of topics related to intellectual property rights enforcement and combatting crimes involving computers and networks.
Updated December 11, 2017