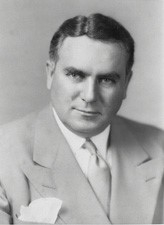 Brien McMahon (1936-1939)
Early History: Brien McMahon was born James O'Brien McMahon in 1903 in Norwalk, Connecticut. He attended Fordham University, earning the nickname "Senator" for his work in student government. After graduation in 1924, he began his legal studies at Yale Law School. Mr. McMahon worked in private practice. Subsequently, the Governor of Connecticut appointed Mr. McMahon to a judgeship in the Norwalk city courts.
Tenure: In 1933, Attorney General Homer S. Cummings, also a Connecticut native, recruited Mr. McMahon to join him at the U.S. Department of Justice his a Special Assistant. In 1936, with Attorney General Cummings's recommendation, President Franklin D. Roosevelt made Mr. McMahon the youngest-ever Assistant Attorney General, tasking him with leading the Criminal Division. In that role, Mr. McMahon oversaw several landmark cases, including the Harlan County Coal Miner's case, the first major government attempt to enforce the Wagner National Labor Relations Act. In addition, Mr. McMahon oversaw the trial of John Dillinger's lawyer, Louis Piquette (for harboring a criminal), and the trials of gangsters associated with "Baby Face" Nelson.
Later Career: After his service at the Department, Mr. McMahon returned to private practice. In 1945, Mr. McMahon was elected to the U.S. Senate where he chaired the Joint Committee on Atomic Energy, spearheading efforts to expand America's nuclear arsenal. In 1952, Mr. McMahon launched a campaign for president. Shortly thereafter, however, he was diagnosed with terminal cancer and was forced to withdraw his candidacy.
Mr. McMahon died in 1952 in Washington, D.C., at the age of 48. The U.S. Federal Building and U.S. Courthouse in Bridgeport, Connecticut are named in his honor.
This material is based on the review of a variety of historical sources and its accuracy cannot be guaranteed. If you have any corrections or additional information about this individual or about the history of the Criminal Division, please contact the Division.
Updated June 23, 2016