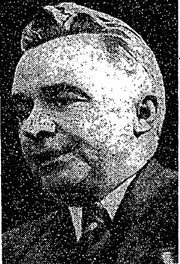 Charles Murray (1952-1953)
Early History: Charles B. Murray was born in 1899 in Washington, D.C. He graduated from Georgetown University Law School in 1923. Mr. Murray began his public career as a clerk with the U.S. Attorney's Office for the District of Columbia in 1920. He then served as chief clerk from 1925 to 1927, before becoming an Assistant United States Attorney. He served as an AUSA until 1952—a total of 22 years with the office. During his tenure as an AUSA, Mr. Murray was known for handling several cases involving persons charged with contempt of Congress (the House Un-American Activities Committee), including the secretary of the Communist Party and 11 members of the Joint Anti-Fascist Refugee Committee.
In July 1952, he was named Special Assistant to Attorney General James P. McGranery to evaluate work done by U.S. Attorneys, specifically the amount of time they were giving to private practice versus the time spent on the backlog of cases pending their offices. At the time, U.S. Attorneys were permitted, within limits, to engage in private practice.
Tenure: One month later, Mr. Murray was named Assistant Attorney General for the Criminal Division by President Harry S. Truman. When he was appointed, Attorney General McGranery explained that Mr. Murray was part of a "fresh team" being formed so that the "business of the Department of Justice will be discharged with dignity and dispatch." At the time, the House Judiciary Subcommittee was investigating the Department for, among other things, fraud and unethical conduct. Representative Frank L. Chelf (D-Ky.), chairman of the subcommittee, praised Mr. Murray's appointment as Assistant Attorney General. He held that post until 1953.
Later Career: After leaving the Department of Justice, Mr. Murray went into private practice in D.C. From 1954 to 1955, he served as President of the D.C. Bar Association. In 1960, the Washington Legal Aid Agency, the predecessor to the Public Defender Service, was created to provide legal counsel to indigent persons charged with serious crimes. Mr. Murray was named its first director and he held that post until 1965. When he resigned, an editorial in The Washington Post said he was leaving "vacant an office which he has filled with devotion and distinction." Mr. Murray then returned to private practice, often handling criminal trials. He fully retired in 1978. In 1993, Mr. Murray died of pneumonia in Virginia. His wife of 55 years, Evelyn Ruth, had passed five years earlier. Mr. Murray was survived by four children, 14 grandchildren, and six great-grandchildren at the time of his death.
This material is based on the review of a variety of historical sources and its accuracy cannot be guaranteed. If you have any corrections or additional information about this individual or about the history of the Criminal Division, please contact the Division.
Updated August 29, 2016