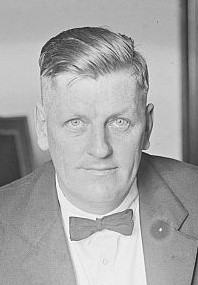 Earl Davis (1924)
Early History: Earl J. Davis was born in Saginaw, Michigan in 1885.  He earned his Bachelor of Law degree from the University of Michigan in 1909.  Upon graduation, Mr. Davis entered into private practice in Saginaw, establishing the firm Otto & Davis where he practiced for ten years.
In 1921, President Warren G. Harding nominated Mr. Davis to be the United States Attorney for the Eastern District of Michigan.  During his tenure, the caseload in that office more than tripled.  Nearly three-quarters of this increase came from the work of enforcing the Volstead Act, which allowed the federal government to enforce the Eighteenth Amendment's ban on the production, sale and transport of intoxicating liquors.
Tenure: In 1924, Mr. Davis was appointed Assistant Attorney General for the Criminal Division by President Calvin Coolidge.  Prohibition enforcement was a priority for the Division under Mr. Davis's leadership.  However, it was the Division's prosecution of George Lewis Rickard that generated the largest headlines during his tenure.  Rickard, known as "Tex," was the nation's most famous fight promoter, having engineered the first million-dollar prize fight in 1921 (between Jack Dempsey and Georges Carpentier).  Under Mr. Davis, the Criminal Division indicted and convicted Rickard for violating laws against the interstate transportation of fight films, as Rickard had traveled around the country holding paid screenings of the "fight of the century."
Later Career: After only eight months, Mr. Davis resigned from the Department to become Chief Counsel to the Senate Select Committee led by Michigan Senator James Couzens.  The Couzens Committee, as it became known, was investigating the Bureau of Internal Revenue for fraud and mismanagement.  The Select Committee's investigations and findings led to the Revenue Act of 1926, establishing the Joint Committee on Internal Revenue Taxation, which remains the primary legislative body responsible for the tax legislative process.
In 1927, Mr. Davis returned to Michigan and private practice.  That year, Mr. Davis was part of another national news story, after automaker Henry Ford asked him for assistance in resolving an ongoing libel suit that had been brought by Alan Sapiro, a leader of the agricultural cooperative movement in California.  Mr. Davis briefly returned to government service in 1929, when the U.S. Attorney in Indianapolis appointed Mr. Davis as a Special Assistant to try several high-profile cases involving local government officials who had allegedly conspired to violate the Prohibition laws.  Mr. Davis died of a heart attack in 1936.
This material is based on the review of a variety of historical sources and its accuracy cannot be guaranteed. If you have any corrections or additional information about this individual or about the history of the Criminal Division, please contact the Division.
Updated October 4, 2016