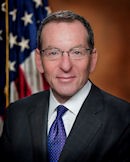 Lanny A. Breuer (2009-2013)
Early History: Lanny Arthur Breuer was born in 1958 in New York. He received his B.A. from Columbia College and his J.D. from Columbia Law School.
Tenure: In 2009, President Barack Obama appointed Mr. Breuer as Assistant Attorney General for the Criminal Division. He served until 2013 and was one of the longest serving Assistant Attorneys General in the Division's history.
Later Career: After his service at the Department, Mr. Breuer returned to the law firm of Covington & Burling, where he had worked previously, specializing in white collar and internal investigations.
This material is based on the review of a variety of historical sources and its accuracy cannot be guaranteed. If you have any corrections or additional information about this individual or about the history of the Criminal Division, please contact the Division.
Updated August 10, 2016