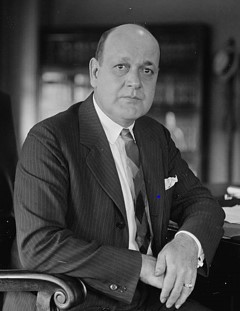 Oscar R. Luhring (1925-1930)
Early History: Oscar Raymond Luhring was born in Haubstadt, Indiana in 1879. He graduated from the University of Virginia with a law degree in 1900, and worked in private practice in Indiana. He served as a member of the Indiana House of Representatives from 1903 to 1904, before assuming the role of Deputy Prosecutor for the First Judicial Circuit of Indiana. He was promoted to Prosecutor in 1908 and served in that capacity until 1912. From 1919 to 1923, Mr. Luhring served as a U.S. Representative of the State of Indiana before becoming Special Assistant to the U.S. Secretary of Labor.
Tenure: In 1925, President Calvin Coolidge appointed Mr. Luhring to be the Assistant Attorney General of the Criminal Division.
Later Career: In 1930, President Herbert Hoover appointed Mr. Luhring to a newly-authorized seat on the Supreme Court of the District of Columbia, which became the United States District Court for the District of Columbia in 1936. Mr. Luhring served as an Associate Justice on that court until his death in 1944.
This material is based on the review of a variety of historical sources and its accuracy cannot be guaranteed. If you have any corrections or additional information about this individual or about the history of the Criminal Division, please contact the Division.
Updated August 10, 2016