Organization, Mission and Functions Manual
Office of Public Affairs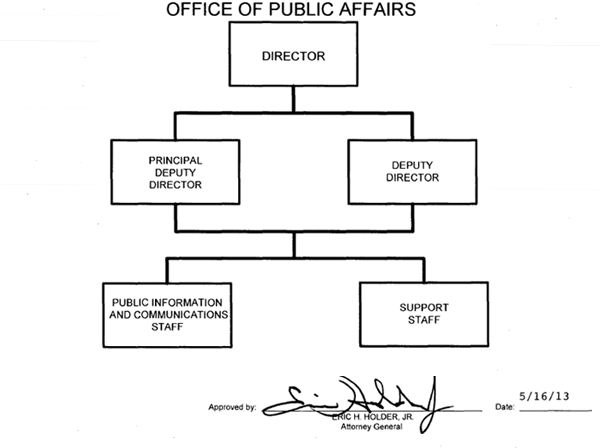 PAO Organizational Chart
Director

Principal Deputy Director

Deputy Director

Public Information and Communications Staff
Support Staff
Approved by: Eric H. Holder, Jr., Attorney General
Date: May 16, 2013
The mission of the Office of Public Affairs (PAO) is to coordinate the relations of the Department of Justice with the news media and serve as the center for information about all organizational units of the Department.
The major functions of PAO are to:
Ensure that the public is informed about the Department's activities and about the priorities and policies of the Attorney General and the President in the fields of law enforcement and legal affairs.

Advise the Attorney General and other Department officials on all aspects of media relations and communications issues.

Coordinate the public affairs units of all Department component organizations.

Prepare and issue all news releases for headquarters, and edit and approve some of those issued by component agencies.

Serve reporters assigned to the Department by responding to queries, issuing news releases and statements, arranging interviews, and conducting news conferences.

Manage the Department's digital presence, including websites, social media, multimedia, and livestreaming; create and disseminate digital communications products and content; and coordinate the digital units of all Department components.

Ensure that information provided to the news media by the Department is current, complete, and accurate.

Ensure that all applicable laws, regulations, and policies involving the release of information to the public are followed so that material that might jeopardize investigations and prosecutions, violate rights of defendants or potential defendants, or compromise national security interests is not made public.