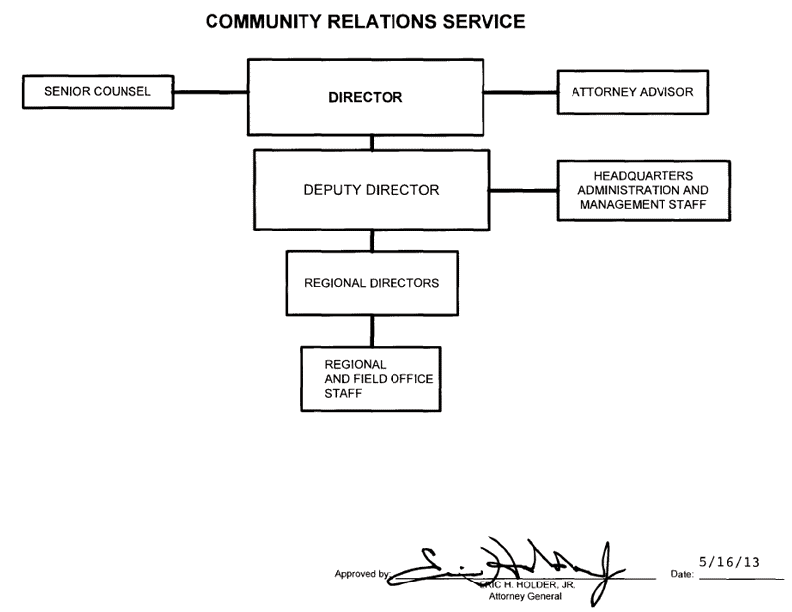 Organization Chart text version
The Community Relations Service (CRS) is the Department's "Peacemaker" for community conflicts arising from identity-based disputes. Specifically, CRS was established by Title X of the Civil Rights Act of 1964, and charged with bringing diverse community stakeholders together to resolve disputes, disagreements, or difficulties relating to discriminatory practices based on race, color or national origin. With the 2009 passage of the Matthew Shepard and James Byrd, Jr. Hate Crimes Prevention Act, CRS's jurisdiction expanded to provide reconciliation services to communities facing tension arising from alleged hate crimes committed on the basis of actual or perceived race, color, national origin, gender, gender identity, sexual orientation, religion, or disability.
The mission of CRS is to provide violence prevention and conflict resolution services to diverse stakeholders to both resolve and prevent community-level disputes. CRS is not an investigatory or prosecutorial agency, and it has no law enforcement authority. Rather, the component works directly with state and local units of government, private and public organizations, civil rights groups, law enforcement, and local community leaders to support their efforts to resolve conflicts and prevent violence. CRS mediators are called Regional Directors and Conciliation Specialists and they are located throughout the country for the purpose of building trust-filled relationships with local community leaders. CRS uses proven dispute resolution practices to lead local leaders through collaborative problem-solving processes that address the roots of community conflict. CRS's mandate calls for its work to be conducted impartially and without imposing solutions on local communities. Rather, the component helps communities develop and implement locally-derived sustainable solutions and build capacity so communities can resolve disputes independently in the future.
The major functions of the CRS are to:
Provide assistance through conflict prevention and reconciliation services using techniques such as conciliation, consultation, facilitated dialogue, training, and mediation services to help communities peacefully address conflict.
 
Provide assistance to local community leaders in resolving disputes, disagreements or difficulties arising out of actions, policies, and practices perceived to be discriminatory on the basis of race, color, or national origin.
 
Help communities prevent and respond to bias incidents or hate crimes predicated on issues of actual or perceived race, color, national origin, gender, gender identity, sexual orientation, religion and disability.
Community Relations Services Field Offices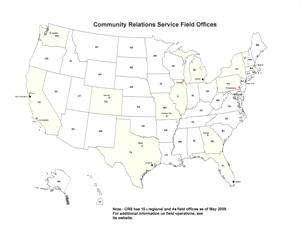 Map text version
Click on map for larger version
Updated September 21, 2022