Press Release
FBI New York Art Crime Team Has Record Number of Art and Cultural Items Returned in Second Half of 2015, Seeks Public Assistance Locating Other Stolen Items
For Immediate Release
INTERPOL Washington
A Chilean tapestry, the Bark Washington painting, and the Ames Stradivarius violin were returned to their rightful owners following the investigative work and partnerships of the FBI's New York Art Crime Team. The team is composed of Special Agents Meridith Savona and Christopher McKeogh, whose primary investigative work includes recovering art and cultural property and bringing those responsible for the theft, fraud, looting and trafficking to justice.
The Chilean tapestry known as The Ambassadors of Rome Offering the Throne to Numa Pompilio was returned in September 2015 to the owner's attorney. The tapestry had been stolen from the owner's residence in Santiago, Chile, in November 2006, and the theft was reported to INTERPOL Washington. The tapestry was recovered when it was placed for auction in New York in 2014. INTERPOL Washington requested the assistance of the FBI's New York Art Crime Team on behalf of the Santiago Police to take custody of the tapestry. The case remains open with the Santiago Police. There were no charges filed against the parties attempting to auction the tapestry.
The Bark Washington painting was returned to the Oysterponds Historical Society in Orient, New York, by the FBI's New York Art Crime Team in September. The painting, along with the Jennie French Potter painting and two whale busks, were stolen in March 2001. The return of the Bark Washington painting was made possible by an individual who bought the painting at an antique shop in East Marion, New York in 2001 for a few hundred dollars. The individual researched the painting on the FBI's Stolen Art Database and discovered it was stolen. He then contacted the FBI, generously agreeing to return it to the rightful owner. The thief was never, and the case remains open.
A 1734 Stradivarius violin, the Ames Stradivarius, was returned in August to the heirs of deceased violinist Roman Totenberg. The violin was stolen from Mr. Totenberg in 1980, along with two antique bows, following a concert in the Longy School of Music in Cambridge, Massachusetts. It was recovered by the FBI's New York Art Crime Team in June 2015. The bows are still missing, and the FBI case remains open.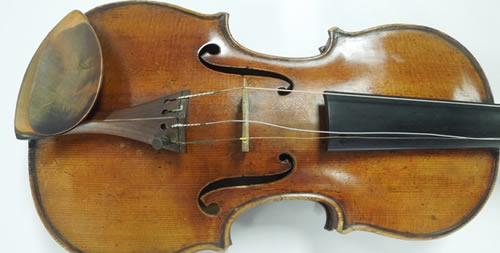 The FBI reminds the public to come forward with any information they may have about the missing items. Tips may be submitted to the FBI's Art Crime Team at (212) 384-1000 or on our webpage (https://tips.fbi.gov/). Tipsters may remain anonymous. Art and cultural item buyers are recommended to review the FBI's Stolen Art Database prior to a purchase to avoid civil forfeiture of stolen items.
Updated October 12, 2018
---