Principal Deputy Assistant Attorney General Katharine T. Sullivan and Assistant Secretary for Indian Affairs Tara Sweeney convened the first in a series of listening sessions and consultations by the Presidential Task Force on Missing and Murdered American Indians and Alaska Natives.  The listening session was held at the National Congress of American Indians' Executive Council Winter Session in Washington, D.C.
Established by Executive Order 13898, the task force, designated Operation Lady Justice, has been empowered to review cold cases in Indian country, strengthen law enforcement protocols and work with tribes to improve investigations and information sharing and ensure a more seamless response to missing persons investigations.
In addition to listening to feedback and concerns from tribal leaders and citizens, the task force announced further planned listening sessions and consultations to take place in Washington, D.C., Oklahoma, California, New Mexico, Washington State, Michigan, Alaska, and North Dakota in the Spring and Summer.
Attorney General William P. Barr designated PDAAG Sullivan to serve as co-chair of the task force; Assistant Secretary Sweeney serves as co-chair designee for Secretary of the Interior David L. Bernhardt. Officials from the departments of Justice, Interior and Health and Human Services make up the other task force members.
PDAAG Sullivan also took part in a consultation with tribal leaders on funding set-aside by OJP's Office for Victims of Crime to serve crime victims in Indian country.  Tribal leaders, tribal representatives, federal staff and other stakeholders attended the session, which was designed to solicit feedback on a formula for the tribal set-aside. More than $132 million is available in tribal set-aside funding in fiscal year 2020.
The task force and the set-aside program are part of the Trump administration's commitment to addressing violence and victimization in tribal communities. President Trump has called the crisis of missing and murdered Native Americans "sobering and heartbreaking." Under the Attorney General's leadership, the Department of Justice has made historic levels of funding opportunities available to support tribal public safety and continues to expand tribal public safety programs.
For more information about the Justice Department's tribal public safety programs, visit: www.justic.gov/tribal.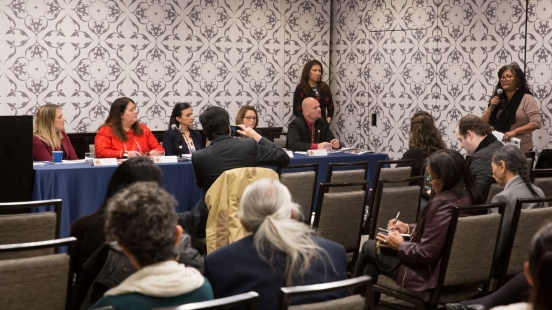 Updated February 13, 2020