Office of Small and Disadvantaged Business Utilization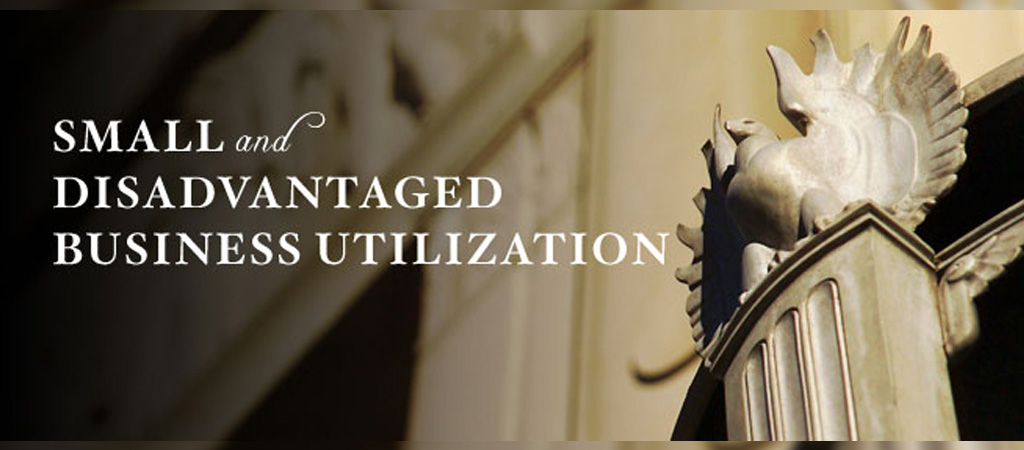 Welcome to the Department of Justice's (DOJ) website for Small and Disadvantaged Businesses. Our mission is to ensure that small businesses, including small disadvantaged businesses, woman owned small businesses, service disabled veteran owned small businesses and HUBZone certified businesses have the maximum practicable opportunity to participate in our work as prime contractors and subcontractors. DOJ's major buying activities spent approximately $2.6 billion through contracts with small businesses in FY 2019.
DOJ is committed to encouraging and assisting small businesses seeking contracts with the Department. The acquisition function in the Justice Department has been assigned to each of our bureaus' contracting staffs, most of which are located in the metropolitan Washington, D.C. area. We've prepared several avenues to assist you in getting better acquainted with the requirements and procurement practices of the bureaus that make up "the largest law firm in the Nation."
The Office of Small and Disadvantaged Business Utilization (OSDBU) pursuant to Public Law 95-507, is tasked with fostering the use of small businesses as Federal contractors. To accomplish this task, the OSDBU develops and implements appropriate outreach programs aimed at heightening the awareness of the small business community to the contracting opportunities available within the Department. Outreach efforts include activities such as sponsoring small business fairs and procurement conferences as well as participating in trade group seminars, conventions, and other forums that promote the utilization of small business as contractors.
Leadership
Bob Connolly
Director
Contact
Office of Small and Disadvantaged Business Utilization
(202) 616-0521
Fax (202) 616-1717
Resources for Small Businesses Impacted by COVID-19
Image credit: Alissa Eckert, MS; Dan Higgins, MAMS
SAM.gov is the place to find out about opportunities to do business with the federal government.