Department of Justice
U.S. Attorney's Office
Southern District of Mississippi
---
FOR IMMEDIATE RELEASE
Wednesday, April 11, 2018
Local Victim Advocates Honored During National Crime Victims' Rights Week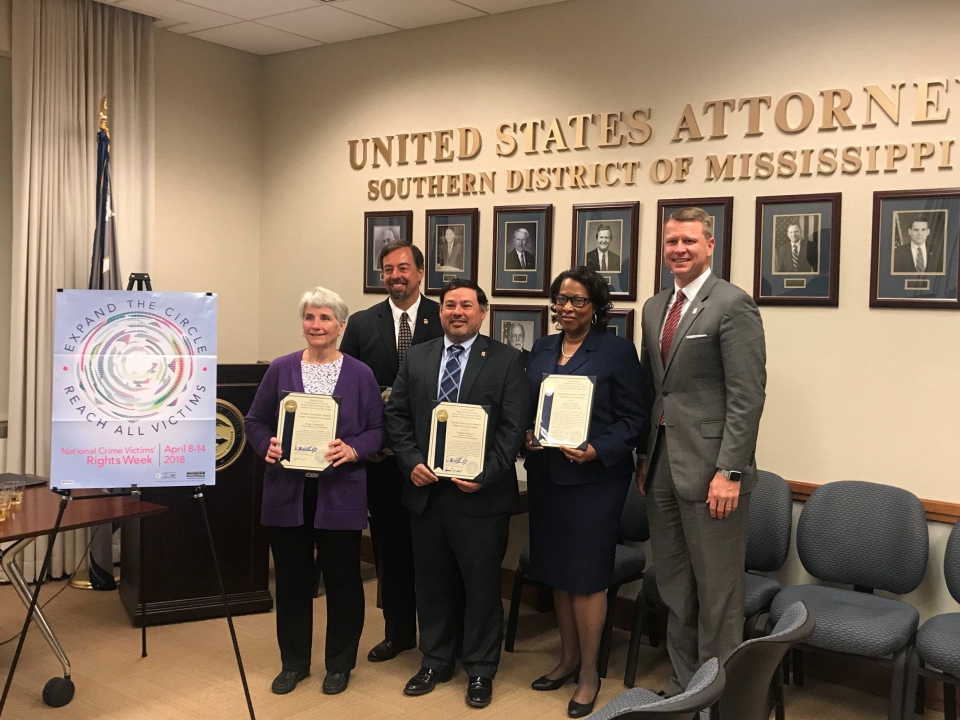 Jackson, Miss. – In observance of National Crime Victims' Rights Week, April 8-14, 2018, the United States Attorney's Office for the Southern District of Mississippi held a Crime Victims' Rights Awards Ceremony today to recognize law enforcement professionals who have demonstrated exceptional service to crime victims within the Southern District of Mississippi.
"In law enforcement, we are sworn to serve and protect," Attorney General Sessions said. "We carry out this oath every day by protecting the rights of law abiding people from criminals and by achieving justice for crime victims. This week, we remember the millions of Americans who have been victimized by criminals and we thank those who have gone above and beyond the call of duty in their service to those victims. As we do so, we recommit ourselves to fulfilling our oath and to reducing crime in America."
"While fighting crime, we must remember why we do this – for people. We take our responsibility very seriously to protect people from crimes and to help victims after crimes have occurred. I commend these individuals for their outstanding service to victims and their families and for their steadfast and unwavering support and pursuit of justice," said U.S. Attorney Mike Hurst.
U.S. Attorney Hurst made the following awards presentations during today's ceremony:
AUSA Victim Assistance Award: Glenda R. Haynes, Assistant U.S. Attorney. This award recognizes an AUSA who is an extraordinary advocate for the rights of victims and demonstrates exceptional commitment to the pursuit of justice. Ms. Haynes' professional dealings with victims are honest and effective, reflecting well on the United States Attorney's Office and furthering the goal of restorative justice.
Special Agent Victim Assistance Award: Todd Key, Special Agent, Immigration and Customs Enforcement, Homeland Security Investigations. This award recognizes a Special Agent who consistently displays superior investigative skills and sensitivity to the rights and needs of victims. Special Agent Key has demonstrated steadfast persistence and dependability during the all phases of the investigation and prosecution of cases involving victims of crime.
Support Staff Victim Assistance Award: Lisa Dunn, Legal Assistant, U.S. Attorney's Office, Gulfport branch. This award recognizes a support staff member who goes above and beyond the call of duty to assist victims. Mrs. Dunn consistently promotes trust and confidence between victims and advocates and provides exceptional support to victims in direct communication and through court preparation.
State/Local Law Enforcement Victim Assistance Award: Richard Johnson, FBI Task Force Officer and Special Investigator with the Mississippi Attorney General's Office. This award recognizes a member of state or local law enforcement that exhibits professionalism and superior service and sensitivity to victims. Johnson has been unwavering in his efforts to restore a sense of security and trust to victims, while also vigorously pursuing justice. A notable example of his exceptional work involved a particularly heinous federal criminal case with multiple child victims.
Crime Victim Service Legacy Assistance Award: Marge Whitmarsh, FBI Victim Specialist. This award recognizes an extraordinary individual whose dedication to crime victim advocacy has been particularly noteworthy. Ms. Whitmarsh has a passion for helping crime victims. She works tirelessly to facilitate justice for victims by promoting and ensuring their legal rights.
Each year in April, the Department of Justice and United States Attorney's Offices observe National Crime Victims' Rights Week nationwide by taking time to honor victims of crime and those who advocate on their behalf. In addition, the Justice Department and U.S. Attorney's Offices organize events to honor the victims and advocates, as well as bring awareness to services available to victims of crime. This year's observance takes place April 8-14, with the theme Expand the Circle: Reach All Victims.
The Department of Justice's Office for Victims of Crime, within the Office of Justice Programs, leads communities across the country in observing National Crime Victims' Rights Week each year. President Ronald Reagan proclaimed the first National Crime Victims' Rights Week in 1981 to bring greater sensitivity to the needs and rights of victims of crime.
The Office of Justice Programs provides innovative leadership to federal, state, local, and tribal justice systems, by disseminating state-of-the art knowledge and practices across America, and providing grants for the implementation of these crime fighting strategies. Because most of the responsibility for crime control and prevention falls to law enforcement officers in states, cities, and neighborhoods, the federal government can be effective in these areas only to the extent that it can enter into partnerships with these officers. More information about the Office of Justice Programs and its components can be found at www.ojp.gov. More information about Crime Victim's Rights Week can be found at https://ovc.ncjrs.gov/ncvrw/. You may also contact the U.S. Attorney's Office in Jackson at 601-965-4480.
Updated April 11, 2018