Human Trafficking in Western Michigan
"Unfortunately, human trafficking happens all across the United States, including here in West Michigan.  Human trafficking often occurs in plain sight, but it is difficult to identify without knowing what to look for.  The attorneys and staff of the U.S. Attorney's Office are dedicated to helping others learn more about trafficking.  This type of training allows community members to help victims escape their entrapment, and it assists the U.S. Attorney's Office in identifying and prosecuting traffickers.  If you are interested in learning more about trafficking or scheduling a presentation for your organization, please feel free to contact our office.  The resources listed below also seek to help people learn more about the realities of human trafficking."
Andrew Birge
United States Attorney
Western District of Michigan
What Is Human Trafficking?
Human trafficking is defined as, "Activity in which human beings are treated as possessions to be controlled and exploited such as by being forced into prostitution or involuntary labor." – Merriam-Webster
Human Trafficking Defined
Human Trafficking is a crime that involves exploiting a person for labor, services, or commercial sex.
The Trafficking Victims Protection Act of 2000 and its subsequent reauthorizations define human trafficking as:
a) Sex trafficking in which a commercial sex act is induced by force, fraud, or coercion, or in which the person induced to perform such act has not attained 18 years of age; or
b) The recruitment, harboring, transportation, provision, or obtaining of a person for labor or services, through the use of force, fraud, or coercion for the purpose of subjection to involuntary servitude, peonage, debt bondage, or slavery. (22 U.S.C. § 7102(9)).
Resources
Links To More Information
Link to the Department of Justice Human Trafficking web page: https://www.justice.gov/humantrafficking
Link to Kent County Human Trafficking Task Force web page: https://www.accesskent.com/Sheriff/human-trafficking.htm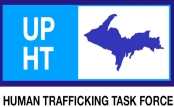 Link to the Upper Peninsula Human Trafficking Task Force page: https://www.upht123.org/
Updated December 12, 2022