The Computer Crimes & Child Exploitation Unit prosecutes a broad range of computer-related crimes, from cases involving the sexual exploitation of children and Internet child pornography to computer intrusions (or "hacking"), copyright and trademark violations, theft of trade secrets, economic espionage, and Internet fraud.
Learn more about Project Safe Childhood
Recent Significant Cases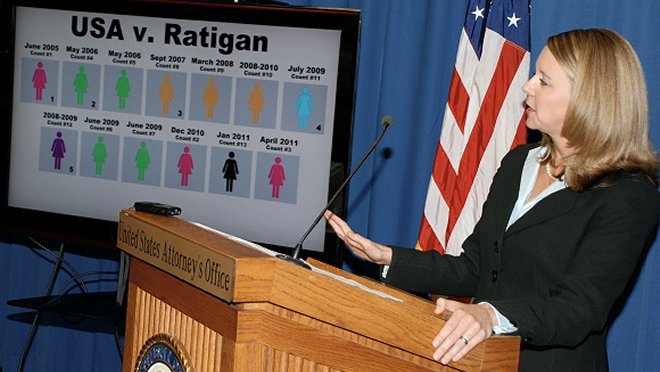 U.S. Attorney Beth Phillips announces the federal indictment of Roman Catholic priest Shawn Ratigan for producing child pornography.
Project Safe Childhood
Catholic Priest Indicted for Producing Child Pornography
Indictment Alleges Exploitation of Five Child Victims, Some on Church Property
KANSAS CITY - A Roman Catholic priest was indicted by a federal grand jury today for producing and possessing child pornography. Shawn Ratigan, 45, of Independence, Mo., a diocesan priest and former pastor or assistant pastor in several area parishes, was charged in a 13-count indictment returned by a federal grand jury in Kansas City, Mo. Ratigan was the parish pastor at St. Patrick's Catholic Church in Kansas City, Mo., and more recently served as chaplain to the Franciscan Sisters of the Holy Eucharist in Independence.
Read the News Release
Grand Jury Indictment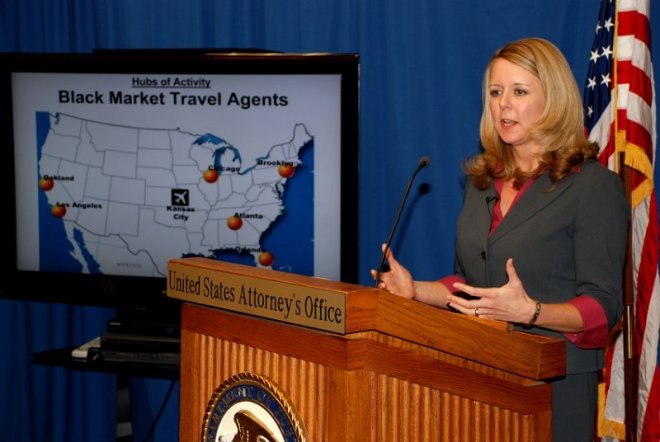 U.S. Attorney Beth Phillips announces a federal indictment of a conspiracy of 'black market travel agents.'
Black Market Travel Agents
38 defendants indicted in multi-million dollar fraud;
Local investigation exposes nationwide network that used stolen identities, credit cards to purchase airline tickets
KANSAS CITY - Thirty-eight defendants from across the United States have been charged in a series of indictments that allege an extensive network of black market travel agents who used the stolen identities of thousands of victims as part of a multi-million dollar fraud scheme to purchase airline tickets for their customers. "What began as a local law enforcement investigation ultimately exposed an extensive nationwide black market for airline tickets," U.S. Attorney Beth Phillips said. "Six federal indictments allege that 38 defendants used stolen credit and debit card information from thousands of identity theft victims to purchase tickets, which they sold to their customers at a steep discount," Phillips added. "These separate criminal conspiracies resulted in an estimated total loss of more than $20 million to numerous domestic airline companies, financial institutions, other merchants and cardholders."
Read the News Release
List of indictments & defendants
Press Conference Display

Beecham, et al Indictment 
Burks, et al Indictment 

Clay Indictment
Harrison, et al Indictment 

Palmer, et al Indictment
Pryor, et al Indictment 


CASE UPDATES
To contact the Computer Crimes and Child Exploitation Unit, call 1-800-733-6558, or locally in Kansas City call 816-426-3122.
Updated August 24, 2015