Tom Larson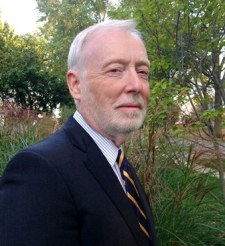 Acting U.S. Attorney Tom Larson is the top-ranking federal law enforcement official in the Western District of Missouri, which includes Kansas City, St. Joseph, Columbia, Jefferson City, Springfield and Joplin.
The office is responsible for prosecuting federal crimes in the district, including crimes related to terrorism, public corruption, child exploitation, firearms, and narcotics. The office also defends the United States in civil cases and prosecutes civil claims for the United States.
Larson, who has served in the U.S. Attorney's Office since 1980, has also served as the First Assistant U.S. Attorney and as Deputy U.S. Attorney. He served in the Criminal Division from 1980 to 1991, and in the Civil Division from 1994 to 2016.
In addition to the U.S. Attorney's Office, Larson has prior legal experience in the Civil Rights Division of the Department of Justice, the Federal Public Defenders Office, the Jackson County Public Defenders Office and as Jackson County Counselor. He received his J.D. from the University of Missouri-Kansas City in 1971 and his Bachelor of Arts degree from the University of Nebraska in 1967.
Updated March 13, 2017