The Fraud & Corruption Unit focuses on the types of complex fraud, corruption, and financial crimes that the federal government is uniquely qualified to handle. These include cases of public corruption, economic crimes (such as mortgage fraud, securities fraud, health care fraud and other types of financial fraud, identity theft, counterfeiting, defrauding federal programs, and others), environmental crimes, civil rights violations and immigration violations. The Unit's responsibilities also include the investigation and prosecution of organized crime, with a focus on "criminal enterprises," that is, criminal groups that reflect the type of structure, range and continuity consistent with "organized crime."
Recent Significant Cases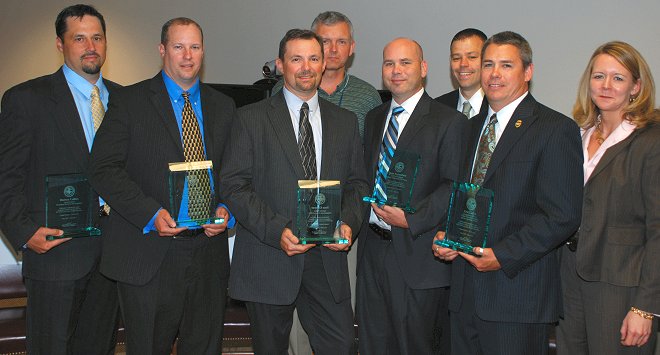 Agents recognized for human trafficking investigation
U.S. Attorney Beth Phillips (far right) recognized the outstanding work of seven federal agents who participated in the investigation of U.S. v. Askarkhodjaev, an international human trafficking case that resulted in convictions for eight defendants (four more defendants remain international fugitives). Hundreds of illegal aliens working in 14 states were victims of the labor trafficking scheme, the first case in the nation in which forced labor trafficking was charged as part of a RICO conspiracy. Agents honored for their work included (not pictured in order) Darren Collins and Ken Lovesee (Homeland Security Investigations), Travis Glaser (IRS-Criminal Investigation), Sean Kilcoyne (Department of Labor - OIG), Eric Leuth (U.S. Citizenship and Immigration Service), Jeff Weiland (Federal Bureau of Investigation) and Daren Fox (accepting the award on behalf of Dean Reynoldson, Kansas Department of Revenue).
Press Release: Uzbek Man Sentenced for Role in Multi-National Racketeering and Forced Labor Enterprise
Former university president indicted for embezzling $1.5 million
KANSAS CITY - The former president and CEO of Kansas City University of Medicine and Biosciences (KCUMB) has been indicted by a federal grand jury for embezzling more than $1.5 million from the university. The alleged fraud scheme included unauthorized compensation payments as well as reimbursements from the university for personal expenses and fraudulent charitable contributions. The indictment also charges her with tax violations and money laundering. Karen L. Pletz, 63, of Kansas City, Mo., was charged in a 24-count indictment that was returned under seal by a federal grand jury in Kansas City, Mo., on Wednesday, March 30. Pletz was the president and CEO of KCUMB and was a member of the board of trustees of KCUMB from 1995 until December 2009.
Read the News Release
Read the Indictment
Press Conference Display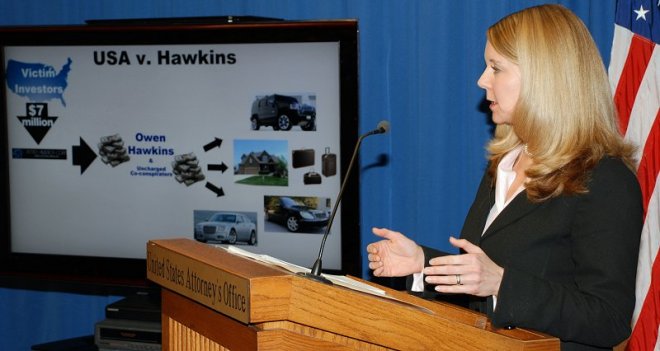 U.S. Attorney Beth Phillips announces criminal charges against Isreal Owen Hawkins,
the founder of Petro America.

KCK man charged in $7.2 million fraud scheme that targeted thousands of investors nationwide
KANSAS CITY - A Kansas City, Kan., man has been charged in federal court for his role in a $7.2 million securities fraud scheme that victimized thousands of investors across the United States. Isreal Owen Hawkins, 55, of Kansas City, Kan., was charged in a two-count criminal complaint filed in the U.S. District Court in Kansas City, Mo. Hawkins is the president and CEO of Petro America Corporation. The criminal complaint charges Hawkins with securities fraud and with structuring financial transactions in order to evade federal reporting requirements.
Read the News Release
Press Conference Display
CASE UPDATES

U.S. Attorney Beth Phillips announces the nation's first federal indictment for credit history fraud
Credit history fraud alleged in $2.7 million Lee's Summit mortgage scheme;
California woman, Florida man first in nation to be indicted
KANSAS CITY - A California woman and a Florida man were indicted by a federal grand jury for their roles in a credit history fraud that allegedly contributed to a nearly $3 million mortgage fraud scheme in Lee's Summit, Mo. Karen Washam-Hawkins, 48, of Carson, Calif., and Gerald William Bartlett, 38, of Tampa, Fla., were charged in a six-count indictment returned by a federal grand jury in Kansas City, Mo.
Read the News Release
Read the Indictment

Press Conference Display
To contact the Fraud and Corruption Unit, call 1-800-733-6558, or locally in Kansas City call 816-426-3122.
Updated February 26, 2015