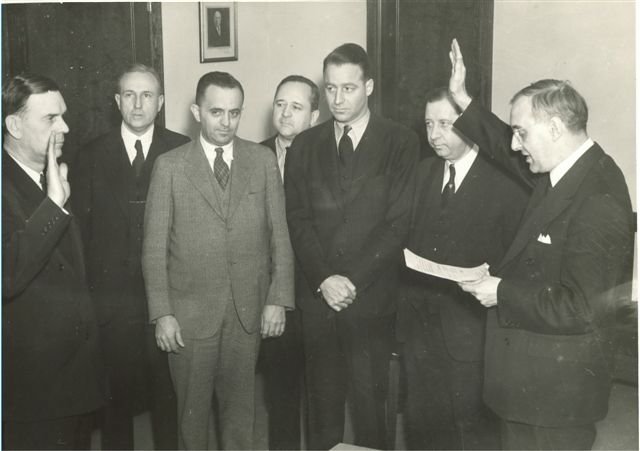 Pictured: U.S. Attorney Maurice M. Milligan; Assistant U.S. Attorneys Thomas A. Costolow, Otto Schmid, Richard K. Phelps and Sam C. Blair; First Assistant Randall Wilson; and U.S. District Judge Merrill E. Otis.
United States Attorney Maurice M. Milligan
Taking the Oath of Office as he Commences his Second Term
February 1938
Political boss Tom Pendergast reigned during an era of public corruption in the 1920s and 1930s. Kansas City was known as an "open city" where gangsters moved freely and vice flourished. Pendergast's machine controlled public offices in Kansas City an Jefferson City through voter intimidation and corruption of the ballot box. Local election results often showed vote totals for machine candidates that exceeded the total population in several wards and precincts.
Prior to the general election of 1936, concerned citizens urged the federal district court and the U.S. Attorney to take action. The results of the 1936 election indicated massive vote fraud. U.S. District Judge Albert Reeves put a grand jury to work, charging them to "reach for all, even if you find them in high authority." U.S. Attorney Maurice M. Milligan and his staff prosecuted the resulting vote fraud cases for a total of 259 convictions.
Milligan was up for reappointment to a second term in February 1938. Senator Harry S. Truman rose in opposition, famously stating on the Senate floor that "a Jackson County Democrat has as much chance of a fair trial in the Federal District Court of Western Missouri as a Jew would have in a Hitler court or a Trotsky follower before Stalin."
President Roosevelt nonetheless reappointed Milligan, and Judge Merrill E. Otis administered the oath in February 1938. The following year, Milligan and his AUSAs obtained a tax fraud indictment against Pendergast. Following a guilty plea, Judge Otis sentenced Pendergast to a 15-month term and "the Boss" went to Leavenworth to serve his time in May 1939. It was the end of a corrupt but colorful era.
Milligan remained in office until after President Roosevelt's death, serving until June 1945. He served a total of 11 years as U.S. Attorney for the Western District of Missouri.
Updated February 26, 2015