As we celebrate Native American Heritage Month and the 25th anniversary of the Americans with Disabilities Act (ADA), the Department of Justice is working to open gateways to full participation for people with disabilities in Native American communities.  Native Americans have among the highest rates of disability in the United States.  This month, we are highlighting the story of a Native American family who will benefit from the Department of Justice's work to improve access to parks and playgrounds in Robeson County, North Carolina.  Robeson County is geographically the largest and poorest county in North Carolina, with almost 32 percent living below the poverty level.  Its total population is over 130,000, and is 39.5 percent Native American.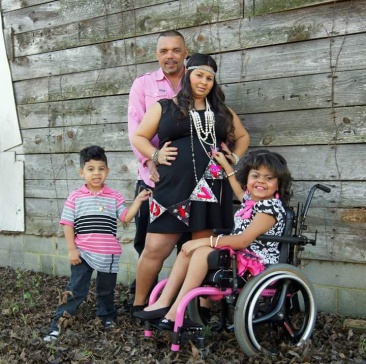 One of Robeson County's residents is 9-year old Jayla.  She loves sports and playing outside and is a member of the Lumbee Nation.  Jayla has spina bifida and uses a wheelchair.  She looks forward to going to the playground with her younger siblings, but she can't play in any of the county's playgrounds because the playgrounds have a large rubber border and their surface is sand.  Jayla's wheelchair can't get over the border and once she is inside the border, her wheels can't get traction in the sand.  Further, none of the elements in the playgrounds are accessible to her.
Jayla's parents don't want to bring their children to play in a playground that Jayla can't enjoy, so no one goes.
Soon, Jayla's exclusion from the playground will become a thing of the past.  This past July, Robeson County and the Justice Department reached an agreement under Project Civic Access (PCA), the department's wide-ranging initiative to ensure that cities, towns and counties throughout the country comply with the ADA.  One of the hallmarks of the agreement is that Robeson will bring two of its playgrounds into compliance with current ADA standards so that Jayla can play there, together with her siblings. http://www.ada.gov/robeson_co_pca/robeson_sa.html
The Justice Department also reached a PCA agreement this year with San Juan County, New Mexico, which is located along the eastern boundary of the Navajo Nation reservation and is 39 percent Native American. http://www.ada.gov/san_juan_co_pca/san_juan_sa.html.  The agreements with Robeson County and San Juan County will ensure that county facilities, services, programs and activities are fully accessible to people with disabilities, including the large Native American populations that live in those counties. 
Over the past 15 years, nearly 220 communities have signed agreements with the Department of Justice to ensure that their citizens with disabilities enjoy the same services, programs and activities that all others enjoy.  For more information about the ADA, the Robeson and San Juan agreements, PCA or the ADA Best Practices Tool Kit for state and local governments, individuals may access the ADA Web page at http://www.ada.gov/civicac.htm or call the toll-free ADA Information Line at (800) 514-0301 or (800) 514-0383 (TTY).
Related blog posts
There are currently no blog posts matching your search terms.
Updated March 3, 2017