John C. Anderson
Former United States Attorney
District of New Mexico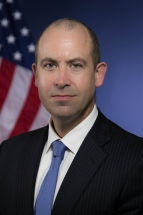 John C. Anderson became the 46th U.S. Attorney for the District of New Mexico on February 23, 2018.  President Donald J. Trump nominated Mr. Anderson to be U.S. Attorney in November 2017, and the U.S. Senate unanimously confirmed his nomination on February 15, 2018.  As U.S. Attorney, Mr. Anderson serves as the top federal law enforcement official in New Mexico, and he represents the United States' interests in civil cases.  Mr. Anderson previously served as an Assistant U.S. Attorney in the District of New Mexico from 2008 to 2013, primarily focusing on the investigation and prosecution of white-collar crime.
Prior to serving as an Assistant U.S. Attorney, Mr. Anderson was a litigation associate at the New York City law firm of Simpson Thacher & Bartlett LLP from 2004 to 2008, where his practice focused on antitrust, securities and general commercial litigation.  Since leaving the U.S. Attorney's Office in 2013, Mr. Anderson has been with the law firm of Holland & Hart in Santa Fe, where his legal practice has focused on complex litigation and government investigations.
Mr. Anderson received his A.B. from Bowdoin College and his J.D. cum laude from Fordham University School of Law in New York City.  Mr. Anderson clerked for Judge Paul J. Kelly, Jr. of the U.S. Court of Appeals for the Tenth Circuit in Santa Fe, N.M., from 2003 to 2004.
[This page is no loger updated.]
Updated January 9, 2021