PSN in New Mexico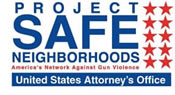 PSN has established effective task forces in the central New Mexico city of Albuquerque and the southern New Mexico city of Las Cruces. The U.S. Attorney's Office is also working with the City of Espanola Weed and Seed community in northern New Mexico to integrate PSN into their counter drug and anti-violence strategy. PSN is also an integral partner in the Indian Country Public Housing Safety Initiative (PHSI) which is now operating in the Ohkay Owingeh (formerly San Juan) and Santa Clara Pueblos.
The Partners
Participating agencies in the District of New Mexico include:
United States Attorney's Office
New Mexico Sheriffs & Police Association
University of New Mexico Institute for Social Research
Albuquerque, Las Cruces and Espanola Police Departments
Bernalillo, Dona Ana and Rio Arriba County Sheriffs Offices
Bernalillo, Dona Ana and Rio Arriba County. District Attorneys' Offices
United States Marshals Service
Alcohol, Tobacco, Firearms & Explosives
Drug Enforcement Administration
Federal Bureau of Investigation
State Police
Cities of Albuquerque, Las Cruces and Espanola Weed & Seed Projects
New Mexico Department of Public Safety
New Mexico National Guard
New Mexico Gang and Terrorism Task Force
Albuquerque, Las Cruces and Espanola Public Schools
New Mexico Department of Corrections
New Mexico Probation & Parole
and local neighborhood associations
The Message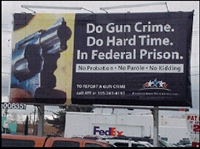 "Do Gun Crime. Do Hard Time in Federal Prison." The PSN Task Force employs a media marketing partner to help raise awareness of this PSN message and its related initiatives through public relations, marketing and advertising. The PSN Task Force's aggressive media campaign includes news releases, billboards, posters, pamphlets, student art calendars, radio and television PSAs, interviews and press conferences. All messages are delivered in Spanish and English.
 
The Five PSN Initiatives:
Targeted Patrols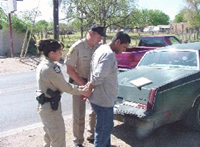 This initiative, which is operational in Albuquerque and Las Cruces, is designed to quickly knock-down violent crime flare-ups so the pattern of illegal gun activity can be interrupted and hopefully defeated. Current data on gun crime is collected, analyzed, and mapped so law enforcement can patrol problem neighborhoods much more frequently. Current resources and initiatives such as the Albuquerque Police Department Tactical Operations and Criminal Intelligence Divisions, City Zoning & Nuisance Abatement Departments and the U.S. Weed & Seed program also complement the effort. The Las Cruces Police Department also incorporates the PSN targeted patrol strategy into its own aggressive "Targeting Neighborhood Threats" initiative aimed at beating down city-wide drug and violent crime.
Turning Point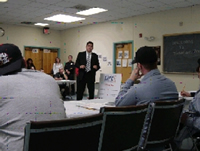 U.S. Attorney David C. Iglesias addresses probationers at a March 2006 "Turning Point" intervention session.
This initiative deals with high-risk felons under 35 years old. They are required to attend a meeting of law enforcement officers and social service providers. The offenders are warned by members of the criminal justice system that they are at a crossroads in their lives—a Turning Point. At this key point in their lives they will either become hardened criminals facing harsh punishment, or they can choose to turn their lives around. Attendees are required to write their own obituary, set life changing goals, visit booths manned by community organizations offering job training and education opportunities, and attend follow up sessions to assess their progress and the program's effectiveness.
VCIT (Violent Crime Impact Team)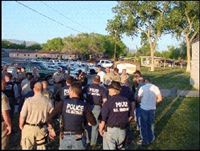 The Violent Crime Impact Team (VCIT), which includes the United States Attorney's Office, ATF&E, DEA, the U.S. Marshal's Service, and local law enforcement partners, targets armed criminals, including gang members, for illegal use of firearms. The VCIT works closely with the S. E. Weed and Seed site task force and other law enforcement initiatives seeking to reduce gun-related crime in the Albuquerque area.
 
VIPER (Violence Program Enhanced Response)
This initiative is comprised of a photo array and list of the most active and dangerous offenders which is compiled through the exchange of information between law enforcement agencies and prosecutors and given wide distribution to police officers. When a member of the Viper list comes into contact with law enforcement, the offender is scrutinized more critically than the average criminal. New offenses or suspicious activities are regularly updated. A disclaimer that the list is to be used only for law enforcement purposes is incorporated into each flyer.
Sentry
Gun Violence among our youth is a top concern for law enforcement as well as our schools. To address this growing crisis, the U.S. Attorney's Office in the District of New Mexico has built a unique two-part school-based Instruction and learning component initiative based on the Project Sentry best practices. This school based initiative consists of two components: Media Literacy, and Options, Choices and Consequences (OCC). Media Literacy was developed through a contract with the New Mexico Media Literacy Project and is designed to target a Sixth to Eighth grader audience. This curriculum's learning objective is to help students develop critical thinking skills specific to gun violence in the media. During the media literacy session, students view age-appropriate media clips and advertisements and discuss the difference between the fantasy of gun violence in today's media and the reality of gun violence in their communities. The OCC anti-gun violence prevention/intervention curriculum is presented to the same group of youth who participated in the Gun Violence Media Literacy session. OCC's learning objectives are to educate students about the realistic medical and legal consequences of using or possessing guns. During this session, a team of prosecutors, law enforcement officers and emergency medical professional provide a graphic power point presentation and engage youth in a discussion to assess their knowledge and attitudes regarding the use of guns.
National Awards
U.S. Attorney's Office for the District of New Mexico Executive Assistant U.S. Attorney Rumaldo R. Armijo receives the 2004 Outstanding PSN Coordinator Award from Deputy Attorney General James Comey at the 2004 PSN National Conference in Kansas City, KS.
Updated February 4, 2015