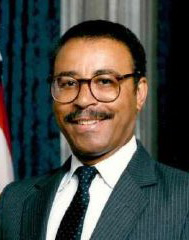 Edward S.G. Dennis (1988-1990)
Early History: Edward S.G. Dennis was born in Salisbury, Maryland. He received his undergraduate degree from The U.S. Merchant Marine Academy in 1967, and served for several years as an engineering officer in the maritime service. In 1973, he earned his J.D. from University of Pennsylvania Law School. Mr. Dennis then served as a law clerk to U.S. District Judge A. Leon Higginbotham Jr.
From 1975 to 1980, Mr. Dennis served as an Assistant U.S. Attorney for the Eastern District of Pennsylvania. From 1980 to 1983, he was the Chief of the U.S. Department of Justice, Criminal Division's Narcotic and Dangerous Drug Section. In 1983, Mr. Dennis was appointed the U.S. Attorney for the Eastern District of Pennsylvania.
Tenure: In 1988, President Ronald Reagan nominated Mr. Dennis as Assistant Attorney General of the Criminal Division. He was the first African-American to hold that position. Mr. Dennis supervised several important cases, including the indictment of General Manuel Noriega of Panama, the Ill Wind defense procurement fraud prosecution, and the government's prosecution of an international money laundering case known as Polar Cap.
Later Career: In 1990, entered private practice. In 1992, Mr. Dennis was appointed by Pennsylvania State Attorney General Ernie Preate as special counsel to lead a grand jury investigation of Pennsylvania State Supreme Court Justice Rolf Larsen. In 1994, Mr. Dennis was again asked to represent Preate, this time in an investigation of the Office of the State Attorney General itself.
This material is based on the review of a variety of historical sources and its accuracy cannot be guaranteed. If you have any corrections or additional information about this individual or about the history of the Criminal Division, please contact the Division.
Updated February 4, 2016