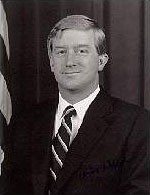 William F. Weld (1986-1988)
Early History: William Floyd "Bill" Weld was born in Smithtown, New York in 1945.  His father was a partner in the family's investment banking firm on Wall Street.  Like other family members before him, Mr. Weld attended Harvard College, where he graduated in 1966.  He studied economics at University College, Oxford, and graduated with a J.D. from Harvard Law School in 1970.
Mr. Weld began his legal career in private practice in Boston.  In 1973, the House Impeachment Committee hired him as counsel to research the legal grounds for impeachment in the midst of the Watergate scandal.  The next year, he returned to private practice and in 1978 launched an unsuccessful bid for Massachusetts Attorney General.  In 1981, Mr. Weld was appointed by President Ronald Reagan to serve as the U.S. Attorney for the District of Massachusetts.
Tenure: In 1986, President Reagan appointed Mr. Weld to serve as the Assistant Attorney General for the Criminal Division.  During his tenure, the Division worked on some of the Administration's most significant investigations and prosecutions, including the capture of Manuel Noriega on narco-trafficking charges.  He served as the Assistant Attorney General until 1988.
Later Career: In 1990, Mr. Weld was elected the 68th Governor of Massachusetts.  He was reelected in 1994.  In 1996, Mr. Weld unsuccessfully challenged incumbent John Kerry in the U.S. Senate election and later returned to private practice and founded a private equity fund.  In 2005, Mr. Weld announced his candidacy for Governor of New York, but did not receive the Republican Party nomination.  In May 2016, Mr. Weld won the Libertarian Party's nomination for Vice President of the United States.
This material is based on the review of a variety of historical sources and its accuracy cannot be guaranteed. If you have any corrections or additional information about this individual or about the history of the Criminal Division, please contact the Division.
Updated August 10, 2016