Karen L. Loeffler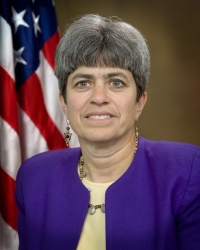 Karen L. Loeffler currently serves as the United States Attorney for the District of Alaska. She was appointed U.S. Attorney on October 16, 2009. Ms. Loeffler graduated, magna cum laude, from Dartmouth College in 1979 with a degree in government. At Dartmouth she participated as a member of the varsity ski and tennis teams. She obtained her law degree in 1983 from Harvard Law School where she graduated cum laude.
After law school, Ms. Loeffler returned to her home town of Minneapolis, Minnesota, where she worked for Faegre and Benson as an associate in the business litigation section for approximately two years. In 1985, she moved to Anchorage and worked briefly as an Assistant Attorney General in the Oil and Gas Section of the Attorney General's Office. She then became an Assistant District Attorney in the Anchorage Office where she worked for three years until April 1989.
During her tenure as an Assistant District Attorney, Ms. Loeffler was assigned as a Special Assistant U.S. Attorney to the U.S. Attorney's Office where she participated as part of the trial team in an eight month trial of United States v. Dischner and Mathisen, convicting the two defendants of RICO violations for a bribery and kickback scandal involving public contracting in the North Slope Borough. Late in the trial, Ms. Loeffler accepted a position as an Assistant U.S. Attorney, a job she has held for 21 years until her appointment as U.S. Attorney.
As an Assistant U.S. Attorney, Ms. Loeffler has tried a wide variety of cases, including fish and wildlife prosecutions, drugs, homicide, bank robbery, and violations of the marine resource laws, but has specialized, throughout her career, in complex white collar prosecutions. She prosecuted a number of bankers for fraud related to the bank failures that took place in the mid to late 1980's. She has also prosecuted various fraud schemes involving mortgage fraud, tax fraud, environmental crimes and misuse of government funds. Most recently she successfully tried the case of United States v. Hayes, convicting the former Mayor of Fairbanks, Alaska of government grant fraud. During her career as an Assistant U.S. Attorney, Ms. Loeffler served as Chief of the Criminal Division on two occasions for 10 of her 21-year career. She also served as Appellate Coordinator and argued numerous appeals in front of the Ninth Circuit Court of Appeals.
Updated April 4, 2016