Wesley L. Hsu, Deputy United States Attorney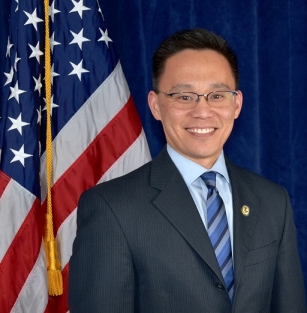 Wesley L. Hsu has worked in the Office since 2000. He graduated from Yale University in 1993 and Yale Law School in 1996. He clerked for the Hon. Mariana R. Pfaelzer in the Central District of California prior to joining a large law firm. After joining the Office, Mr. Hsu secured a number of "first of its kind" convictions in the Cyber and Intellectual Property Crimes Section, including the first conviction in the nation for hacking an industrial control system, the first conviction by jury trial for hacking in the Central District of California, and the first conviction in the nation under the CAN-SPAM Act.
Mr. Hsu also developed a national reputation for prosecutions involving Internet crimes against women. He became Deputy Chief of Cyber in 2005 and Chief of Cyber in 2008. Mr. Hsu served as the Executive Assistant United States Attorney from July 2015 to March 2017 where he oversaw administrative, criminal support, External Affairs, and victim witness matters for the Office. In 2015 the California Daily Journal named Mr. Hsu one of the Top 100 Lawyers in California. In 2005, the National Asian Pacific American Bar Association named him one of the "Best Lawyers Under 40."
From 2011-12, he served as the president of the Southern California Chinese Lawyers Association and currently he serves on the board of the Asian Pacific American Women Lawyers Alliance.  He has been profiled by Forbes, has been interviewed on Good Morning America and the CBS Evening News, was quoted in GQ and Sports Illustrated, was featured in the Daily Journal and the Metropolitan News, and has given presentations to media, bar associations, and law enforcement groups.  Mr. Hsu teaches Cybercrimes at Loyola Law School and has taught trial advocacy at Loyola Law School and legal writing at the University of Southern California.
Tracy Wilkison - Executive Assistant United States Attorney
Tracy Wilkison joined the United States Attorney's Office in 1999. Prior to her appointment as EUSA, she was the Chief of the Cyber and Intellectual Property Crimes Section within the National Security Division.  She was part of the Cyber section since 2011, and served as its Deputy Chief from 2014 to August 2015.
Ms. Wilkison has prosecuted numerous cyber and intellectual property cases arising from computer hacking, Internet fraud, identity theft, cyber stalking, Internet piracy, theft of trade secrets, and the sale of counterfeited trademarked or copyrighted goods.  She has prosecuted several high-profile cyber cases, including a case against a sextortionist who victimized hundreds of young women and who was referred to by the judge as a "sexual cyber terrorist," cases involving the use of malware to gain access to the computers of well-known companies and celebrities, and a case wherein extremely valuable trade secrets were stolen and distributed to competitors.  She also led the team in the Apple litigation following the San Bernardino terrorist attack, and supervised the team investigating the Sony cyber attack.
Prior to joining the Cyber and Intellectual Property Crimes Section, Ms. Wilkison served as a Deputy Chief of the General Crimes Section where she trained new AUSAs on prosecution skills and trial techniques, and was a member of the OCDETF Section where she prosecuted large-scale drug trafficking cases.  Prior to joining the United States Attorney's Office, Ms. Wilkison clerked for the Honorable Franklin VanAntwerpen, United States District Court, Eastern District of Pennsylvania.  She graduated from Harvard Law School.
Ranee Katzenstein, Chief of Trials, Integrity and Professionalism
A 20-year veteran of the office, Assistant United States Attorney Ranee Katzenstein served in several units in the Criminal Division before becoming a Deputy Chief of the Major Frauds Section in 2007. Ms. Katzensten has prosecuted narcotics offenses, violent crime cases and the full panoply of financial fraud matters. Ms. Katzenstein has secured convictions against corporate officers and hedge fund managers who used various schemes to defraud investors, a corporate director who engaged in insider trading, bank insiders who took bribes, finance professionals who embezzled millions from their clients and attorneys who assisted in these schemes. During her tenure in the Office, Ms. Katzenstein has been involved in numerous jury trials, including mentoring dozens of young prosecutors in their first trials. She has also worked on nearly 50 appellate matters and has argued over a dozen cases before the U.S. 9th Circuit Court of Appeals. Ranee graduated with honors from both Wesleyan University and Stanford Law School, and she clerked for 9th Circuit Judge William A. Norris. Before embarking on her legal career, Ms. Katzenstein obtained a doctorate in Art History from Harvard University, was a curator of illuminated manuscripts at the J. Paul Getty Museum, and taught medieval art and architecture at UCLA.
Dennise Willett, Chief of Santa Ana Branch Office & Counsel to the U.S. Attorney
Dennise Willett has served in the Justice Department for the last 19 years.  After four years as agency counsel for the Immigration and Naturalization Service, Ms. Willett became an Assistant United States Attorney in the Southern District of California.  While in San Diego, Ms. Willett was assigned to the newly-formed Counterterrorism Section and oversaw Operation Game Day, resulting in successful prosecutions of threats to Super Bowl XXXVII.  In 2003, Ms. Willett transferred to the Central District of California, Riverside Branch Office, where she prosecuted various crimes including bank fraud, embezzlement, violent crimes, child exploitation, narcotics trafficking and firearms violations.   In 2005, Ms. Willett received the Anti-Defamation League's Sherwood Prize for Combating Hate in recognition of successful prosecutions of white supremacist gang leaders in Yucca Valley.  In 2008, Ms. Willett was promoted to Deputy Chief of the National Security Section in Los Angeles.  In that capacity, Ms. Willett successfully prosecuted a purported member of the anti-Castro terrorist group, Alpha 66, for stockpiling explosives, machineguns and over 1,600 firearms behind false walls and bookshelves at his personal residence.  In June 2010, Ms. Willett was promoted to Chief of the Santa Ana Branch Office.  Ms. Willett oversees federal criminal prosecutions in Orange County and manages day-to-day operations in the Branch.  In 2012, Ms. Willett received the Anti-Defamation League's Sherwood Prize for Combating Hate for prosecuting members of Public Enemy Number One, a white supremacist group in Orange County.  In 2013, Ms. Willett successfully tried, convicted, and denaturalized Jorge Sosa for providing false statements to the United States about his participation in the massacre of villagers in Dos Erres, Guatemala.  In July 2015, Ms. Willett was appointed as Senior Counsel to the United States Attorney.  Ms. Willett serves as Senior Counsel, advising the US Attorney on district-wide issues, in addition to serving as Santa Ana Branch Chief.
Max Shiner, Special Counsel to the U.S. Attorney for Violent Crime
Max Shiner has been in the Office since 2008. Mr. Shiner is a graduate of the UCLA School of Law and the University of California, Berkeley. Prior to becoming Special Counsel, Mr. Shiner served in the Violent & Organized Crime Section ("VOCS") and served as the Project Safe Neighborhoods Coordinator for the Office from 2014-2017. He has prosecuted a variety of VOCS-related crimes, including drug trafficking, gang, RICO, child pornography, firearms possession and trafficking, and murder cases, among others. In 2012, he indicted two defendants in the murder of a United States Coast Guard Chief Petty Officer, who was killed when Mexican drug smugglers found near the Channel Islands off of the coast of California rammed a Coast Guard small boat in an effort to escape arrest. As lead counsel in the trial in 2014, he obtained guilty verdicts for both defendants on all counts, and a life sentence for the lead defendant. In 2014, as co-counsel, Mr. Shiner indicted a 72-defendant, 121-count RICO case involving the Broadway Gangster Crips, which charged the various gang member defendants with murders, shootings, robberies, and drug trafficking, among other crimes. Mr. Shiner and his co-counsel recently concluded a trial for one of these defendants, who was convicted on all counts (including findings that the objects of the RICO conspiracy included murder, robbery, and witness intimidation), and faces life imprisonment. Prior to joining the Office, Mr. Shiner was a Los Angeles Deputy City Attorney for 11 years.
Updated August 29, 2017