Stephanie Christensen, Chief Assistant United States Attorney
Stephanie Christensen joined the office in 2008. She served as the Executive Assistant U.S. Attorney from 2018 to 2021. Prior to joining the executive management team, she served as Chief of the Cyber and Intellectual Property Crimes Section within the National Security Division of the United States Attorney's Office and as a National Security Cyber Specialist. She has received the Attorney General's Award for Distinguished Service (2019), the ODNI National Counterintelligence and Security Center Award for Countering Cyber and Technical Threats (2019), and the FBI Director's Award for Outstanding Cyber Investigation (2015).
She received her A.B. from the University of Chicago, and her J.D. from UCLA School of Law where she served on the Law Review and was a member of the Public Interest Law Program. After law school, she clerked for the Honorable Gary Allen Feess, District Judge, Central District of California, and for the Honorable Sandra S. Ikuta, Circuit Judge, Court of Appeals for the Ninth Circuit. Before joining the office, she worked for Caldwell, Leslie, Newcombe & Pettit, and Munger, Tolles & Olson.
Justin Rhoades, Executive Assistant United States Attorney
Justin Rhoades has worked at the United States Attorney's Office since 2008. As an Assistant United States Attorney, he prosecuted a broad spectrum of cases, including credit card fraud, bank robbery, child pornography, large-scale narcotics distribution, and a lengthy investigation and racketeering prosecution of more than 50 members of the 38th Street Gang. He also assisted in the investigation of another Southern California gang for which he received the Executive Office for United States Attorneys Director's Award.
In 2016, Mr. Rhoades was appointed Chief of the Violent and Organized Crime Section. During his four years leading that component, he supervised thirty AUSAs and staff, including providing strategic, legal, and administrative guidance.  In 2020, he was appointed Chief of Trials, Integrity, and Professionalism. In that role, he led training sessions and consulted on difficult legal, ethical, and professional conduct issues faced by the members of the Criminal, Civil, and National Security Divisions.
Mr. Rhoades has also represented the Office in a number of capacities, including serving on the Department of Justice's Capital Crimes Committee, leading the team charged with responding to motions arising under the First Step Act, acting as the Office's Bank Robbery Coordinator, and serving as one of the Chairs of the Equality Working Group, which sought to address issues of racial equity and social justice.
Prior to his work at the United States Attorney's Office, Mr. Rhoades spent seven years at Latham & Watkins LLP, where he focused on commercial litigation and white-collar criminal defense. He received his undergraduate degree from Pomona College and graduated from Harvard Law School, where he was the Managing Editor of the Harvard Journal on Legislation.
Allison Westfahl Kong, Chief of Trials, Integrity, and Professionalism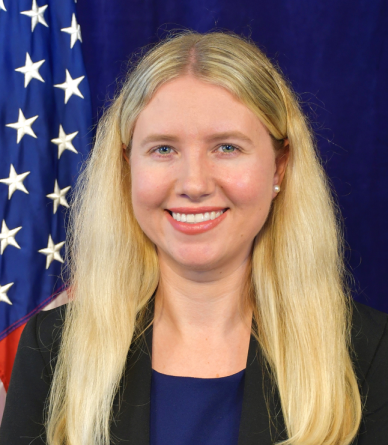 Allison Westfahl Kong joined the office through the Attorney General's Honors Program in 2012, after clerking for Judge Jed S. Rakoff of the Southern District of New York and Judge Robert A. Katzmann of the Second Circuit.  She joined the Criminal Appeals Section in 2014, where she argued 10 cases before the Ninth Circuit.  
From July 2016 through June 2017, Ms. Westfahl Kong was on detail to the Department of Justice's Fraud Section in Washington, D.C., where she conducted complex Foreign Corrupt Practices Act investigations, including an investigation into the corrupt hiring practices of Credit Suisse (Hong Kong) Limited that resulted in a $47 million criminal penalty, and advised trial teams in money laundering and securities fraud cases, including on issues of foreign law and extraterritoriality.  
From July 2017 through July 2019, Ms. Westfahl Kong served as a deputy chief in the General Crimes Section. While serving as a deputy chief in General Crimes, in April 2019, she went to trial against the lead defendant of a massive, multi-jurisdictional loan fraud and identity theft scheme in United States v. Armstrong, which resulted in guilty verdicts on all 51 counts of conspiracy, financial institution fraud, money laundering, access device fraud, aggravated identity theft, and interstate transportation of stolen cars.
From August 2019 to July 2021, Ms. Westfahl Kong served as the Chief of the General Crimes Section, overseeing the largest section in the office and the onboarding of seven new AUSA classes.  During her time in General Crimes management, she supervised over 75 AUSAs and over 30 jury trials.  In 2020, she received the Federal Bar Association's Younger Federal Lawyer Award.  
Ms. Westfahl Kong graduated summa cum laude from Claremont McKenna College with a degree in mathematics and government, and graduated magna cum laude from New York University School of Law, where she served as the Senior Articles Editor of the Law Review.
Updated May 20, 2022