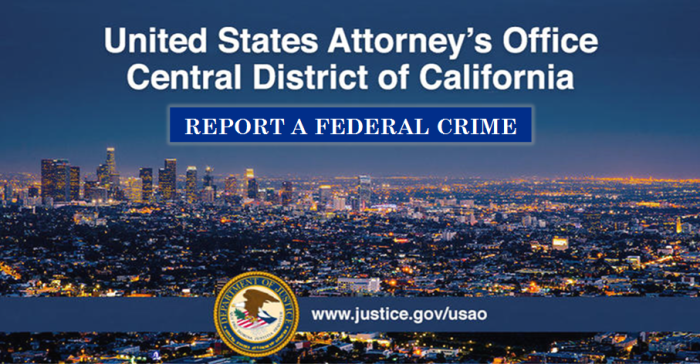 The United States Attorney's Office is a prosecutorial agency primarily dedicated to enforcing federal laws and representing the United States of America in court proceedings. While the United States Attorney's Office assists federal agencies with investigative functions, the Office is not an investigative agency.
Accordingly, citizen concerns and complaints not related to a publicly filed matter currently pending in the United States Attorney's Office should be referred directly to the appropriate investigating agency. Listed below are the more common investigative issues with links to the appropriate agency information.
To report a federal crime, please click here, complete and submit the form. Please submit only this form to the United States Attorney's Office. No complaints will be addressed without this completed form. Do not send packages or supplemental materials. The volume of information we receive from concerned members of the public prevents us from responding individually to every form submitted, but please be assured that we will carefully consider the information you have provided. Should we determine that the information in your form raises a matter within the jurisdiction of this Office to investigate and that further information is necessary for our investigation, you will be contacted.
If you cannot access the form, you may leave a message at 213-894-8809.
Listed below are the most frequently referred numbers.
SUBJECT
SPECIFC CONTACTS
Arson and Explosives
Bureau of Alcohol, Tobacco, Firearms and Explosives (ATF)

Los Angeles: (818) 265-8020
Glendale (323) 333-0600
www.atf.gov

Bank and Financial Institution Fraud/Money Laundering
Federal Bureau of Investigation (FBI)

Los Angeles: (310) 477-6565
*www.fbi.gov

Bank Robberies
Federal Bureau of Investigation (FBI)

Los Angeles: (310) 477-6565
www.fbi.gov

Bankruptcy Fraud
Federal Bureau of Investigation (FBI)

Los Angeles: (310) 477-6565
www.fbi.gov

Border Crimes
U.S. Customs and Border Protection

Los Angeles: (562) 980-3100
Hotline: (800) 232-5378
www.cbp.gov

Child Exploitation and Child Pornography

Federal Bureau of Investigation (FBI)

Immigration and Customs Enforcement (ICE)

Los Angeles: (310) 477-6565
www.fbi.gov

Los Angeles: (213) 830-7911
Hotline: (866) 347-2423
www.ice.gov

Child Support Enforcement

California Department of Child Support Services

 

Sacramento: (866) 901-3212
Administration for Children & Families

Civil Rights Violations

Please download the U.S. Attorney's Office Civil Rights Complaints form here:
Civil Rights Complaint Form

 

Civil Rights Complaints - Criminal

Federal Bureau of Investigation (FBI)

 

Los Angeles (310) 477-6565
www.fbi.gov

Computer Crimes

Federal Bureau of Investigation (FBI)

 

Los Angeles: (310) 477-6565
https://www.ic3.gov
www.fbi.gov

Consumer Fraud

California Attorney General's Office



Federal Bureau of Investigation (FBI)

 

California: (916) 210-6276
(800) 952-5225
www.oag.ca.gov

Los Angeles: (310) 477-6565
www.fbi.gov

Counterfeiting

U.S. Secret Service

 

Los Angeles: (213) 894-4830
www.secretservice.gov

COVID-19 Fraud & Price Gouging

Department of Justice Disaster Fraud

 

Disaster Fraud Hotline: (866) 720-5721
Disaster Complaint Form

Credit Card Fraud

U.S. Secret Service

 


Federal Trade Commission (FTC)

 

Los Angeles: (213) 894-4830
www.secretservice.gov
(877) 382-4357

www.ftc.gov

Drugs and Narcotics

Drug Enforcement Administration (DEA)

 

Los Angeles: (213) 621-6700
www.dea.gov

Educational Fraud

United States Department of Education

 

California: (916) 319-0800
Hotline: (800) 647-8733
www.ed.gov
Email: oig.hotline@ed.gov

Elder Financial Abuse



Elder Physical Abuse
Hotline: (800) 677-1116
Hotline: (877) 477-3646 or (888) 202-4248
https://dbo.ca.gov/preventing-and-reporting-elder-financial-abuse/

911 or your local law enforcement agency
Elder Fraud

Department of Justice Elder Fraud Hotline


Hotline: (833)372-8311

Environmental Crime

U.S. Environmental Protection Agency (EPA)


Federal Bureau of Investigation (FBI)

 

Hotline: (866) 372-9378
www.epa.gov

Los Angeles: (310) 477-6565
www.fbi.gov

Failure to Register as a Sex Offender

U.S. Marshals Service (USMS)

 

Los Angeles: (213) 620-7676
www.usmarshals.gov

Fair Housing/Housing Discrimination

California Department of Fair Employment & Housing

 

(800) 884-1684
Email:contact.center@dfeh.ca.gov
www.dfeh.ca.gov

Firearms

Bureau of Alcohol, Tobacco, Firearms and Explosives (ATF)

 

Los Angeles: (213) 534-5060
www.atf.gov

Fish & Wildlife Crimes

California Department of Fish and Game Law Enforcement Division

 

(916) 653-4094
www.dfg.ca.gov

Food Stamp Fraud

U.S. Department of Agriculture – Office of Inspector General

 

Hotline: (800) 424-9121
www.usda.gov/oig

Fraud Against the Federal Government

Federal Bureau of Investigation (FBI)

 

Los Angeles: (310) 477-6565
www.fbi.gov

Freedom of Information Requests
Send requests to:

Executive Office for U.S. Attorney's
Department of Justice
FOIA/Privacy Unit
600 E. Street, N.W. Room 7300
Washington, D.C. 20530-0001
Fugitives

U.S. Marshals Service (USMS)

 

Los Angeles: (213) 620-7676
www.usmarshals.gov

Gang Activity

Bureau of Alcohol, Tobacco, Firearms and Explosives (ATF)
 

Federal Bureau of Investigation (FBI)

 

Los Angeles: (213) 534-5060
www.atf.gov

Los Angeles: (310) 477-6565
www.fbi.gov

Hate Crimes

Federal Bureau of Investigation (FBI)

 

Los Angeles: (310) 477-6565
www.fbi.gov

Health Care Fraud

U.S. Department of Health & Human Services

Federal Bureau of Investigation (FBI)

 

Hotline: (800) 722-0432

Los Angeles: (310) 477-6565
www.fbi.gov

Housing Fraud

U.S. Department of Housing and Urban Development - Office of Inspector General (HUD/OIG)

 

Hotline: (800) 347-3735
Email: hotline@hudoig.gov

Human Trafficking

Immigration and Customs Enforcement (ICE)

 


Federal Bureau of Investigation (FBI)

 

Los Angeles: (213) 830-7911
Hotline: (866) 347-2423
www.ice.gov

Los Angeles: (310) 477-6565
www.fbi.gov

Identity Theft

Federal Trade Commission (FTC)

Federal Bureau of Investigation (FBI)

 

Hotline: (877) 438-4338

Los Angeles: (310) 477-6565
www.fbi.gov

Immigration Crime

Immigration and Customs Enforcement (ICE)

 

Los Angeles: (213) 830-7911
Hotline: (866) 347-2423
www.ice.gov

Internet Crimes

Federal Bureau of Investigation (FBI)

 

Los Angeles: (310) 477-6565
https://www.ic3.gov/

Medi-Cal Fraud

California Department of Justice Bureau of Medi-Cal Fraud

 

Hotline: (800) 722-0432

Mortgage Fraud

U.S. Department of Housing and Urban Development­ Office of Inspector General (HUD/OIG)


Federal Bureau of Investigation (FBI)

 

Hotline: (800) 347-3735
Email: hotline@hudoig.gov

Los Angeles: (310) 477-6565
www.fbi.gov

Organized Crime

Federal Bureau of Investigation (FBI)

 

Los Angeles: (310) 477-6565
www.fbi.gov

Postal Crimes

United States Postal Inspection Service (USPIS)

 

Pasadena: (877) 876-2455
Hotline: (800) 372-8347
https://www.uspis.gov/report/

Public Corruption

Federal Bureau of Investigation (FBI)

 

Los Angeles: (310) 477-6565
Any member of the public who has information related to any public corruption
matter is encouraged to send information to the FBI's email tip line at: pctips-losangeles@fbi.gov
www.fbi.gov

Social Security Fraud

Social Security Administration - Office of Inspector General (SSA/OIG)

 

Hotline: (800) 269-0271
TTY: (866) 501-2101
www.ssa.gov/oig

Stalking

Federal Bureau of Investigation (FBI)

 

Los Angeles: (310) 477-6565
www.fbi.gov

State Bar of California

Complaints Against California Attorneys

 

Los Angeles: (213) 765-1600
https://www.calbar.ca.gov/public/complaints-claims

Tax Fraud

Internal Revenue Service (IRS)

 

Los Angeles: Hotline: (800) 829-1040

Telemarketing Fraud

Federal Bureau of Investigation (FBI)

 

Los Angeles: (310) 477-6565
www.fbi.gov

Threats Against the President

U.S. Secret Service

 

Los Angeles: (213) 894-4830
(888) 813-8777
www.secretservice.gov

Veterans Affairs Violations

U.S. Department of Veterans Affairs - Office of Inspector General (VA/OIG)

 

Hotline: (800) 488-8244
www.va.gov/oig

Violent Crime

Federal Bureau of Investigation (FBI)

 

Los Angeles: (310) 477-6565
www.fbi.gov
Updated March 15, 2023