Michael C. Ormsby, U.S. Attorney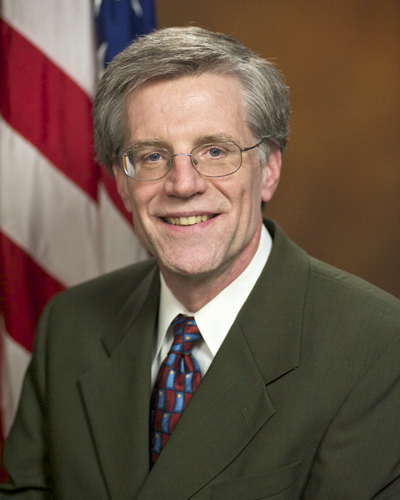 Michael C. Ormsby was appointed by President Barrack H. Obama and confirmed by the United States Senate on October 15, 2010.
Prior to his appointment as United States Attorney, Mike was a partner at K&L Gates, LLP since 1988. He advised public entities and governmental institutions on municipal finance and other legal matters. He has also served on the Spokane Public School Board and the Eastern Washington University Board of Trustees. He started his legal career as an associate attorney at Lukins & Annis P.S., where he worked from 1981 to 1988. Mike Ormsby graduated from Gonzaga University in 1979 and the Gonzaga University School of Law in 1981.
Mike Ormsby has been active in a number of professional and civic matters, including:
President, Spokane County Bar Association, 1991-1992
Chair, Pro Bono Project, Spokane County Bar Association, 1984-1988
Member, Board of Trustees, Spokane County Bar Association, 1988-1992
Member, Executive Committee of Board of Directors and General Counsel, Spokane Regional Chamber of Commerce, 2004-2008
Member, board of directors, Spokane Public Schools, 1975-1983
Member, City of Spokane Planning Commission, 1979
Member, Board of Trustees, Eastern Washington University, 1985-2002; chair, 1987 and 1995
Member, Board of Joint Center for Higher Education in Spokane, 1990-1998
Member, Board of Directors, United Way of Spokane County, 1988-1991
Chairman, State Advisory Committee for the Washington State Department of Social and Health Services, 1987-1993
Member of Board of Directors and Secretary, Inland Northwest Foundation, 2002-2007
President, Sunrise Valley Rotary Club, 1995-1996
General Counsel, Spokane Valley Center, 1997-2005
Member, board of directors, Spokane Valley Chamber of Commerce, 1991-1994
United States Attorney, Michael C. Ormsby said, "It is with great honor and humility that I assume this office. I look forward to maintaining and preserving the fine reputation the office has for upholding the law and administering equal justice to all."
Updated February 10, 2015