Activities of U.S. Attorney
U.S. Attorney's Office Partners with FBI for Youth Leadership
June 22, 2011
William Daniels, U.S. Attorney's Office addresses Academy Prep students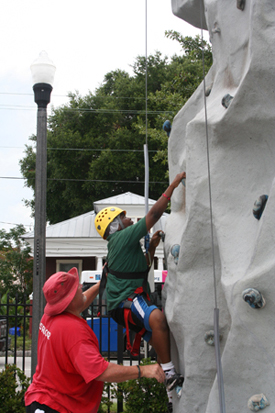 For almost two weeks, during the summer session, Academy Prep's rising eighth graders had the opportunity to be in the FBI Junior Special Agent Program. The mission of this FBI initiative is "to provide a youth program to at-rick students in Hillsborough County, in which FBI and its volunteers can effectively help students raise their expectations and improve their school performance while being exposed to the positive role the FBI plays in their communities". The FBI and the United States Attorney's Office, as well as Project Safe Neighborhoods and their Comprehensive Anti-Gang Initiative came together to spend time with the students. Highlights from the course included presentations from respected law enforcement individuals, leadership activities, rock climbing and tours of the FBI Headquarters and the FDLE state crime lab. During one of the sessions, students listened to WIlliam Daniels, Law Enforcement Coordination Specialist with the U.S. Department of Justice, U.S. Attorney's Office, Middle District of Florida, who has had many remarkable bouts with cancer. He inspired them to keep working hard and to not let anything in their path keep them from where they want to go.
The Program commenced with a graduation ceremony that included speeches from Christopher Davis, Assistant Special Agent in Charge of the FBI and former NFL player, and Robert E. O'Neill, the United States Attorney for the Middle District of Florida.
The FBI leaves Academy Prep students in hopes that they will continue to improve their school performance and attendance, have a positive self-image, and maintain a lifestyle absent of crime, drugs, gangs, and violence.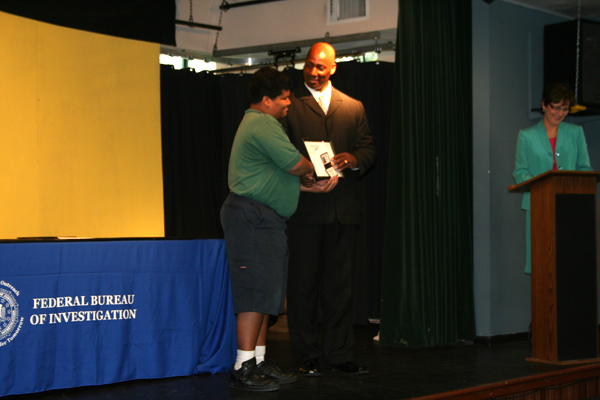 Christopher Davis presenting diploma to student-right
Updated March 23, 2016