Press Release
Four Men Sentenced For Armed Robbery Spree
For Immediate Release
U.S. Attorney's Office, Middle District of Florida
Orlando, Florida – United States District Judge Paul G. Byron has sentenced four individuals in connection with their robbery spree of businesses in Florida. The four men were responsible for the armed robberies of seven convenience stores and one towing business. Each pleaded guilty to several counts of Hobbs Act Robbery and brandishing a firearm and received the following sentences:
Name

Date of Plea

Sentencing Date

Sentence Imposed 

DaMarris Jean Saint-Juste

(20, Orlando)

06/26/2023

09/14/2023

17 years, 10 months

Marcus Terrell Ellington, Jr.

(22, Orlando)

06/26/2023

09/14/2023

16 years

Nelson Ross Henderson

(21, Orlando)

07/10/2023

09/26/2023

 

15 years,  6 months

Rodreakas Deshay Smith, Jr.

(19, Orlando)

02/14/2023

09/27/2023

10 years, 6 months
According to court records, Saint-Juste and Ellington were involved in all eight robberies, Henderson was involved in three robberies, and Smith was involved in two robberies.
The first robbery occurred on August 26, 2022, at approximately 3:21 a.m., at TL Towing located at 605 Ferguson Drive in Orlando. Saint-Juste, Ellington, and Henderson were involved in robbing an employee of the business at gunpoint and stealing $3,000 cash from inside the office. The fourth male involved in this robbery was not identified. The defendants can be seen on surveillance video (pictured above) as they approached the business. Moments later, the men confront the victim with guns and chase after him before breaking into the office of the business.
The second robbery occurred less than an hour later, on August 26, 2022, at approximately 4:05 a.m. at a 7-Eleven located at 1439 West Orange Blossom Trail in Apopka. The clerk was robbed at gunpoint by Saint-Juste, Ellington, and Henderson. Approximately $200, an iPhone, and tobacco products were stolen during the robbery.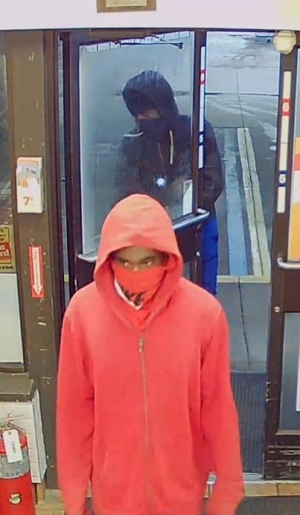 The third robbery occurred on August 30, 2022, at 4:06 a.m. at the 7-Eleven convenience store located at 1117 East Semoran Boulevard in Orlando. Saint-Juste (left), Smith (middle), and Ellington (right) stole approximately $270 from two registers and are depicted in the video still images below: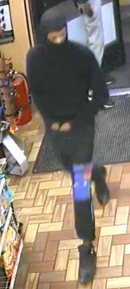 The fourth robbery occurred on August 30, 2022, at approximately 5:28 a.m., at the Circle K convenience store located at 2202 West McCormick Road in Apopka. Sain-Juste, Ellington, and Smith entered the store wearing similar clothing as the third robbery described above, which occurred 82 minutes earlier. They stole $70-$90 in cash from the cash register, several tobacco products, and a roll of $50 Florida lottery tickets. The defendants were unsuccessful in their attempt to enter the store's safe.
The fifth robbery was committed by Saint-Juste, Ellington, Henderson, and a juvenile who was prosecuted in state court. It occurred on August 31, 2022, at 4:46 a.m., at the 7-Eleven located at 5492 International Drive in Orlando. The clerk complied with the armed men as they stole cash from the registers and scratch-off lottery tickets. Surveillance shows Saint-Juste (left) and Ellington (right) below:
 Henderson was also captured on video after he stole the cash and lottery tickets from behind the counter:
The last three robberies were committed by Saint-Juste and Ellington. In each robbery, the men used firearms to steal cash, tobacco, and lottery tickets. The sixth robbery occurred on September 11, 2022, at 2:31 a.m., at the Rebel Gas station located at 2294 East Irlo Bronson Memorial Highway in Kissimmee. The seventh robbery occurred on September 11, 2022, at 2:45 a.m., at the 7-Eleven located at 901 E. Vine Street in Kissimmee. The eighth robbery occurred on September 14, 2022, at 3:15 a.m., at the Speedway convenience store located at 27345 US Hwy 27 in Leesburg.
This case was investigated by the Federal Bureau of Investigation, with assistance from many local law enforcement agencies, including the Orange County Sheriff's Office, the Orlando Police Department, the Apopka Police Department, the Osceola County Sheriff's Office, the Kissimmee Police Department, and the Leesburg Police Department. It was prosecuted by Assistant United States Attorney Ranganath Manthripragada and Michael P. Felicetta.
This case is part of Project Safe Neighborhoods (PSN), a program bringing together all levels of law enforcement and the communities they serve to reduce violent crime and gun violence, and to make our neighborhoods safer for everyone. On May 26, 2021, the Department launched a violent crime reduction strategy strengthening PSN based on these core principles: fostering trust and legitimacy in our communities, supporting community-based organizations that help prevent violence from occurring in the first place, setting focused and strategic enforcement priorities, and measuring the results.
Updated September 27, 2023
---
Topics
Project Safe Neighborhoods
Firearms Offenses
Violent Crime