Two Orlando Assistant U.S. Attorneys Recognized For Extraordinary Support in Disrupting Drug Trafficking organizations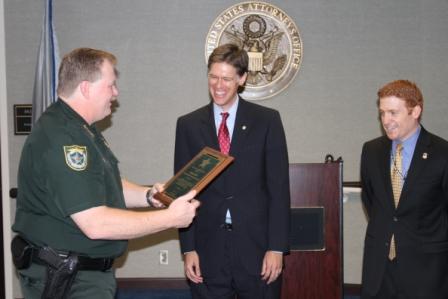 Sheriff Jack Parker/Brevard County (left) presents law enforcement award to AUSAs Roger Handberg and Vince Citro.
Between August 2009 and August 2010, members of a cooperative task force conducted a wide reaching investigation, nicknamed "Operation Broken Arrow." In response to information concerning a large cocaine distribution organization operating in Brevard County and beyond, the investigation ultimately led to sources and supply of cocaine between Central and South Florida and Mexico. In cooperation with the Drug Enforcement Administration Task Force, including Brevard County Sheriff's Office, Titusville Police Department, and Melborne Police Department, the USAO/MDFL was successful in identifying and indicting at least nine defendants in this Drug Trafficking Organization (DTO). Most of the defendants had prior felony drug conviction and five of nine defendants were on supervised release.
On August 19, 2011, Sheriff Jack Parker (Brevard County) took the time to recognize Deputy Chief AUSA (Orlando) Vince Citro and AUSA Roger Handberg with individual law enforcement awards for their prosecutorial contributions in the case. The successful cooperation among respective agencies to this case resulted in all defendants pleading guilty to drug conspiracy, with one pleading guilty to both a drug conspiracy and firearms charge.
Updated March 23, 2016