AUSA Simon Gaugush discusses federal firearms prosecutions in the MDFL.
On January 6, 2016, Assistant United States Attorney Simon Gaugush, Chief of the Major Crimes Section, joined ATF Special Agent in Charge Regina Lombardo, Lawrence G. Keane, Senior Vice President & General Counsel for the National Shooting Sports Foundation (NSSF), Tampa Police Chief Eric Ward, St. Petersburg Police Chief Tony Holloway, Colonel J.R. Burton from the Hillsborough County Sheriff's Office, and Major Richard Nalven of the Pinellas County Sheriff's Office to announce the kick-off of the month-long "Don't Lie for the Other Guy" public awareness campaign in Tampa. The focus of this public awareness program is to help prevent "straw" purchases of firearms, and remind residents of the stiff penalties that are in place for individuals convicted of such illegal purchases. 
Billboard advertisements for the Don't Lie for the Other Guy program have been purchased by NSSF in key locations throughout the region with the message: "Buy a gun for someone who can't and buy yourself 10 years in jail. Don't Lie for the Other Guy."
More than 11.2 million weekly media impressions will be delivered via billboards around Tampa while more than 750 30-second radio spots will air weekly on nine stations and 170 TV ads will run on select cable television networks during the campaign.  Tampa was chosen for this special campaign by ATF. No taxpayer dollars are used.  The program is funded in full by the firearms industry.
"Don't Lie" is a cooperative program ATF and NSSF, the trade association for the firearms and ammunition industry. The effort was developed more than a decade ago to raise public awareness about the seriousness of the crime of purchasing a firearm for someone who cannot legally do so. The program also helps ATF educate firearms dealers so they can be better prepared to deter potential straw purchases. The public campaign drives home the message that anyone attempting an illegal firearm purchase faces a stiff federal felony penalty of up to 10 years in jail or up to $250,000 in fines.
This public awareness campaign constitutes only part of the Don't Lie for the Other Guy outreach effort. The full Don't Lie for the Other Guy program, which also involves educating firearms retailers to better detect and prevent straw purchases, has been rolled out in major cities throughout the country. In the retailer segment, federal firearms licensees are provided a Don't Lie for the Other Guy retailer kit containing a training video and informational brochure for storeowners and staff, as well as point-of-purchase displays aimed to deter illegal straw purchases.
Local billboard locations include:
Digital Billboards:
I-275 .25 miles west of Westshore Blvd. (north side, facing east)

I-75 50 feet north of U.S. 92 (facing south)

Channelside Drive 130 feet west of Nebraska Avenue (facing west)

I-50 east of 50th St. (facing east)
Static Billboards: 
I-4 15 feet east of Nebraska Ave. (facing east)  

Dale Mabry Highway south of Kennedy Blvd. (facing north)

I-275 80 feet south of Idlewild Ave.(facing south)

I-275 50 feet north of Hillsborough Ave. (facing north)
Radio stations airing public service announcements are: WBTP-FM, WDAE-AM, WFLA-AM, WFLZ-FM, WFUS-FM and WLLD-FM.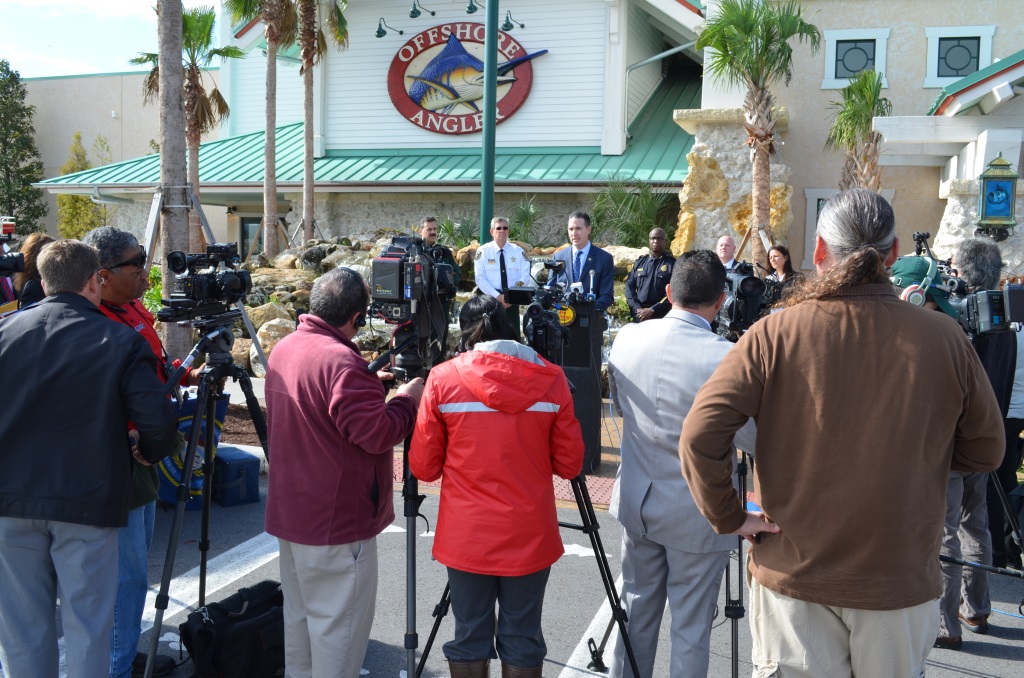 Learn more about Don't Lie for the Other Guy at www.dontlie.org.
Updated March 10, 2016