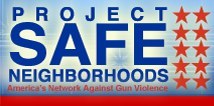 Project Safe Neighborhoods (PSN) is a nationwide campaign focused on reducing gun and gang crime in America by funding local programs that target gun and gang crime.  Since its inception in 2001 over $2 billion has been allocated to Project Safe Neighborhoods.  This funding has been used to hire new federal and state prosecutors, support investigations, deter juvenile crime, and develop and promote community outreach efforts, in addition to supporting other gun and gang violence-reduction strategies. 
In North Dakota the PSN Task Force is made up of law enforcement executives, criminal investigators, state and local prosecutors, and state government executives, along with the U.S. Attorney and staff.  This Task Force leads the effort in reducing both gun and gang crime throughout North Dakota.
Anti-Gun Violence
Although North Dakota has comparatively low gun violence rates in recent years, the PSN Task Force continually works to increase the prosecution of firearm violations within the state and to educate the community as a method of preventing future violence. 
The increased enforcement and prosecution efforts resulting from PSN initiatives brought 22 gun-violation convictions in 2010, 33 gun-violation convictions in 2009, 33 gun-violation convictions in 2008, and 42 gun-violation convictions in 2007.  These are high numbers on a per capita basis for a rural district with a small population.
In addition to these prosecutions, the PSN Task Force has funded anti-gun violence education focused on juvenile gun crime prevention programs and community safety and prevention training.  The Task Force has also initiated increased law enforcement efforts, including the creation of a program to notify North Dakota prisoners of relevant federal and state gun laws before being released from prison.
Anti-Gang Violence
Although North Dakota's gang situation is different from those of metropolitan areas, the beginning phases of a potentially serious gang problem have been identified across the state.  The presence of at least 30 gangs, including Native American gangs, street gangs, prison gangs, motorcycle gangs, and youth gangs has been identified within North Dakota, and these gangs may pose a serious threat if left unaddressed. The majority of this gang activity has been observed within the four largest cities in North Dakota (Fargo, Grand Forks, Minot, and Bismarck) and on the Indian Reservations (Spirit Lake, Turtle Mountain, Three Affiliated Tribes, and Standing Rock), although smaller cities are not considered free from gang-related activity.
The primary PSN anti-gang violence strategy is to identify, arrest, prosecute, and convict as many gang members as possible on the state and federal level in North Dakota.  This focuses on the aggressive investigation and prosecution of crimes committed by gang members, including gun, drug, and violent crimes, as a means of both reducing the current gang situation and preventing gang growth over time.
In collaboration with the PSN Task Force, state and local law enforcement agencies play a key role in addressing North Dakota's gang problem.  Several police departments have full-time gang intelligence officers that work with the drug task forces, other state and local agencies, and federal agencies to address local gang-related issues through jointly collecting and sharing information.  The State's Attorney's Offices and the U.S. Attorney's Office then work co-operatively to screen gang-related cases and make prosecution decisions that best protect the community.
The PSN Task Force also works to further its anti-gang violence initiative through the implementation of both juvenile and community prevention and education programs.  Juvenile programs focus on educating at-risk youth and providing good role models in hopes of preventing future gang involvement or criminal activity.  Community programs focus on teaching citizens about how to identify gang problems within their communities, as well as how to cooperate with law enforcement to make their communities safer.
It is a federal crime for a gun to be possessed by the following groups of people:
Convicted felons
Drug users or addicts
Illegal aliens
Dishonorably discharged military members
Fugitives
Anyone convicted of domestic violence
Anyone under indictment
Anyone subject to a court protective order
Anyone adjudicated mentally defective
Anyone engaged in a federal crime of violence or drug crime
Anyone convicted of a misdemeanor crime involving domestic violence or a threat with a deadly weapon if the convicted person was the victim's current or former spouse, live-in partner, parent, or guardian
Additional Resources
Project Safe Neighborhoods
Bureau of Alcohol, Tobacco, Firearms, and Explosives
Updated April 24, 2017