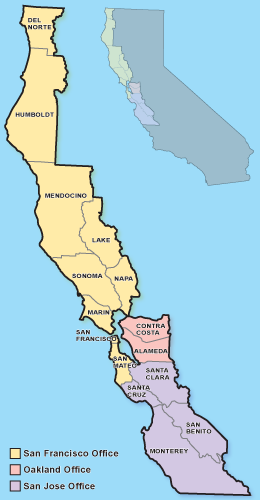 The United States Attorney's Office for the Northern District of California has been in the forefront in confronting new types of crime, such as computer hacking, internet fraud and intellectual property theft; new spins on old crimes, such as accounting and securities fraud and computer chip theft; and traditional crimes like narcotics trafficking, bank robbery, guns, violence, environmental crime, civil rights violations and fraud. Since the events of September 11, 2001, the Office, along with other federal, state and local law enforcement agencies, has redoubled its anti-terrorist efforts by increasing resources devoted to terrorist investigations.
The Northern District of California is diverse both in geographic area and ethnicity:
The District has a total land area of 20,500 square miles or 13 percent of California's total land.
21 percent of the State's population lives here.
San Jose is the third most populous city in California, San Francisco is the fourth, and Oakland is the eighth.
51 percent of the District's residents are Caucasian,
21 percent are Hispanic,
17 percent are Asian,
6 percent are African American.
More than 646,000 legal immigrants moved into the District between 1997 and 2007.
30 Fortune 500 companies are headquartered within the San Francisco Bay area.
The District contains nearly 450 miles of coastline.
Updated December 29, 2014