The Northern District of California (NDCA) has 33 federally recognized tribes located in the counties of Del Norte, Humboldt, Mendocino, Sonoma and Lake. There are 107 federally recognized tribes in the State of California.
In 2010, Congress passed landmark legislation, the Tribal Law and Order Act (TLOA), and President Obama signed it into law on July 29, 2010. The TLOA addresses crime in tribal communities, placing a strong emphasis on decreasing violence against American Indian and Alaska Native women. The Act encourages the hiring of more law enforcement officers for Indian lands and provides additional enforcement tools to address critical public safety needs. Among its provisions, the law enhances tribal authority to prosecute and punish criminals; expands efforts to recruit, train and keep Bureau of Indian Affairs (BIA) and Tribal police officers; and provides BIA and Tribal police officers with greater access to criminal information sharing databases. It authorizes new guidelines for handling sexual assault and domestic violence crimes, encompassing training for law enforcement and court officers, improving evidence collection, to providing comprehensive services to victims. It also encourages development of more effective prevention programs to combat alcohol and drug abuse among at risk youth.  You can learn more about TLOA by visiting the Department of Justice TLOA page.  The Department of Justice maintains a website dedicated to Tribal Safety and Justice with helpful information.
As part of the ongoing efforts to improve outreach to Native American communities, the White House has recently devoted a section of the White House website identifying available resources throughout the federal government for the Native American population.  Please take a moment to visit the White House site.
Serving the Native American Population in the Northern District of California
As part of ongoing outreach to Native American communities, U.S. Attorney Melinda Haag appointed a Tribal Liaison for the NDCA.  In July 2010, U.S. Attorney Haag, joined by U.S. Marshal Don O'Keefe and Assistant U.S. Attorney and new Tribal Liaison Annemarie Conroy, met with tribal leaders in Mendocino, Humboldt and Del Norte counties.  The meetings were designed to improve communication and share information.  At one meeting, federal officials learned of a fugitive wanted for murder who was regularly seen on the Yurok Reservation, terrorizing the community.  The U.S. Marshal immediately activated the Pacific Southwest Regional Fugitive Task Force and within days the suspect was brought into custody. Read more at J-Bird Apprehended by US Marshal Task Force.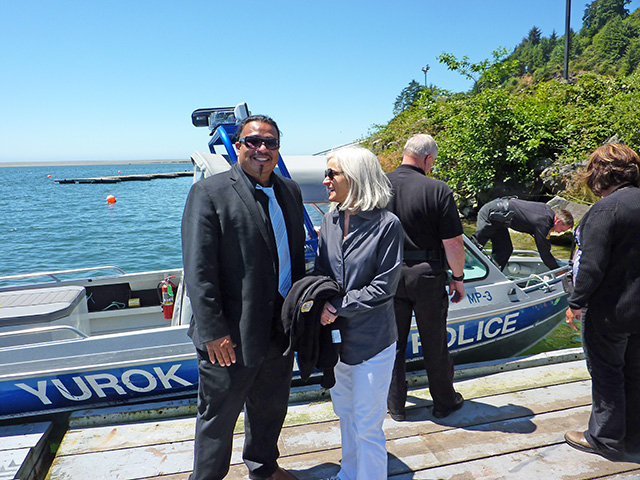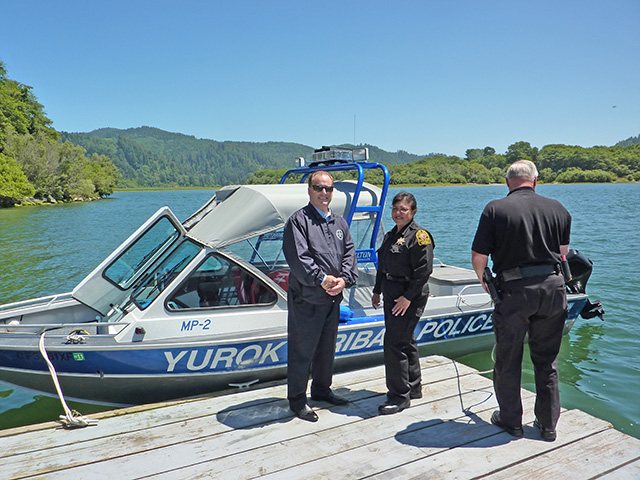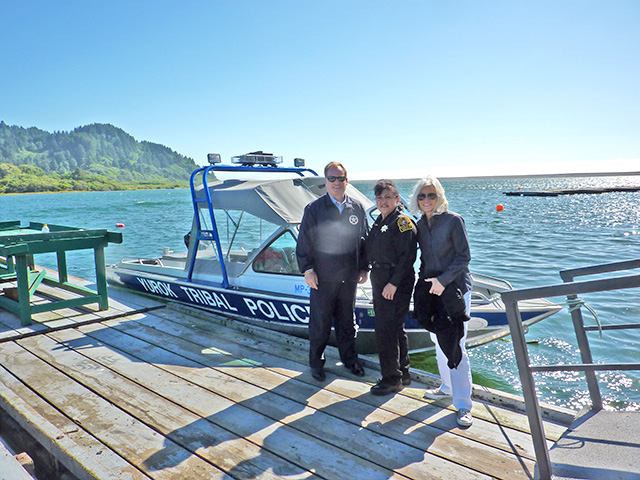 U.S. Attorney General Eric Holder appointed U.S. Attorney Haag as a member of the Native American Issues Subcommittee of the U.S. Attorney General's Advisory Committee.  In July 2010, U.S. Attorney Haag travelled to South Dakota to meet with U. S. Attorney General Eric Holder, senior Department of Justice and Bureau of Indian Affairs officials as well as the U.S. Attorneys who have Indian Country within their jurisdictions.  The multi-day meetings addressed pressing issues of tribal safety and justice as well as methods to better serve the Native American population.
California is unique in that the entire state is governed by Public Law 280 (PL 280).  Congress passed PL 280 in 1953.  The statute shifted most federal criminal jurisdiction over offenses committed by or against Indians in Indian country to state prosecutors. (See 18 U.S.C. 1162).  PL 280 also covered four other states, in whole or in part (Minnesota, Nebraska, Oregon, and Wisconsin).  Alaska was added after it attained statehood.  As California is a PL 280 state, responsibility for the prosecution and investigation of crimes identified in the General Crimes Act (18 U.S.C. 1152) and Major Crimes Act (18 U.S.C. 1153) remain with state and local officials.
All four California U.S. Attorneys (Northern, Southern, Central, and Eastern Districts of California) recently appointed Tribal Liaisons in each District.  The four U.S. Attorneys and the Tribal Liaisons work closely together to address issues surrounding TLOA and PL 280.  In August 2011, the four California Tribal Liaisons met in San Francisco to work together on similar issues and to strive for consistency in implementing TLOA and serving the Native American population in the State of California.  The Tribal Liaisons were joined by the Native American Issues Coordinator from the Executive Offices of the U.S. Attorney visiting from Washington D.C.
The NDCA recently received over $3 million in grants to enhance and support tribal justice and safety and assist Indian tribes' prevention and law enforcement efforts, victim services and youth programs.
Violence against Native American women is a major concern of the Department of Justice.  New legislation to support women who are victims of domestic violence is working through the process and is known as the Stand Against Violence and Empower Native American Women Act (SAVE ).  For more information on this legislation, please see SAVE.
To reach the NDCA's Tribal Liaison, please contact:
Annemarie Conroy
Assistant U.S. Attorney
Northern District of California
Tribal Liaison
450 Golden Gate Avenue, 11th Floor
San Francisco, CA 94102

(415) 436-7067
Annemarie.Conroy@usdoj.gov
Updated April 3, 2015