United States Attorney R. Trent Shores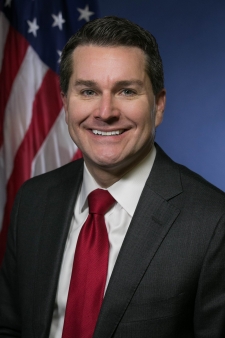 The Honorable R. Trent Shores is the United States Attorney for the Northern District of Oklahoma. He was nominated by President Donald J. Trump on July 19, 2017, and confirmed by the United States Senate on September 14, 2017.  United States District Court Chief Judge Gregory K. Frizzell administered the oath of office to Mr. Shores on September 22, 2017.
Mr. Shores was an Assistant United States Attorney in the Northern District of Oklahoma from 2007 through 2017. He prosecuted human trafficking and child exploitation crimes, international organized crime, and public corruption. He also served as the National Security Cyber Specialist and worked closely with the Joint Terrorism Task Force to investigate and prosecute cybercrimes and domestic terrorism.
In 2015, Mr. Shores served as Oklahoma First Assistant Attorney General.  As a top advisor to the State's Attorney General, Mr. Shores championed public safety measures to reduce violent crime, fought public corruption, and protected the interests of the State of Oklahoma and all its citizens.
Mr. Shores previously served as the Deputy Director of the Department of Justice's Office of Tribal Justice in Washington, D.C., where he addressed a diverse array of criminal and civil legal issues facing Native Americans and Alaska Natives. Mr. Shores has also represented the United States at the United Nations and Organization of American States, where he negotiated declarations pertaining to the rights of indigenous peoples. Prior to joining the Department of Justice, Mr. Shores served in the administration of Oklahoma Governor Frank Keating.
Mr. Shores graduated with a political science degree from Vanderbilt University and received his Juris Doctor from the University of Oklahoma. He is a citizen of the Choctaw Nation of Oklahoma. Mr. Shores is a graduate of Leadership Tulsa Class 56 and was recognized by the Tulsa Business and Legal News as a 2015 Man of Distinction. He resides in Tulsa, Oklahoma with his wife, Caitlin.
Updated November 14, 2017