U.S. Attorney Danny C. Williams Sr.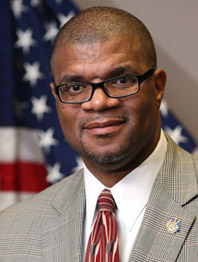 Danny C. Williams Sr. was nominated by President Barack Obama to serve as the top federal law enforcement official in the Northern District of Oklahoma on March 29, 2012, and was confirmed by the U.S. Senate on August 2, 2012. Mr. Williams took the oath of office on August 7, 2012.
As U.S. Attorney, Mr. Williams is assisted by a team of Assistant U.S. Attorneys, and is responsible for the investigation and litigation of all criminal and civil cases in the Northern District of Oklahoma, which encompasses 11 counties, including Tulsa.
Since his appointment, Mr. Williams has initiated the Violent Crime Initiative to address criminal activities in Tulsa County. Mr. Williams serves on the Attorney General's Advisory Committee's Racial Disparity Working Group and the Native American Issues Subcommittee.
From 1991 to 1993, Mr. Williams served as an Assistant District Attorney for Tulsa County. In addition to his previous public service, he has a wealth of litigation experience in private practice. Mr. Williams was a Senior Partner in Charney, Buss, and Williams from 2003 until his confirmation in 2012.
Mr. Williams graduated with honors from Dillard University in New Orleans, Louisiana in 1988, and from the University of Tulsa School of Law with a J.D. in 1991.
Updated February 1, 2016