Department of Justice
U.S. Attorney's Office
District of New Jersey
---
Seventy-One Defendants Charged In Long-Running Investigation Of Grape Street Crips Street Gang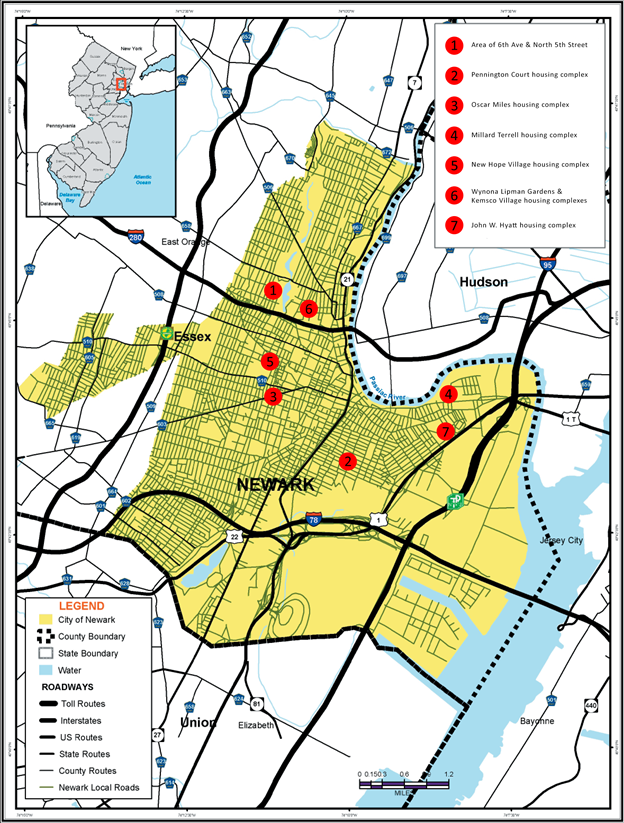 Charges Include Plot to Kill FBI Agent, Attempted Murders, Shootings in Aid of Racketeering, Drug Trafficking, and Witness Intimidation
NEWARK, N.J. –Seventy-one people have been charged in connection with a long-running, coordinated federal, state, and local investigation into the New Jersey set of the Grape Street Crips, a street gang allegedly responsible for violence and wide-spread drug-trafficking in the northern New Jersey, U.S. Attorney Paul J. Fishman announced today.
Today's charges and arrests culminate three waves of arrests that started May 6, 2015, and resulted in 14 federal complaints charging 50 members and associates of the Grape Street Crips in that two-week span. These 50 defendants and their associates, along with another 21 defendants arrested previously and facing federal and state charges, actively controlled drug-trafficking and other illegal activities in various neighborhoods and public-housing complexes in Newark.
The charges are the result of a long-running investigation led by the Drug Enforcement Administration and the FBI, in conjunction with the Essex County Prosecutor's Office, the Newark Police Department and Essex County Sheriff's Office Bureau of Narcotics. The defendants arrested today are scheduled to appear this afternoon before U.S. Magistrate Judges Steven C. Mannion, Mark Falk and James B. Clark III in Newark federal court.
"As this investigation demonstrates, the New Jersey Grape Street Crips are allegedly one of the largest and most dangerous street gangs in Newark as well as a prolific narcotics trafficking organization that floods the streets New Jersey with heroin, cocaine, and crack cocaine," U.S. Attorney Fishman said. "The narcotics activities that the gang and its associates allegedly engage in directly affect the quality of life of law-abiding citizens who reside in cities and suburbs of northern New Jersey."
"This criminal gang used violence and intimidation to maintain their drug enterprise in Newark," Carl J. Kotowski, Special Agent in Charge for the Drug Enforcement Administration's New Jersey Division said. "The residents of Newark can be assured that the DEA will continue to pursue those people and organizations that cause them to live in fear."
"Gangs are the mechanism by which drugs are transmitted to the 'bad seeds' in our cities, and are at the root of the violent crime problem," FBI Assistant Special Agent in Charge Bradley W. Cohen said. "The FBI Newark Field Office is committed to making Newark, and its surrounding communities, a safe place to be. The most effective way to combat this epidemic of violence is through cooperation; the efforts of all law enforcement agencies with the support and understanding of the citizens to whom we protect and serve."
In addition to controlling drug-trafficking across large swaths of Newark, the Grape Street Crips routinely engaged in acts of violence — including murder, shootings, aggravated assaults, and witness intimidation. A federal grand jury has returned a second superseding indictment charging two of the defendants – Kwasi Mack, a/k/a "Welchs," 26, of Belleville, New Jersey, and Corey Batts, a/k/a "C-Murder," a/k/a "Cee," 30, of Newark, two leaders of the Grape Street Crips – with numerous violent crimes in aid of racketeering, including attempted murder and conspiracy to commit murder. Batts and other gang members controlled drug-trafficking and other criminal activities near the Oscar Miles public-housing complex located on Court Street. Batts is charged by complaint with plotting to murder one of the special agents of the FBI investigating the gang.
According to documents filed in this case and statements made in court:
The Grape Street Crips are a nationwide street gang, founded in Los Angeles, California, and operating in New Jersey. In addition to engaging in drug-trafficking and other criminal activities to enrich themselves and fellow gang-members, the rules governing the gang provide that members must retaliate against individuals who cooperate with law enforcement. As a result, gang members routinely engage in acts of intimidation and violence against witnesses, individuals who are believed to be cooperating with law enforcement, and law enforcement officers themselves.
In March 2015, during the lawful wiretap of a cell phone used by Ahmed Singleton, 25, a/k/a "Gangsta-Mu," a/k/a "Mooshie," a member of the Grape Street Crips, the DEA intercepted Singleton detailing his efforts to intimidate a witnesses against him. Singleton was facing trial for aggravated assault in connection with a shooting. Singleton bragged about how he had "beat trial" by intimidating the main witness against him, saying he "had the goons in the back seat so, so he [the witness] recognized all the goons … lined up in the back, like, 'Oh he got them goons in here, like,' word up." As a result, Singleton explained, the witness "ain't wanna look at nobody eyes, you heard son?" Singleton also said that the attorney for the witness had told Singleton and Singleton's attorney that the witness would "do the right thing," meaning refuse to testify against Singleton, so that Singleton would not "take that [expletive] shit off when he come home for telling."  Singleton went on to brag:  "I walked out of court free, [expletive], who you know do that? . . . . Who you know cause ruckus on these [expletive] streets, come home, do whatever the [expletive] they want, and still be out here son?"  As a result of Singleton's witness intimidation, the state charges against Singleton had to be dismissed.
In late 2013, a senior member of the New Jersey Grape Street Crips used a social media account to identify an individual as having previously cooperated with a murder investigation conducted by the Essex County Prosecutor's Office. Several days after that social media post, several members of the Grape Street Crips repeatedly shot and nearly killed the individual who had been identified as having cooperated.
In late 2013, following the arrest of numerous gang members, law enforcement officials learned that members of the Grape Street Crips on the street had directed those members of the enterprise who were incarcerated at a county correctional facility to physically harm an individual who was believed to have cooperated with the law enforcement investigation.
On Oct. 2, 2014, a federal grand jury returned an 18-count second superseding indictment charging Mack and Batts with a variety of violent crimes in aid of racketeering, including attempted murder, conspiracy to commit murder, aggravated assault with a deadly weapon, conspiracy to commit aggravated assault with a deadly weapon — multiple counts of using firearms in furtherance of drug trafficking crimes and crimes of violence, conspiracy to distribute heroin, and possessing firearms after previously having been convicted of felony offenses.
The attempted murder charges stem from a dispute between the leadership of the Grape Street Crips and a long-time rival of the enterprise. (The attached table sets forth the charges and potential penalties.)
Batts was charged by federal criminal complaint with plotting to kill an FBI special agent and with solicitation of a crime of violence against the special agent. Batts was attempting to smuggle images of the special agent — obtained from the pretrial discovery turned over to Batts in connection with the above charges — to another gang-member in order to kill the special agent.
To protect their gang and drug territory, the Grape Street Crips operating in the 6th Avenue and North 5th Street area of Newark used "community guns" that were easily accessible to gang members. DEA special agents seized numerous firearms, including a .410 caliber assault rifle, a.45 caliber Thompson semi-automatic carbine, a 7.62 caliber assault rifle, and numerous semi-automatic handguns.
U.S. Attorney Fishman credited special agents of the DEA, under the direction of Special Agent in Charge Kotowski, and special agents of the FBI, under the direction of Special Agent in Charge Richard M. Frankel, for the investigation leading to the charges. Fishman also thanked prosecutors and detectives of the Essex County Prosecutor's Office, under the direction of Acting Prosecutor Carolyn A. Murray; police officers and detectives of the Newark Police Department, under the direction of Director Eugene Venable and Chief Anthony Campos; and the Essex County Sheriff's Office under the direction of Armando B. Fontoura, for their work on the investigation.
The government is represented by Assistant U.S. Attorneys Osmar J. Benvenuto, Elizabeth M. Harris, Jose Almonte, and Barry Kamar of the Criminal Division in Newark.
The case against Batts for plotting to murder, and soliciting a crime of violence against, a special agent of the FBI is being handled by Assistant U.S. Attorney Dennis Carletta and Chief of the General Crimes Unit Zach Intrater, both of the Criminal Division.
This case was conducted under the auspices of the Organized Crime Drug Enforcement Task Force (OCDETF) and the FBI's Safe Streets Task Force, a partnership, a partnership between federal, state and local law enforcement agencies. The principal mission of the OCDETF program is to identify, disrupt and dismantle the most serious drug trafficking, weapons trafficking and money laundering organizations, and those primarily responsible for the nation's illegal drug supply.
The charges and allegations contained in the federal criminal complaints and indictment are merely accusations, and the defendants are presumed innocent unless and until proven guilty.
Name

Gang / Street Name(s)

Age

Residence

Date Charged

Charge(s)                                                                              (Potential Term of Imprisonment)

Federal Prosecutions

Kwasi Mack

Welchs

26

Belleville

10/2/2014

Attempted murder (2 counts) (10 years each)
Conspiracy to commit murder (10 years)
Assault with a deadly weapon (3 counts)                    (20 years each)
Heroin conspiracy (5 year man. min up to 40 years)
Using firearm during a crime of violence and a drug trafficking crime (2 counts) (30 year man. min. up to life)
Felon in possession of a firearm (10 year)

Corey Batts

C-Murder, Cee

30

Newark

10/2/2014

Solicitation to murder FBI agent (20 years)
Retaliation against a federal official (10 years)
Attempted murder (2 counts) (10 years each)
Conspiracy to commit murder (10 years)
Assault with a dangerous weapon (2 counts)                          (20 years each)
Heroin conspiracy (10 year man. min. up to life)
Heroin distribution (3 counts) (30 years each)
Using a firearm during a crime of violence and a drug trafficking crime (2 counts) (35 year man. min. up to life)
Felon in possession of a firearm (10 year)

Hakeem Vanderhall

Keem

31

East Orange

5/5/2015

Running a continuing criminal enterprise                                 (20 year man. min. up to life)
Conspiracy to distribute 280 grams or more of crack cocaine (10 year man. min. up to life)

Eric Concepcion

E-Wax, Wax, Eddie Arroyo

28

Clifton

5/5/2015

Running a continuing criminal enterprise                         (20 year man. min. up to life)
Conspiracy to distribute 280 grams or more of crack cocaine (10 year man. min. up to life)
Conspiracy to distribute 100 grams or more of heroin (5 year man. min. up to life)

Jamar Hamilton

Gunner

26

Tottowa

5/5/2015

Running a continuing criminal enterprise                            (20 year man. min. up to life)
Conspiracy to distribute 280 grams or more of crack cocaine (10 year man. min. up to life)
Conspiracy to distribute 100 grams or more of heroin (5 year man. min. up to life)

Tyquan Clark

Tah

28

Newark

5/5/2015

Running a continuing criminal enterprise                                   (20 year man. min. up to life)
Conspiracy to distribute 280 grams or more of crack cocaine (10 year man. min. up to life)

Justin Carnegie

Dew Hi

27

East Orange

5/5/2015

Conspiracy to distribute 1 kilogram or more of heroin (10 year man. min. up to life)

Ahmed Singleton

Gangsta-Moo

25

Newark

5/5/2015

Conspiracy to distribute 1 kilogram or more of heroin (10 year man. min. up to life)

Hanee Cureton

City

30

Springfield

5/13/2015

Conspiracy to distribute 1 kilogram or more of heroin (10 year man. min. up to life)

Khalil Stafford

Homicide, Stod

30

Newark

5/13/2015

Distribution of heroin (up to 20 years)

Toma Williams

T-Dubs

38

Newark

10/4/2014

Conspiracy to distribute 1 kilogram or more of heroin (10 year man. min. up to life)

Dennis Wright

Hersh

32

Newark

5/20/2015

Conspiracy to distribute 100 grams or more of heroin    (5 year man. min. up to life)

Leonardo Arroyo

Leo

31

Newark

5/20/2015

Conspiracy to distribute 280 grams or more of crack-cocaine (10 year man. min. up to life)
Conspiracy to distribute 500 grams or more of cocaine (5 year man. min. up to 40 years)

Ahmad Mann

P.O., P-Easy

36

Newark

5/20/2015

Conspiracy to distribute 100 grams or more of heroin   (5 year man. min. up to life)

James S. Gutierrez

Bad News, Stevie G

24

Newark

5/5/2015

Conspiracy to distribute 280 grams or more of crack cocaine (10 year man. min. up to life)
Conspiracy to distribute 100 grams or more of heroin       (5 year man. min. up to life)

Sharod Caraway

Hot Rod

29

Newark

5/20/2015

Conspiracy to distribute 100 grams or more of heroin   (5 year man. min. up to 40 years)

Larry D. Coleman

LA

27

Newark

5/20/2015

Conspiracy to distribute 100 grams or more of heroin    (5 year man. min. up to 40 years)

Hakim S. Thomas*

Dollar

34

Newark

5/20/2015

Distribution of heroin (20 years)

Antonio Foye*

Steel

29

 Newark

5/20/2015

Conspiracy to distribute 280 grams or more of crack cocaine (10 year man. min. up to life)

Darrell Johnson

Scrilla

26

 Newark

5/20/2015

Conspiracy to distribute 280 grams or more of crack cocaine (10 year man. min. up to life)

Ernest Valentine

Bop

30

Newark

5/20/2015

Conspiracy to distribute 280 grams or more of crack cocaine (10 year man. min. up to life)

Trae K. Roberts*

Trae Pound

22

Irvington

5/20/2015

Conspiracy to distribute 280 grams or more of crack cocaine (10 year man. min. up to life)

Christopher Coelho

Brazil

27

Newark

5/5/2015

Conspiracy to distribute 280 grams or more of crack cocaine (10 year man. min. up to life)

Tauheed Satchell*

Tah

26

Newark

5/20/2015

Conspiracy to distribute 280 grams or more of crack cocaine (10 year man. min. up to life)

Willie T. Brooks

Animal

23

Newark

5/20/2015

Conspiracy to distribute 280 grams or more of crack cocaine (10 year man. min. up to life)

Rakeem Hankerson

Rocco

24

Newark

5/20/2015

Conspiracy to distribute 280 grams or more of crack cocaine (10 year man. min. up to life)

Max LaRue*

Max

25

East Orange

5/20/2015

Conspiracy to distribute 280 grams or more of crack cocaine (10 year man. min. up to life)

Jarod Ravenell*

Roddy

27

Newark

5/20/2015

Conspiracy to distribute 280 grams or more of crack cocaine (10 year man. min. up to life)

Louis Coston

Real Rell

25

Newark

5/7/2015

Conspiracy to distribute 1 kilogram or more of heroin (10 year man. min. up to life)

Tamir White*

Trauma

19

Newark

5/20/2015

Conspiracy to distribute 280 grams or more of crack cocaine (10 year man. min. up to life)

Milton Latham

Murder

40

 

5/20/2015

Conspiracy to distribute 100 grams or more of heroin   (5 year man. min. up to life)

Gabriel Henderson*

Gabe

35

Newark

5/20/2015

Conspiracy to distribute 100 grams or more of heroin   (5 year man. min. up to life)

Vincent Carter

Vince, Vin

NA

Newark

5/20/2015

Conspiracy to distribute 100 grams or more of heroin   (5 year man. min. up to life)

Raheem Powell

Nutty

32

Newark

5/20/2015

Distribution of heroin (20 years)

Brian Mitchell

Slash

25

Newark

5/20/2015

Distribution of heroin (20 years)

Earl Bullock

Ish

30

Newark

5/20/2015

Distribution of heroin (20 years)

Eugene Clemons*

 

65

Newark

5/20/2015

Distribution of heroin (20 years)

Hyshawn Butler

S-Dot

40

Newark

5/20/2015

Conspiracy to distribute 280 grams or more of crack cocaine (10 year man. min. up to life)

Fatimah Johnson*

Faddy

25

Newark

5/20/2015

Conspiracy to distribute 280 grams or more of crack cocaine (10 year man. min. up to life)

Vincent Livingston*

Double O

49

Irvington

5/20/2015

Conspiracy to distribute 280 grams or more of crack cocaine (10 year man. min. up to life)

Samuel Cureton

Sammy

24

Irvington

5/20/2015

Conspiracy to distribute 280 grams or more of crack cocaine (10 year man. min. up to life)

Jafforn Rock

Two Times

34

Newark

5/20/2015

Conspiracy to distribute 280 grams or more of crack cocaine (10 year man. min. up to life)

Anthony Mosely

Stretch

20

Newark

5/20/2015

Conspiracy to distribute 280 grams or more of crack cocaine (10 year man. min. up to life)

Freddy Brown*

Freddy

35

Newark

5/20/2015

Conspiracy to distribute 280 grams or more of crack cocaine (10 year man. min. up to life)

Tyrone Dunson*

Rudy

28

Orange

5/20/2015

Conspiracy to distribute 280 grams or more of crack cocaine (10 year man. min. up to life)

Oneil Concepcion

Bori

33

Newark

5/20/2015

Conspiracy to distribute 500 grams or more of cocaine (5 year man. min. up to 40 years)

Wilfred Mendez*

Will

47

Newark

5/20/2015

Conspiracy to distribute 500 grams or more of cocaine (5 year man. min. up to 40 years)

Monesha Johnson*

Smoove

35

Newark

5/20/2015

Conspiracy to distribute 280 grams or more of crack cocaine (10 year man. min. up to life)

Keith Bowens*

Weefy

42

Jersey City

5/13/2015

Conspiracy to distribute 1 kilogram or more of heroin (10 year man. min. up to life)

Tarence Burks

Barack

42

Jersey City

5/13/2015

Conspiracy to distribute 1 kilogram or more of heroin (10 year man. min. up to life)

Jerome Lewis*

Pete

37

Jersey City

5/13/2015

Conspiracy to distribute 1 kilogram or more of heroin (10 year man. min. up to life)

Tequan Small

Tequan

29

Jersey City

5/13/2015

Conspiracy to distribute 1 kilogram or more of heroin (10 year man. min. up to life)

George Bell*

Nino

37

Jersey City

5/13/2015

Conspiracy to distribute 1 kilogram or more of heroin (10 year man. min. up to life)

Todd Carter

Oink

29

Newark

 

Distribution of heroin (20 years)

Tedmond Ashe

Wild Boy

34

Newark

12/31/2013

Felon in possession of a firearm (10 years)

Dwayne Harper

Buck

31

Newark

5/28/2014

Smuggling contraband into federal prison (sentenced to 1 year and 1 month in federal prison)

Mookadeen Cheeseboro

 

28

Newark

2/20/2014

Felon in possession of a firearm (sentenced to 5 years and 10 months in federal prison)

Bernard Anderson

BA

31

Newark

6/4/2014

Distribution of heroin (20 years)

Jihad Coles

Half Dead

30

Newark

11/18/2014

Conspiracy to distribute 280 grams or more of crack-cocaine (10 year man. min. up to life)

Marvin Eure

Man Man

21

Newark

2/11/2015

Distribution of heroin (20 years);
Felon-in-possession of a firearm (10 years)

Haneef Sanders

 

22

Newark

10/7/2014

Felon in possession of a firearm (sentenced to 4 years and 2 months in federal prison)

Talib-Deen Kennedy

Tabills

21

Newark

6/20/2014

Use of a firearm in furtherance of drug trafficking crime (sentenced to 5 years in federal prison)

Prosecution by Essex County Prosecutor's Office

Ahmad Manley

Fresh, Moddi-G

29

Summit

3/18/2014

Kevin Francis

Tweakset

21

Newark

5/20/2015

Rashan Washington

Shoota

25

Newark

4/6/2014

Aggravated assault with deadly weapon

Timothy Wright

Tim Tim

49

Newark

5/20/2015

Terrence King

D-Bo

25

Newark

5/20/2015

Alfatier Ward

Bones

30

Newark

5/30/2014

Yasim Greene

Ya-Ya

23

Newark

05/20/2015

Olajuwon Tillery

Chance

26

Newark

05/20/2015

Devon Logan

Duncan

27

Newark

5/20/2015
*Denotes federal defendant at-large
Updated February 24, 2016