Press Release
Portland Man Charged with Assaulting Deputy U.S. Marshal with Baseball Bat During July Riot at Federal Courthouse
For Immediate Release
U.S. Attorney's Office, District of Oregon
PORTLAND, Ore.—U.S. Attorney Billy J. Williams announced today that a Portland man has been charged with assaulting a U.S. Marshals Service deputy with a baseball bat during a riot at the Mark O. Hatfield U.S. Courthouse in downtown Portland on July 27, 2020.
Dakotah Ray Horton, 24, has been charged by criminal complaint with one count of assaulting a federal officer.
"Assaulting a federal officer with a dangerous weapon is a serious violent crime," said U.S. Attorney Williams. "I applaud the tenacity of the deputy U.S. Marshals who, for multiple weeks, worked tirelessly to identify this defendant."
"This case is a shining example how law enforcement successfully works together to pursue violent opportunists that assault federal law enforcement personnel as they are serving their community—in this case, literally protecting the institution of American justice, said Acting Special Agent in Charge Eben Roberts. "HSI stands ready to assist in these types of investigations to ensure law enforcement can safely and effectively perform its congressional mandate."
For several weeks in June and July 2020, the Hatfield Federal Courthouse was the site of large demonstrations and protests. On many nights, after peaceful demonstrations ended, the courthouse was the repeated target of vandalism. U.S. Marshals Service deputies and officers from the Federal Protective Service, Homeland Security Investigations, and U.S. Customs and Border Protection working to protect the building were subjected to threats and assaults from rioters while performing their duties.
According to court documents, in the early morning hours of July 27, 2020, rioters attempted to destroy a security fence in front of the Hatfield Federal Courthouse with power tools. Rioters proceeded to attack law enforcement officers by throwing hard objects, glass bottles, and explosive devices at them.
After rioters ignored repeated orders to leave the area, the U.S. Marshals Service formed a line in front of them and began to move forward to disperse the crowd. As deputies approached, they attempted to arrest an individual for assaulting an officer. As one of the deputies knelt on the ground to assist with the arrest, Horton approached from behind and struck the deputy in the upper back, neck, and shoulder with a wooden baseball bat causing non-life-threatening injuries. When the deputy turned around, he observed Horton pointing the bat at him. The assault was witnessed by multiple individuals and captured on several internet video feeds.
On August 2, 2020, the U.S. Marshals Service distributed a bulletin to law enforcement agencies in the Portland metropolitan area seeking assistance in identifying Horton. The bulletin included a full body photo of Horton as well as many close-ups of his face collected from videos posted online. Two weeks later, on August 17, 2020, a deputy U.S. Marshal observed an individual in the Rock Creek area of Washington County matching Horton's physical appearance as depicted in the bulletin. The individual, later confirmed to be Horton, was arrested without incident. During his arrest, deputies found a loaded firearm concealed in Horton's waistband.
Horton made his initial appearance in federal court on August 18, 2020 before a U.S. Magistrate Judge. Today, he was ordered detained pending further court proceedings.
Assaulting a federal officer with a deadly or dangerous weapon is punishable by up to 20 years in federal prison.
This case was investigated by the U.S. Marshals Service with assistance from Homeland Security Investigations and the Washington County Sheriff's Office. It is being prosecuted by Leah K. Bolstad, Assistant U.S. Attorney for the District of Oregon.
A criminal complaint is only an accusation of a crime, and a defendant is presumed innocent unless and until proven guilty.
The year 2020 marks the 150th anniversary of the Department of Justice. Learn more about the history of our agency at www.Justice.gov/Celebrating150Years.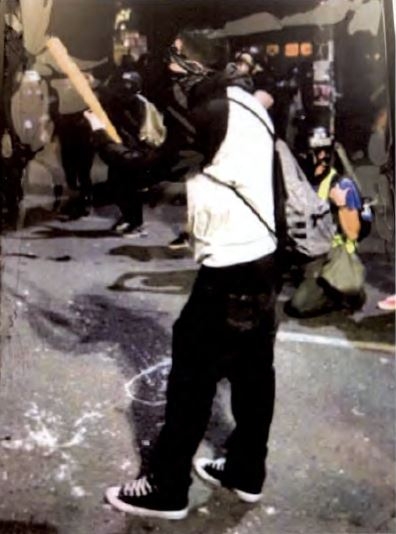 Updated August 19, 2020
---